About this WINE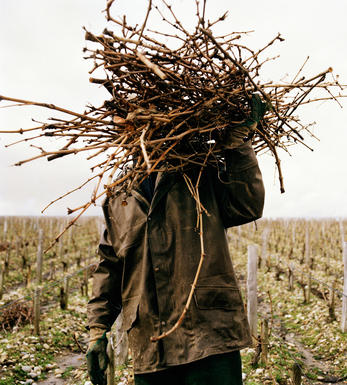 Hugel et Fils
Now run by the 13th generation, Hugel is one of the oldest family estates in Alsace. Hugel enjoys a well-earned reputation for its wines at every level, but particularly for its dry Grand Cru Riesling and the sweet late-harvest and botrytised styles.
About the producer
Hugel was founded in Riquewihr in 1639 by Hans Ulrich Hugel. It has remained in the family ever since. The modern era here began in 1902 when Frédéric Emile Hugel moved the business to premises in the centre of the village. He was a true pioneer of Alsace wines, responsible for obtaining official recognition for the late-harvest Vendange Tardive and botrytised Sélection de Grains Nobles wines. The domaine continues to make some of the finest examples of these styles.
The family makes wine using fruit from its own vineyards and from local growers with whom they have long-term contracts. The range includes wines from all the regional varieties, though as with most top Alsatian producers, it is Hugel's Rieslings which are most highly prized.
In the vineyard
The Hugel family's vineyards cover more than 25 hectares, exclusively in Riquewihr, almost half of which are classified as Grand Cru. The vineyards, whose average vine age is at least 30 years, are managed organically. Yields are rigorously controlled by trellising methods, canopy management and thinning of excess bunches. Harvest is done by hand, where careful selection also manages yields.
As well as farming their own estate, the family purchase grapes from growers under long-term contract, farming more than 100 hectares. This enables Hugel to use fruit from a dozen of the best villages in the surrounding areas.
In the winery
Grapes are inspected and sorted on arrival to the winery, and presses are filled by gravity. Both stainless-steel tanks and oak foudres are used for maturation, varying depending on the grape variety and quality level.
Hugel divide their extensive range into four levels: Famille Hugel Classics, made from purchased fruit; Famille Hugel Estate, made exclusively from estate-grown grapes; Hugel Tradition and Famille Hugel Grossi Laüe (formerly Hugel Jubilee), both using a combination of purchased and estate grapes, from the most favoured sites in the portfolio.
The range also includes separate categories for their Vendange Tardive and Sélection de Grains Nobles wines, Gentil (a blend of regional varieties) and a wine from Grand Cru Schoenenbourg called Riesling Schoelhammer, launched in 2007.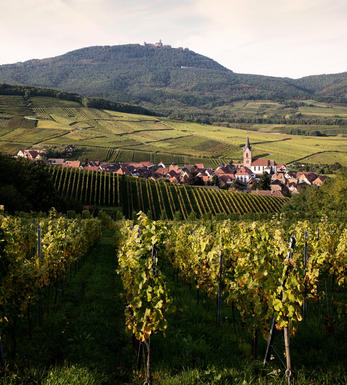 Riesling AOC Alsace
Riesling is the undisputed king of Alsace grapes, covering 22.5 percent of the vineyard area and producing some of the noblest and most age-worthy wines in the region, including Vendange Tardive, Sélection de Grains Nobles, and Grands Crus.

Dry, refined, and delicately fruity, it has an elegant bouquet of citrus fruit with mineral or floral notes. A typical mature Alsace Riesling is bone dry, with steely acidity and complex mineral and flint aromas. Like its German counterpart, it displays a superb definition of flavours, but with more concentration and alcohol.

It thrives on schist, shale and slate soils that convey oily, petrolly, mineral aromas to the wine.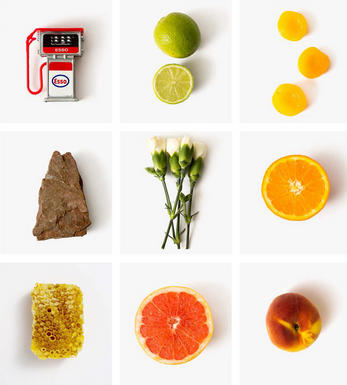 Riesling
Riesling's twin peaks are its intense perfume and its piercing crisp acidity which it manages to retain even at high ripeness levels.
In Germany, Riesling constitutes around 20% of total plantings, yet it is responsible for all its greatest wines. It is planted widely on well-drained, south-facing slate-rich slopes, with the greatest wines coming from the best slopes in the best villages. It produces delicate, racy, nervy and stylish wines that cover a wide spectrum of flavours from steely and bone dry with beautifully scented fruits of apples,apricots, and sometimes peaches, through to the exotically sweet flavours of the great sweet wines.
It is also an important variety in Alsace where it produces slightly earthier, weightier and fuller wines than in Germany. The dry Rieslings can be austere and steely with hints of honey while the Vendages Tardives and Sélection de Grains Nobles are some of the greatest sweet wines in the world.
It is thanks to the New World that Riesling is enjoying a marked renaissance. In Australia the grape has developed a formidable reputation, delivering lime-sherbet fireworks amid the continental climate of Clare Valley an hour's drive north of Adelaide, while Barossa's Eden Valley is cooler still, producing restrained stony lime examples from the elevated granitic landscape; Tasmania is fast becoming their third Riesling mine, combining cool temperatures with high UV levels to deliver stunning prototypes.
New Zealand shares a similar climate, with Riesling and Pinot Gris neck to neck in their bid to be the next big thing after Sauvignon Blanc; perfectly suited is the South Island's Central Otago, with its granitic soils and continental climate, and the pebbly Brightwater area near Nelson. While Australia's Rieslings tend to be full-bodied & dry, the Kiwis are more inclined to be lighter bodied, more ethereal and sometimes off-dry; Alsace plays Mosel if you like.