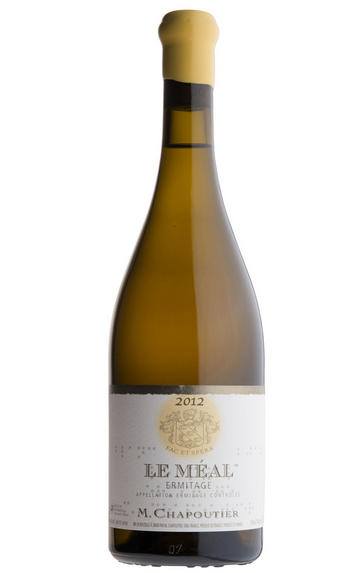 2012 Ermitage Blanc, Le Méal, M. Chapoutier, Rhône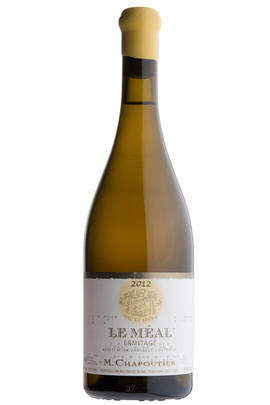 Critics reviews
More honeyed and flamboyant, the 2012 Ermitage Le Meal Blanc dished out aromas and flavors of exotic spices, buttered citrus, licorice and serious minerality. Full-bodied, voluptuous, decadent and almost chewy-rich, it's an incredible white that will also offer immense pleasure in its youth, yet be almost indestructible in the cellar.

This was an incredible tasting with Michel Chapoutier and his second hand man, Pierre-Henri Morel. Certainly one of the success stories in wine, which Robert Parker does a fabulous job of detailing in Issue 204, this estate goes from strength to strength in just about every appellation in the Rhone Valley. Looking specifically at Hermitage, Chapoutier owns a massive 64 acres, mostly on the famed Bessards lieu-dit, yet also with significant portions on Le Meal, L'Ermite and Les Greffieux, with smaller portions in the Beaume and Murets lieux-dits. From this he fashions five reds (Monier De La Sizeranne, Les Greffieux, Le Meal, Le Pavillon and L'Ermite) and four whites (Chante Alouette, Cuvee de l'Oree, Le Meal Blanc and L'Ermite Blanc), all of which are brilliant wines, with the best ranking up alongside the top wines in the world. In addition, his Saint Josephs (Les Granits and Le Clos) are some of the leading wines of the appellation (along with Guigal's Vignes de l'Hospice and a few others), and his Cote Rotie La Mordoree, which comes from his 12 acres (split between the roughly defined Cote Blonde and Cote Brune regions), is always a classic example of the appellation. I was also able to taste through a full lineup of his Languedoc and Roussillon releases, all of which were impressive. I'll review those wines in my 2014 coverage on those regions.

Jeb Dunnuck - Wine Advocate #210, Dec 2013
About this WINE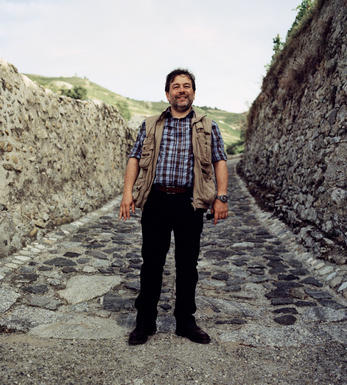 Maison Chapoutier
Applying his usual break-neck rigour to the presidency of InterRhône has not in any way distracted Michel Chapoutier. His range is more impressive in scope than ever, providing the most complete dissection of the region's styles and terroir. Founded in 1808, Michel took charge in 1988 and became the seventh generation of his family to run the domaine. Since then, quality has soared and he is now farming all his vineyards biodynamically. He also invests in new winemaking projects across the globe, as far-flung as Australia. His children, in particular his daughter, Mathilde, are now increasingly involved in the day-to-day management of the maison, bringing with her her entrepreneurial skills and vision.

Michel describes 2021 as a vintage the vignerons were unlikely to forget in a hurry, bringing an array of challenges that only hard work could overcome. It also brought a style of wines he thought long forgotten: ethereal in nature, with aromatic complexity, lower alcohols and bright acidities. They offer great elegance and finesse overall.

You might remember that we offered Chapoutier's 2021 sélection parcellaire back in October last year – an impressive range of his single vineyards, including his prestigious Ermitages. We do have small volumes left of some lines so if you're interested in seeing a complete list, please speak to your Account Manager.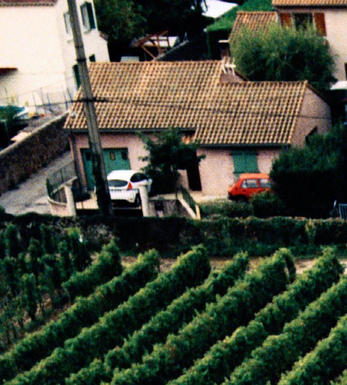 Hermitage
Hermitage is the most famous of all the northern Rhône appellations. The hill of Hermitage is situated above the town of Tain and overlooks the town of Tournon, just across the river. Hermitage has 120 hectares and produces tiny quantities of very long-lived reds.

The vines were grown in Roman times, although local folklore claims their origins to be nearly 600 years earlier. The name 'Hermitage' first appeared in the 16th century, derived from a legend of the 13th century Crusade, involving a wounded knight called Gaspard de Stérimberg, who made refuge on the hill, planted vines and became a hermit.

During the 17th century Hermitage was recognised as one of the finest in Europe. In 1775, Ch. Lafite was blended with Hermitage and was one of the greatest wines of its day. In the late 19th century, however, Phylloxera wiped out all the vineyards.

The wines are powerful, with a deep colour and firm tannins, developing into some of the finest examples in France, with the potential to age for many decades. The best Hermitage is produced from several climats or more, blended together. The main climats are Les Bessards, Le Meal, L'Hermite, Les Greffieux and Les Diognieres. Most of the finest climats face broadly south, giving maximum sunshine. Most growers only have one or two climats and they might not complement each other; Hermitage quality can therefore vary hugely. Only the top producers have extensive diversified holdings.

Eighty percent of the wine produced is red, however up to 15 percent of white grapes can be used in the blend. Most growers use 100 percent Syrah and utilise the white grapes to make white wines only. Chapoutier, Jaboulet and Tain l'Hermitage Co-operative are the principle proprietors of the appellation's vineyards.

The white wines are made from the Marsanne and Roussanne grapes. Great white Hermitage has the ability to age, taking on the fruit characters of apricots and peaches, often giving a very nutty finish. The best examples in great vintages can last 50 years.

Mature red Hermitage can be confused with old Bordeaux. In a blind tasting of 1961 First Growth Clarets, the famous 1961 Hermitage La Chapelle was included. Most people, including its owner, Gerard Jaboulet, mistook it for Ch. Margaux.

Recommended producers: Chave, Jaboulet, Chapoutier, Ferraton, Colombier
Best vintages: 2006, 2005, 2004, 2001, 1999, 1997, 1991, 1990, 1985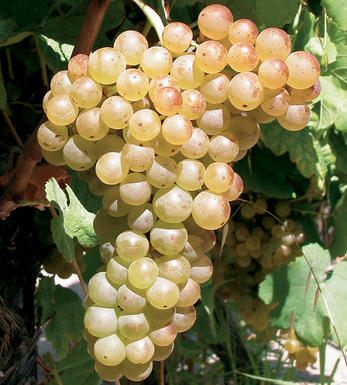 Marsanne
Marsanne is the predominant white grape variety grown in the Northern Rhône where it is used to produce white St. Joseph, Crozes-Hermitage, and Hermitage. It is a tricky grape to cultivate, being susceptible to diseases and being particularly sensitive to extreme climatic changes - if growing conditions are too cool, then it fails to ripen fully and produces thin, insipid wines, while, if too hot, the resultant wines are blowsy, overblown and out of balance.
In the Northern Rhône it tends to be blended with around 15% Rousanne and produces richly aromatic, nutty wines which age marvellously - the best examples are from Hermitage and particularly from Chapoutier. Increasingly it is being grown in the Southern Rhône and Languedoc Roussillon where it is bottled as a single varietal or blended with Roussanne, Viognier, and sometimes Chardonnay. It is also grown very successfully in Victoria in Australia where some of the world`s oldest Marsanne vines are to be found.