2015 Testamatta, Bibi Graetz, Tuscany, Italy
Prices start from £500.00 per case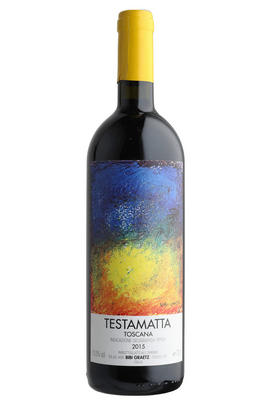 Critics reviews
A fantastic wine, takes what you think about Super Tuscans and turns it on its head - this is an IGT Toscana label from a cult name with a high price tag, and yet instead of over-concentration and oak you get finesse, nuance, jewel-like cherry colour and clarity of flavour, rippled through wih orange peel, raspberry, red cherry, finesse, wih juicy but structured tannins. An excellent vintage overall, with a dry sunny summer and September, allowing a harvest that stretched from September 28 to November 2. This was the first year when Bibi began expanding the vineyard, sourcing more old vines and moving towards the six vineyard sites that he uses today. You can wait with this wine, but it is definitely in the sweet spot for beginning to drink. Fermented with natural yeasts, aged in oak casks and neutral barrels for 20 months.

Drink 2024 to 2038

Jane Anson, Inside Bordeaux (March 2022)
About this WINE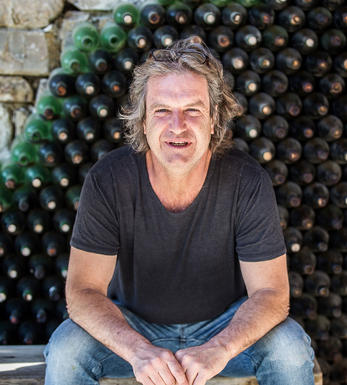 Bibi Graetz
Born in 1973 in Florence, Italy, Bibi Graetz comes from a family of artists, which profoundly influenced his winemaking philosophy. He studied art and sculpting before eventually turning his passion to winemaking, which he considers an art form in itself.
In the late 1990s, Bibi Graetz started his journey in winemaking by acquiring vineyards in the hills of Fiesole, near Florence, Tuscany. These vineyards, some more than 200 years old, became the foundation for his winery, Azienda Agricola Testamatta, which translates to "Crazy Head Farm."
One of Graetz's fundamental principles is to work with traditional Tuscan grape varieties, such as Sangiovese, Colorino, and Canaiolo, but with a contemporary and artistic approach. He believes in organic and biodynamic farming practices, respecting the land's natural balance and allowing the terroir to express itself in his wines.
Bibi Graetz's winemaking style is characterised by small production, meticulous attention to detail, and an experimental spirit. He embraces minimal intervention during winemaking, preferring to let the grapes speak for themselves. The result is wines with a distinct sense of place, displaying the unique flavours and characteristics of the Tuscan terroir.
His wines have gained widespread recognition and critical acclaim for their exceptional quality and distinctive character. Some of his most famous wines include "Colore," a complex and age-worthy red blend, and the "Testamatta" series, which includes "Testamatta" and "Testamatta Rosso," showcasing his commitment to crafting exceptional Sangiovese wines.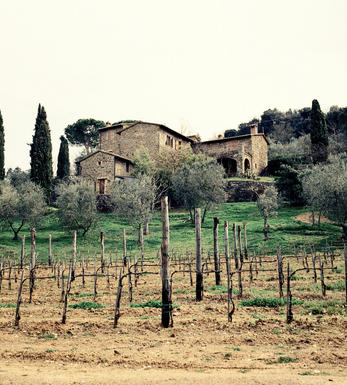 IGT Tuscany
IGT (Indicazione Geografica Tipica) Tuscany is a wine classification from Italy's Tuscany region. It is one of the official wine classifications recognized by the Italian government. IGT is a step below the highest classification, DOCG (Denominazione di Origine Controllata e Garantita), and above the DOC (Denominazione di Origine Controllata) level.
The IGT classification was introduced in 1992 to allow winemakers more flexibility in grape varieties and employ winemaking techniques while still ensuring a certain level of quality and geographical indication. This classification gives winemakers more freedom to experiment and innovate, deviating from the strict regulations of the DOC and DOCG classifications.
IGT Tuscany wines can be produced throughout the entire region of Tuscany, encompassing various sub-regions and terroirs within the area. This classification allows winemakers to use traditional Tuscan grape varieties, such as Sangiovese, and non-traditional grape varieties, including international ones like Cabernet Sauvignon, Merlot, Syrah, and others.
The IGT Tuscany classification gives winemakers the flexibility to create wines that showcase the unique characteristics of their specific vineyards and winemaking styles. It allows for experimentation with blending different grape varieties, using innovative winemaking techniques, and exploring new regional vineyard sites.
IGT Tuscany wines can vary greatly, from traditional and terroir-driven expressions to more modern and international styles. This classification has played a significant role in developing Super Tuscan wines, often IGT designated and known for their high quality and international recognition.
Overall, IGT Tuscany provides a platform for winemakers in the region to express their creativity and produce wines that reflect their unique vision while maintaining a connection to the rich heritage and traditions of winemaking in Tuscany.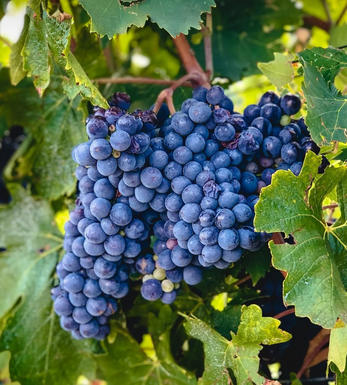 Sangiovese
A black grape widely grown in Central Italy and the main component of Chianti and Vino Nobile di Montepulciano as well as being the sole permitted grape for the famed Brunello di Montalcino.
It is a high yielding, late ripening grape that performs best on well-drained calcareous soils on south-facing hillsides. For years it was blighted by poor clonal selection and massive overcropping - however since the 1980s the quality of Sangiovese-based wines has rocketed upwards and they are now some of the most sought after in the world.
It produces wines with pronounced tannins and acidity, though not always with great depth of colour, and its character can vary from farmyard/leather nuances through to essence of red cherries and plums. In the 1960s the advent of Super Tuscans saw bottlings of 100% Sangiovese wines, as well as the introduction of Sangiovese/Cabernet Sauvignon blends, the most famous being Tignanello.