About this WINE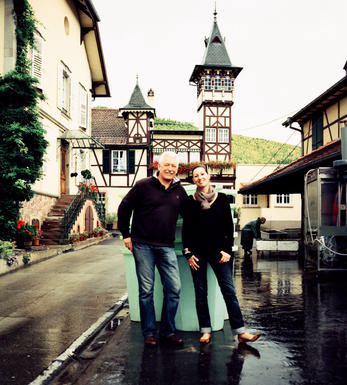 Trimbach
The House of Trimbach was established in 1626 and is now being run by the 12th generation of the family, Pierre and Jean. The family supervises all operations from planting and vinification to selection and bottling, giving them 100% control over production.

If Zind Humbrecht produces wines of extravagant power at one end of the spectrum of excellence within Alsace wine making, then Trimbach definitely stands at the other extreme – "Restraint" is the watchword. The Trimbach style is paraphrased perfectly by Hubert Trimbach and the family itself – "Concentrated not heavy; fruity, not sweet; bracing rather than fat; polite rather than voluptuous".

Trimbach wines are reserved, steely, elegant, even aristocratic; never obvious or flashy. "We are Protestants. Our wines have the Protestant style – vigour, firmness, a beautiful acidity, lovely freshness. Purity and cleanness, that's Trimbach." For those weary of the copious residual sugar found in so many of the contemporary Alsace wines, Trimbach's are a refuge.
The jewel in the crown is the family's Clos Ste-Hune vineyard, a small vineyard just outside Hunawihr. Family-owned for over 200 years, it is widely regarded as one of the best expressions of Alsace Riesling.Trimbach has launched their first-ever terroir named wine with the 2009 Riesling Grand Cru Geisberg, 2.6 ha plot on the Geisberg have always been part of the famous Cuvée Frédéric Emile. A second Grand Cru may be in the pipeline as, in 2012 the Trimbach family purchased a plot in the Kientzheim Grand Cru Schlossberg.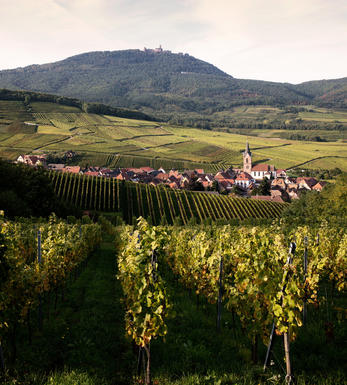 AOC Alsace
In Alsace, the wines generally take their name from the grape variety from which they are made, and not from their terroir.

AOC Alsace wines must be made from one of the eight permitted grape varieties in the appellation, namely Riesling, Gewürztraminer, Pinot Gris, Pinot Noir, Pinot Blanc, Muscat, Chasselas and Sylvaner. The wine label may also display the terms 'Edelzwicker' or 'Gentil' (for a blend of several white wine varietals), or a geographical indication such as the name of the village or vineyard.
In exceptional years, AOC Alsace (as well as AOC Alsace Grand Cru) wines may be promoted to one of two specific classifications: Vendanges Tardives or Sélection de Grains Nobles which apply to rare, naturally rich and sweet late-harvest wines.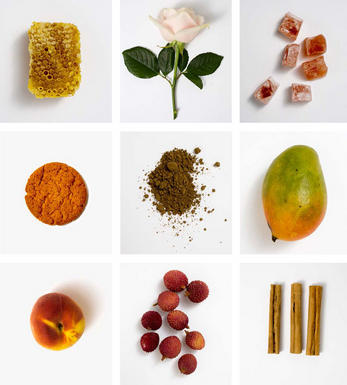 Gewürztraminer
Gewürztraminer is a high quality white grape which produces classic varietal wines in the Alsace region of France.

It is the second most widely planted grape in Alsace and the most widely planted in the Haut-Rhin where it is particularly well suited to the clay-rich soils found in the Vosges foothills. It is normally fermented dry and produces golden, medium to full-bodied wine with heady aromas of lychees, rose petals and white peaches.

It attains naturally high sugar levels far in excess of Riesling and this makes it ideal for sweet, late harvest wines. These can be unctuously sweet and luscious and the best can last for decades. Rieffel, Hugel and Zind Humbrecht consistently produce the finest Gewürztraminer wines in Alsace.

It is also planted in Germany (specifically in the Rheinpfalz and Baden regions), Austria, the Alto Adige in Italy and to a lesser extent in Australia, New Zealand and California. Gerwürz means spice in German, although this pink-skinned grape tends to produce exotically perfumed rather than spice laden wines.