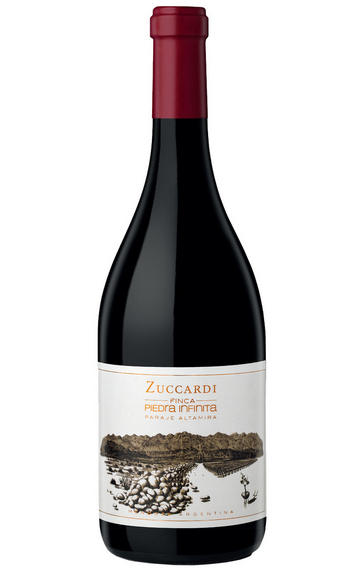 2017 Zuccardi, Finca Piedra Infinita, Paraje Altamira, Mendoza, Argentina
Prices start from £375.00 per case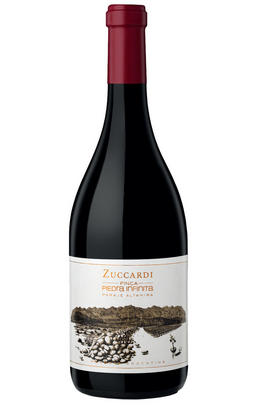 Critics reviews
They use some specific soils for the 2017 Finca Piedra Infinita, up to eight different plots, but not all plots contribute to the wine every vintage; in general, the zones with 20 to 60 centimeters of soil and then large stones with calcium carbonate are reflected in the wines. So, they deconstruct the vineyard, and then they build the blend with the plots they like for each wine, up to eight here but only a specific one for the Supercal and Gravascal. There's a little more ripeness and exuberance here within the general austerity of the whole Piedra Infinita range, especially when compared with the 2018s. They harvested 15 to 20 days earlier than in 2018 (or in 2016) and they had to run, but the separation they have by soil helped them to harvest earlier the earlier-ripening parts of the vineyard. That gave them a great advantage and they produced very good 2017s, but the condition of the year, a shorter cycle and a more hurried year was what it was. This 2017 is not as long as the 2018, and there is a strong chalkiness in the finish. 7,300 bottles were filled in August 2018.
Luis Gutiérrez, Wine Advocate (Mar 2021)
Jancis Robinson MW
16.5/20
100% Malbec. Pretty gorgeous nose. Really fresh fruit with a presumably concrete-derived texture on the end so it's not luscious. Edgy and made for food? A bit inky and demanding. A tad too taut and saliva-sucking for current pleasure?
Drink 2021 - 2027
Jancis Robinson MW, Decanter.com (Feb 2020)
About this WINE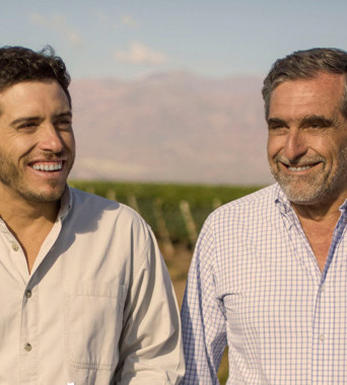 Zuccardi
Alberto Zuccardi was the first man to plant vines in Maipú, Mendoza. Today, his grandson Sebastián Zuccardi continues this entrepreneurial spirit alongside his son.
The focus here is firmly on expressing the identity and personality of the multiple high-quality plots they have at their disposal. Their single-varietal estate wines are brilliant examples of this: primarily made from Malbec and Cabernet Sauvignon.
As the third generation of this winemaking family, Sebastián's goal is to better understand the region Zuccardi calls home. Since 2008, the winery has embarked on a research and development phase to study Zuccardi's unique terroir. In Sebastián's own words, the goal is "not to look for perfect wines, but rather those that express the place, the region.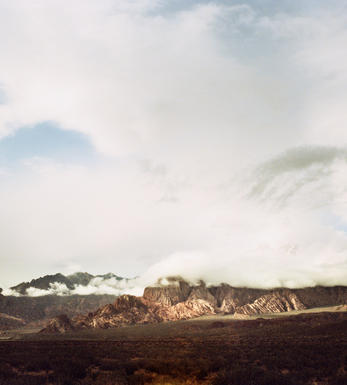 Argentina
As you would expect from the land of Tango (the dance, not the fizzy drink) Argentina produces 'full-blooded', seductive wines of spice and passion. Like their neighbours across the Andes in Chile, they produce excellent-value, largely red (but also increasingly white) varietal wines across all price points.
As the fifth-largest wine producing nation in the world, Argentina was long renowned for the quantity rather than quality of its wines. Since the 1990s however it has benefited enormously from the influx of investment and expertise – seemingly from every famous wine region in the world – combined with modern technology and better vineyard management and winemaking techniques. Apart from a couple of blips (notably the 1998 El Niño and the economic crisis of 2001-2), it has seen steady improvement, even if a general unwillingness to reduce yields has meant that its progress has been slower than hoped. So far it has emulated Chile's success but has not yet, by a long chalk, surpassed it. The next Australia? Only time will tell.

Planted with vines by the Spanish colonisers in the mid-16th century, it was the widespread immigration from Italy and Spain in the mid-19th century (and later from France) that bestowed Argentina with its eclectic mix of grape varieties. The country's trump card has turned out to be the old Bordeaux variety Malbec which, outside of Cahors, has never really made its mark in its French homeland. In Argentina it seems to have found its spiritual home, producing intense, opulent wines with refreshing acidity and increasing sophistication. In the hands of top producers and in increasingly good (and high) single vineyard sites, it is yielding some truly fine wines.
The underrated Bonarda is Argentina's second most-planted variety, although the next best qualitatively are the improving Cabernet Sauvignon and Syrah, followed by Merlot, Tempranillo, Sangiovese, Pinot Noir and Barbera. The most interesting whites come from the fruity, floral Torrontés grape, but the there are some very fine wines from the ubiquitous Chardonnay, and it is the latter that looks set to dominate in years to come. Other white varieties include Sauvignon Blanc (in the coolest sites), Chenin Blanc, Sémillon, Pinot Gris and Viognier.
Much of Argentina is semi-desert and very dry and hot, even in the foothills of the Andes; it is only the high altitude of the vineyards and the cooling influence of the mountains that enables quality wines to be made. Irrigation is a must but it is only now that the vital step of limiting this to reduce yields is being followed by more than a small minority.

The region around Mendoza accounts for about 70 percent of Argentina's wine production, although cooler, wetter areas like Patagonia in the south and Salta in the far north (home to the world's highest vineyards, at an astonishing 3,000m) are increasingly influential even if quantity remains small. Salta produces very good Torrontés and Cabernet Sauvignon, while Patagonia, and particularly Río Negro, produces elegant whites and structured reds.

In Mendoza, a lot of poor-quality wine is still produced for domestic consumption but the sub-region of Luján de Cuyo produces some lovely velvety Malbecs while the cool, gravelly Maipú is best for Cabernet Sauvignon. The most exciting area in Mendoza for fine reds and whites, however, is the Uco Valley 60km south of the city. Its sub-region of Tupungato also produces Argentina's best Chardonnay.
Recommended Producers:
Cheval des Andes, Pulenta, Alpamanta Estate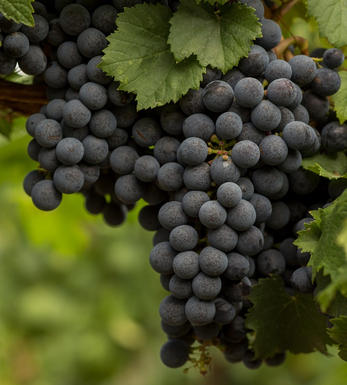 Malbec
Known as Auxerrois in Cahors, Cot in the Loire and Malbeck in Argentina, this grape has undergone a mini renaissance in the last decade, largely fuelled by its success in South America. It used to be a staple component of the Bordeaux Blend, but it never recovered fully from the 1956 frosts and its plantings there have fallen by 75% as growers have replaced it with more fashionable, and crucially, more durable grapes.
It is still grown successfully in South West France where its most famous wine is Cahors. This wine used to be black as coal and tough as leather but improvements in viticultural and vinification techniques have led to riper, softer, more approachable wines that are now amongst the best of the region.
In Argentina it is widely grown and produces deep coloured wines with generous black fruit characteristics, balanced acidity and smooth tannins. It is either bottled on its own or as part of a Bordeaux blend. In Chile it is the 3rd most widely planted grape after Pais and Cabernet Sauvignon and tends to produce firmer, more tannic wines than its Argentinian neighbours. In Chile it is often blended with Merlot and Petit Verdot.