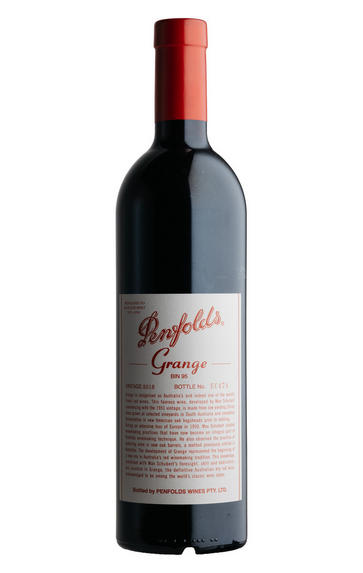 2018 Penfolds, Grange, Bin 95, Australia
Prices start from £441.50 per bottle (75cl).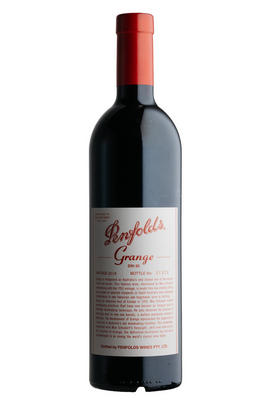 Critics reviews
Josh Raynolds, Vinous
98/100
Inky, bright-rimmed violet. A kaleidoscopic, penetrating bouquet evokes ripe black and blue fruit preserves, espresso, cola, incense, coconut and Moroccan spices, along with a smoky mineral topnote. Shows superb clarity and mineral lift to the sweet, deeply concentrated black currant, bitter cherry, dark chocolate, fruitcake and mocha flavors, which are sharpened by a spicy element. A vein of juicy acidity adds support and drives a wonderfully long, smoky finish that leaves a suave floral note behind.
Drink 2030 - 2045
Josh Raynolds, Vinous.com (September 2022)
Much is anticipated of this famous wine from a particularly famous vintage. Shiraz plus 3% Cabernet Sauvignon. Fruit from Barossa Valley, McLaren Vale, Clare Valley. 18 months in American oak hogsheads (100% new).
Very deep blackish crimson. Much more expressive than the RWT on the nose. This really should be a banker should anyone put it into a blind tasting. The French have criticised it for being too approachable, according to Gago! Salty nose plus really ripe, rich dark fruits. Heady – just hinting at porty – and super-healthy on the palate. So rich underneath. Multi-layered, warm and spicy. Rich and broad. No disappointment.
Drink 2027 - 2060
Jancis Robinson, JancisRobinson.com (July 2022)
This wine comes with high expectations—as does the vintage. The 2018 vintage across South Australia (and cheekily, we could probably extend the accolade to all of Australia) was excellent. It was warm, but without incident, and responsible for powerfully ripe, serious wines. Many producers made some of their best wines in this vintage.
So here, to the 2018 Grange: there is spiced raspberry, lashings of salted licorice, red curry paste, layers of forest berries, rendered lamb fat and crushed pink peppercorns to start. In the mouth, the tannins close around the fruit with the same polish and seamlessness as the 2008, possibly the 2004? Very different vintages, but there is a textural similarity for me.
This is polished and glossy and so very pretty. It contains 3% Cabernet Sauvignon this year, and 69% Barossa, 18% McLaren Vale and the balance from Clare Valley. Each of the regions brings with it its own characteristics. Barossa brings the red dirt, blood, deli meat and rust. McLaren Vale brings the plush purple fruits with a side of meat and licorice.
Clare brings the polish, the opulence and the velvet texture. With their powers combined, this is an extraordinary Grange. One of the true greats, which will only get better as it ages.
Drink 2028 - 2058
Erin Larkin, Wine Advocate (July 2022)
A robust Grange from a lauded vintage, this wields sheer power with such compelling prowess. Uncompromising Grange. There are rich blackberries and plums on offer, together with brazen oak and abundant notes of blackcurrants, black cherries, charcoal, cola and hard brown spices. So fleshy and intense.
Dark-chocolate and cocoa-powder aromas and flavors here, too. The tannins are polished and long, extruding deep into the finish and holding endlessly. Dark chocolate, black cherry, dark plum and more. Impressive. Brazen. One of the great Granges that will drink magnificently for decades to come.
James Suckling, JamesSuckling.com (June 2022)
Super saturated deep dark red-purple colour; lashings of coconut and dark plum at first sniff, there's mocha, fruitcake and plum pudding there at first sniff, the oak still discernible, while the palate is remarkably soft for a young Grange, the tannins supple and measured, the wine growing more chocolaty as it sat in the glass.
It does seem slightly forward when tasted after several admittedly younger wines. Fleshy, nicely textured, but perhaps seems just a trifle lacking vitality on the palate. Lower acidity? This is hair-splitting: it is certainly a very good Grange. No doubt time will reveal it to be such. It's from a top vintage. (3% cabernet sauvignon. Barossa Valley, McLaren Vale, Clare Valley)
Drink 2024 - 2053
Huon Hooke, TheRealReview.com (June 2022)
About this WINE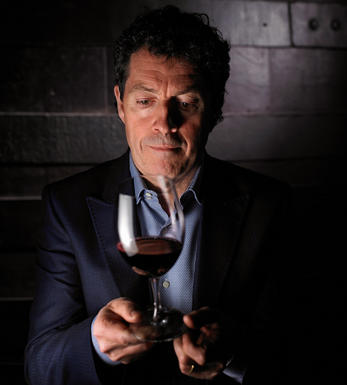 Penfolds
Penfolds enjoys an iconic status that few New World producers have achieved. Established in 1844 at the Magill Estate near Adelaide, it laid the foundation for fine wine production in Australia.

The winemaking team is led by the masterful Peter Gago; it has the herculean task of blending the best wines from a multitude of different plots, vineyards and regions to create a consistent and outstanding range of wines. Its flagship wine, Grange, is firmly established as one of the finest red wines in the world.

Under Gago's stewardship, the Penfolds range has evolved over time. Winemaking has moved away from New World heat and the sort of larger-than-life style that can mask individuality; the contemporary wines instead favour fine balance and typicity for the region or grape.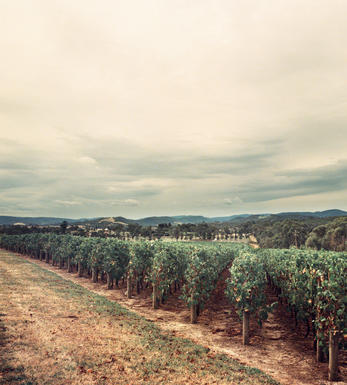 Barossa Valley
Barossa Valley is the South Australia's wine industry's birthplace. Currently into its fifth generation, it dates back to 1839 when George Fife Angas' South Australian Company purchased 28,000 acres at a £1 per acre and sold them onto landed gentry, mostly German Lutherans. The first vines were planted in 1843 in Bethany, and by the 1870s – with Europe ravaged by war and Phylloxera - Gladstone's British government complemented its colonies with preferential duties.
Fortified wines, strong enough to survive the 20,000km journey, flooded the British market. Churchill followed, between the Wars, re-affirming Australia's position as a leading supplier of 'Empire wines'. After the Second World War, mass European immigration saw a move to lighter wines, as confirmed by Grange Hermitage's creation during the 1950s. Stainless-steel vats and refrigeration improved the quality of the dry table wines on offer, with table wine consumption exceeding fortified for the first time in 1970.
Averaging 200 to 400 metres' altitude, the region covers 6,500 hectares of mainly terra rossa loam over limestone, as well as some warmer, sandier sites – the Cambrian limestone being far more visible along the eastern boundary (the Barossa Ranges) with Eden Valley. Following a diagonal shape, Lyndoch at the southern end nearest Gulf St Vincent is the region's coolest spot, benefiting from sea fogs, while Nuriootpa (further north) is warmer; hot northerlies can be offset by sea breezes. The region is also home to the country's largest concentration of 100-year-old-vine Shiraz, Grenache and Mourvedre.
Barossa Valley Shiraz is one of the country's most identifiable and famous red wine styles, produced to a high quality by the likes of Rockford, Elderton, Torbreck and Dean Hewitson. Grenache and Mourvèdre are two of the region's hidden gems, often blended with Shiraz, yet occasionally released as single vineyard styles such as Hewitson's 'Old Garden', whose vines date back to 1853. Cabernet Sauvignon is a less highly-regarded cultivar.
Wines are traditionally vinified in open concrete fermenters before being cleaned up and finished in American and French oak barrels or 'puncheons' of approximately 600 litres. Barossa Shiraz should be rich, spicy and suave, with hints of leather and pepper.