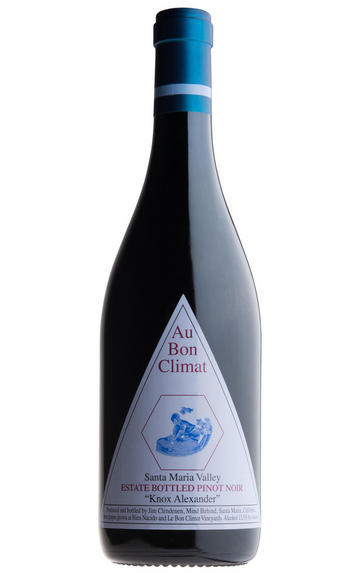 2018 Au Bon Climat, Knox Alexander, Pinot Noir, Santa Maria Valley, California, USA
Prices start from £275.00 per case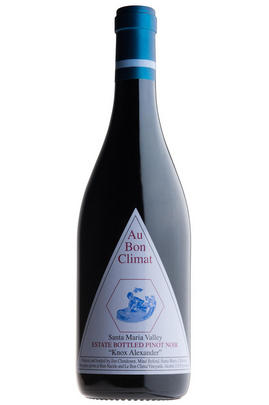 Critics reviews
The 2018 Pinot Noir Knox Alexander, which includes 35% stems, reveals a more medium ruby hue (I doubt that it's been filtered) as well as a complex, nuanced style in its spiced red and black fruits as well as notes of new leather, spice box, and loamy earth. Medium-bodied, nicely balanced, and textured, it's another unquestionably Burgundian-styled beauty from this team with lots to love.
Jeb Dunnuck, jebdunnuck.com (August 2022)
This bottling, named for the vintner's son, is quite light in the glass, offering aromas of crisp pomegranate, cranberry, green peppercorn and eucalyptus. It's zesty on the palate with those green-herb and peppercorn notes that play against the tart pomegranate and blood-orange-rind flavors. This is built to last. Drink now through 2038.
Matt Kettman, Wine Enthusiast
About this WINE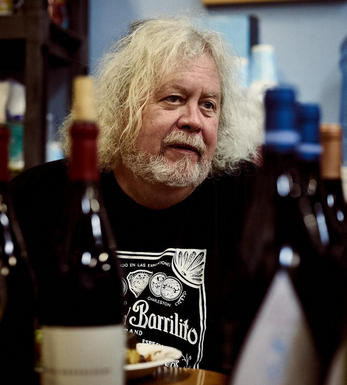 Au Bon Climat
The late Jim Clendenen founded Au Bon Climat (ABC) in 1982. He became famous for making pioneering wines from Pinot Noir and Chardonnay on California's Central Coast. He passed away in 2021 and is remembered as one of the most charismatic and influential people of his vinous generation.
Jim's passion for wine was born of a trip to Burgundy in the mid-1970s when he was a student studying Law at UC Santa Barbara. During subsequent visits his enthusiasm for Pinot Noir and Chardonnay grew and he became convinced that the Californian hills were capable of something special with these two noble varieties.
Au Bon Climat translates as "a well-exposed vineyard" a name suiting the coastal position of the vineyards, with its benevolent Pacific fog and cooling breeze. Making the most of these conditions ABC buy clones from Burgundy. This contributes to creating wines which emulate the restraint and finesse of Europe but with a magic touch of New World flair.
The vineyards ABC source their grapes from reads as a 'who's who' of Central Coast vineyards. Bien Nacido and Jim's own "Le Bon Climat" are the biggest contributors. The influence of the Pacific can be felt standing in the canyon of Bien Nacido where the warm days and cool nights characterise this superb terroir. Le Bon Climat in contrast consists of mainly hilltop vineyards. Jim acquired 40ha here in 1998 and has applied his typically rigorous approach to get the best from the plot.
Like most of best early pioneers on USA's West Coast Jim needed no encouragement to recognise the importance of the soil. He farms all is own vineyards organically to maximise the personality of each site coming through in the wines. Le Bon Climat was certified organic in 2003.
A wide array of wines are produced from ABCs own vineyards and from the close relationships the estate enjoys with other growers.
They are classified into four categories. "Santa Barbara County Classics" are the most accessible in the range, both in terms of price and their sheer drinkability; "Single Vineyard" wines are an ever-changing selection of expressions from remarkable single sites; "Historic Vineyards" represent the five icons of the Central Coast, and the "Blue Series" which show off the very best cuveés, have a high proportion of new oak and reward a long bottle ageing.
It would be difficult to overstate Jim's impact on Californian wine-making. Just as it is difficult to overstate the quality of the wines.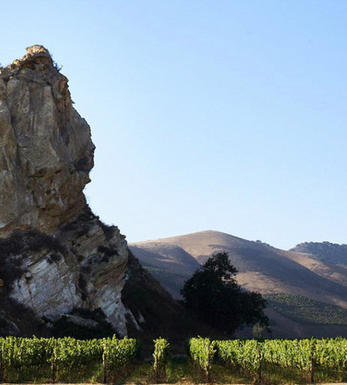 USA
The United States is the world's fourth largest wine-producing nation after France, Italy and Spain, with double the quantity of fifth-placed Argentina. California is far and away the country's most important winemaking region, accounting for 90 percent of production. Wine is actually produced in every one of America's 50 states, even if Utah, Wyoming and North Dakota have only 12 wineries and just over 35ha of vines between them.

The history of the US wine industry is a thorny one; try as they might, the early East Coast settlers had little success making wine and had to wait until the mid-19th century for their first commercially-successful example: Nicholas Longworth's famous sparkling Catawba from Cincinnati, Ohio. The West Coast had a climate far more conducive to vine-growing and from its first vineyard (most likely Mission) planted in 1769 at San Diego, the wine industry swiftly flourished, boosted by the influx hastened by the Gold Rush.

However, the twin blights of mildew and phylloxera at end of the 19th century, followed by Prohibition from 1920 to 1933, set the wine industry back 100 years. Ever since, wine has endured a somewhat uneasy existence, flourishing despite an obstructive distribution system and often tacit government disapproval.

The US boasts every type of producer, from the tiny garagiste nurturing a couple of barrels of incredibly rare and expensive wine, to the monumental producers of cheap brands like Ernst & Julio Gallo who sell 75m cases of wine a year – 25 percent of the total production of the US. Such progress has largely taken place in the last 40 years through an unquenchable desire for quality, the insistence on the finest expertise and technology, enormous investment and astute marketing.

California produces some of the world's greatest Cabernet Sauvignon, Merlot, Zinfandel, Pinot Noir and Chardonnay from famous regions like Napa and Sonoma. Recognition of this success dates back to the 1976 Judgment of Paris where The Golden State's finest trounced the cream of French wine in a blind tasting.
After California, New York is in fact the second biggest wine-producing state; most wines are made from Concord, a grape often described as `foxy' – and not in a good way – although increasingly also from Chardonnay. From a qualitative point of view, however, California's closest rivals are Washington, which specialises in Bordeaux blends, and Oregon - which yields some very fine Pinot Noir. Of the rest, Virginia's reds from Cabernet and Merlot are showing potential, while Georgia, Missouri, Texas, Idaho, South Carolina, Pennsylvania and Michigan all have significant plantings, mostly of hybrid American varieties.

Although it doesn't yet have an AOC system per se, the concept of American Viticultural Areas (AVAs) was introduced here in 1980. From the very first in Augusta, Missouri, they have now grown to number 188. AVAs have none of the restrictive rules of the AOC system and are all the better for it: 85 percent of any wine labelled with a given AVA must come from that region. In addition, every state and county is classified as its own appellation.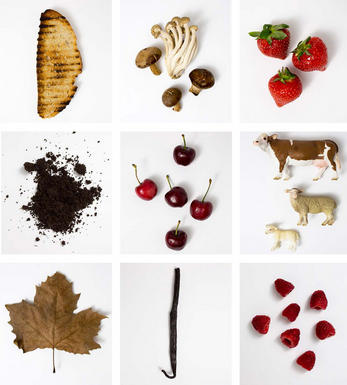 Pinot Noir
Pinot Noir is probably the most frustrating, and at times infuriating, wine grape in the world. However when it is successful, it can produce some of the most sublime wines known to man. This thin-skinned grape which grows in small, tight bunches performs well on well-drained, deepish limestone based subsoils as are found on Burgundy's Côte d'Or.

Pinot Noir is more susceptible than other varieties to over cropping - concentration and varietal character disappear rapidly if yields are excessive and yields as little as 25hl/ha are the norm for some climats of the Côte d`Or.
Because of the thinness of the skins, Pinot Noir wines are lighter in colour, body and tannins. However the best wines have grip, complexity and an intensity of fruit seldom found in wine from other grapes. Young Pinot Noir can smell almost sweet, redolent with freshly crushed raspberries, cherries and redcurrants. When mature, the best wines develop a sensuous, silky mouth feel with the fruit flavours deepening and gamey "sous-bois" nuances emerging.
The best examples are still found in Burgundy, although Pinot Noir`s key role in Champagne should not be forgotten. It is grown throughout the world with notable success in the Carneros and Russian River Valley districts of California, and the Martinborough and Central Otago regions of New Zealand.