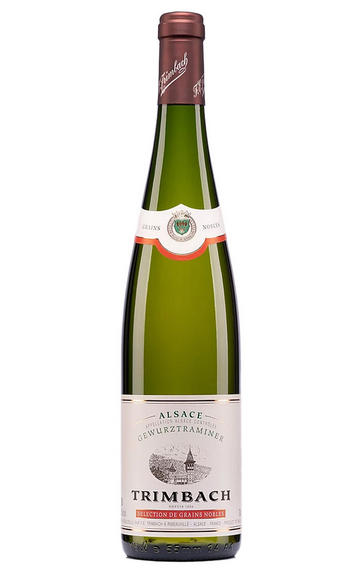 2018 Gewurztraminer, Sélection de Grains Nobles, Trimbach, Alsace
Prices start from £485.00 per case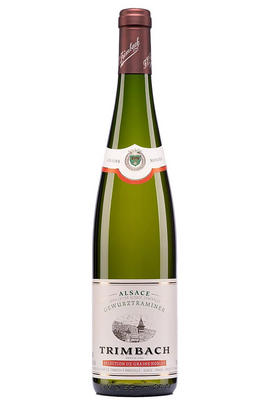 About this WINE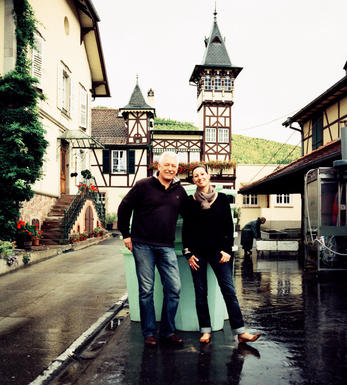 Trimbach
The House of Trimbach was established in 1626 and is now being run by the 12th generation of the family, Pierre and Jean. The family supervises all operations from planting and vinification to selection and bottling, giving them 100% control over production.

If Zind Humbrecht produces wines of extravagant power at one end of the spectrum of excellence within Alsace wine making, then Trimbach definitely stands at the other extreme – "Restraint" is the watchword. The Trimbach style is paraphrased perfectly by Hubert Trimbach and the family itself – "Concentrated not heavy; fruity, not sweet; bracing rather than fat; polite rather than voluptuous".

Trimbach wines are reserved, steely, elegant, even aristocratic; never obvious or flashy. "We are Protestants. Our wines have the Protestant style – vigour, firmness, a beautiful acidity, lovely freshness. Purity and cleanness, that's Trimbach." For those weary of the copious residual sugar found in so many of the contemporary Alsace wines, Trimbach's are a refuge.
The jewel in the crown is the family's Clos Ste-Hune vineyard, a small vineyard just outside Hunawihr. Family-owned for over 200 years, it is widely regarded as one of the best expressions of Alsace Riesling.Trimbach has launched their first-ever terroir named wine with the 2009 Riesling Grand Cru Geisberg, 2.6 ha plot on the Geisberg have always been part of the famous Cuvée Frédéric Emile. A second Grand Cru may be in the pipeline as, in 2012 the Trimbach family purchased a plot in the Kientzheim Grand Cru Schlossberg.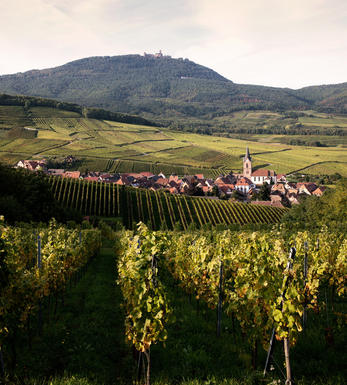 Gewurztraminer AOC Alsace
Gewurztraminer AOC Alsace wines are highly esteemed for their distinctive characteristics and origin in northeastern France's Alsace region. The name "Gewurztraminer" provides a clue to the grape's aromatic and flavorful profile. "Gewurz" translates to "spiced," indicating the wine's propensity for intense, complex aromas and flavours.
The grape variety Gewurztraminer is believed to have originated in the Tramin region of Italy before finding its way to Alsace. It is renowned for its highly aromatic and expressive qualities. The wines produced from this grape offer a captivating olfactory experience with a wide range of fragrances. The most notable aromas in Gewurztraminer wines from Alsace include floral notes like rose petals, jasmine, and honeysuckle. Fruit aromas are also prominent, with lychee, peach, apricot, and tropical fruits like pineapple and mango often present.
The Alsace wine region, nestled in northeastern France along the border with Germany, provides an ideal terroir for Gewurztraminer cultivation. The area benefits from a cool climate, which allows for producing aromatic white wines. Unlike many other wine regions, Alsace labels its wines by grape variety rather than regional names. This emphasis on grape variety showcases each grape's distinct character and expression, including Gewurztraminer.
The wines are typically rich and full-bodied. They often have slight oiliness on the palate, adding to their unique texture. While Gewurztraminer can have a hint of sweetness, most examples from Alsace are generally dry or off-dry (slightly sweet) in style. Combining the wine's weight, richness, and aromatic intensity creates a unique and memorable experience for the palate.
While Gewurztraminer wines are often consumed in their youth to enjoy fresh aromas, some Alsace producers craft age-worthy examples. With proper cellaring, Gewurztraminer can develop complex secondary aromas and flavours, including nuances of honey, gingerbread, and exotic spices. This ageing potential adds further depth and intrigue to these wines.
One distinct feature of Alsace wines, including Gewurztraminer, is the tall and slender bottle shape known as the "flûte d'Alsace." This unique design originated in the 18th century and continues to be used today to differentiate Alsace wines from other regions.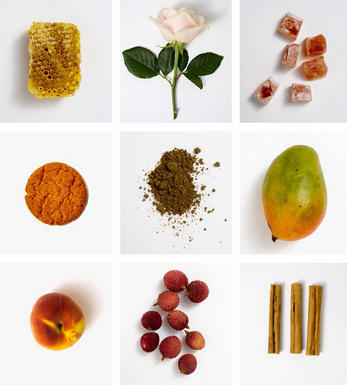 Gewürztraminer
Gewürztraminer is a high quality white grape which produces classic varietal wines in the Alsace region of France.

It is the second most widely planted grape in Alsace and the most widely planted in the Haut-Rhin where it is particularly well suited to the clay-rich soils found in the Vosges foothills. It is normally fermented dry and produces golden, medium to full-bodied wine with heady aromas of lychees, rose petals and white peaches.

It attains naturally high sugar levels far in excess of Riesling and this makes it ideal for sweet, late harvest wines. These can be unctuously sweet and luscious and the best can last for decades. Rieffel, Hugel and Zind Humbrecht consistently produce the finest Gewürztraminer wines in Alsace.

It is also planted in Germany (specifically in the Rheinpfalz and Baden regions), Austria, the Alto Adige in Italy and to a lesser extent in Australia, New Zealand and California. Gerwürz means spice in German, although this pink-skinned grape tends to produce exotically perfumed rather than spice laden wines.