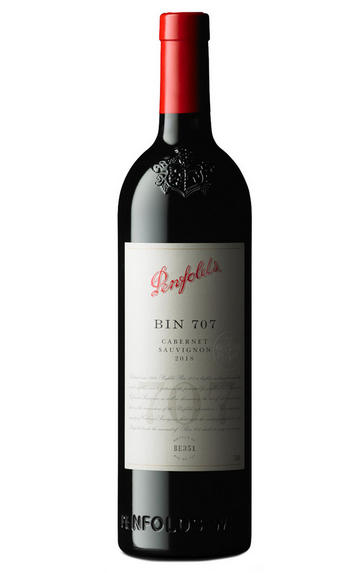 2018 Penfolds, Bin 707 Cabernet Sauvignon, Australia
Prices start from £321.50 per bottle (75cl).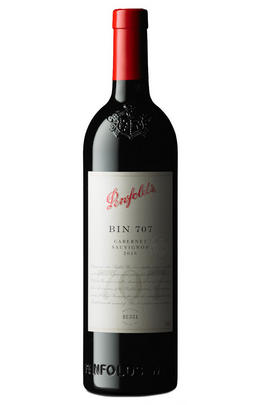 Critics reviews
In case readers weren't aware, Bin 707 is always aged in new American oak, like Grange. The 2018 Cabernet Sauvignon Bin 707 features plenty of vanilla on the nose, backed by concentrated cassis fruit. It's full-bodied, velvety and richly tannic, clearly meant to have two decades (or more) of longevity. Marked by ripe fruit, a notable lack of herbaceousness, and lavish oak, it's out of step with current trends in Australian Cabernet Sauvignon, but it's no less delicious and all the more unique for that.
Joe Czerwinski, robertparker.com (July 2020)
Jancis Robinson MW
17.5/20
Super-sweet cassis fruit, plus expressive vanilla scent and high but ultra-fine tannins. There's lovely black-olive and engine-oil savouriness on the finish. Thick, dense, formidable.
Richard Hemming MW, jancisrobinson.com (September 2020)
This has a very expressive and intense feel with assertive, 100% new American oak, sitting in a bold, spicy layer with vanilla, bourbon and espresso notes, across the blueberries, blackcurrants and boysenberries. The palate has a very taut yet luscious delivery of rich plum and cranberry flavors. There's such long and taut tannin and oak is driving this into tightly compressed shape with roasted-coffee tones to the very intense and long, ripe plums and black cherries. Powerful, commanding cabernet. This is a great Bin 707. Attractive now, but best to wait until 2025.
James Suckling, jamessuckling.com (July 2020)
There were no issues for Cabernet in 2018 with evenness across both the warm and cool regions. Harvest was a doddle and it tastes like blending was a piece of cake, too. I say this because there are no wrinkles in this wine whatsoever. It is velvety, thrillingly balanced, typically broad-brush and loaded with awesome power. There is welcome, pliable juiciness at its core and this means that it will drink before the mighty 2016. But with everything in its perfect place, like the entire cast, lined up to take a bow on the stage after performing a heart-wrenching opera, what is the overriding theme of this wine? I used a word from my tasting note of Bin 707 to highlight the character of this entire collection and it is 'polish'. This is a tremendously polished wine and it sums up everything remarkable about Bin 707. 19.5+/20 (Drink 2025 – 2050)
Matthew Jukes (July 2020)
About this WINE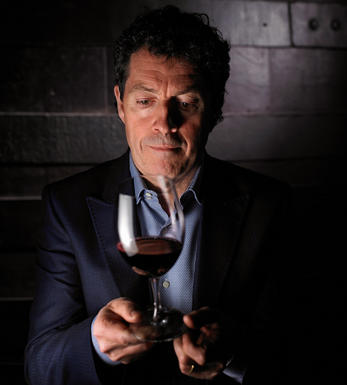 Penfolds
Penfolds enjoys an iconic status that few New World producers have achieved. Established in 1844 at the Magill Estate near Adelaide, it laid the foundation for fine wine production in Australia.

The winemaking team is led by the masterful Peter Gago; it has the herculean task of blending the best wines from a multitude of different plots, vineyards and regions to create a consistent and outstanding range of wines. Its flagship wine, Grange, is firmly established as one of the finest red wines in the world.

Under Gago's stewardship, the Penfolds range has evolved over time. Winemaking has moved away from New World heat and the sort of larger-than-life style that can mask individuality; the contemporary wines instead favour fine balance and typicity for the region or grape.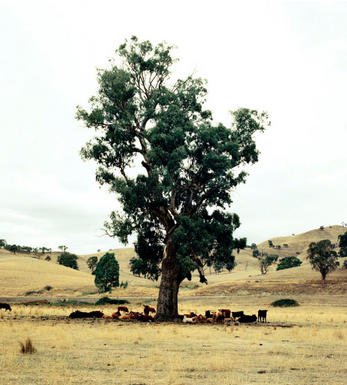 South Australia
At 72,000 hectares, South Australia is the engine room of the country's wine industry, responsible for 43 percent of its vineyards and encompassing some of Australia's most famous fine wine regions.
One of the most important areas in qualitative terms is the Barossa Valley, beginning 50km north-east of Adelaide, and famous for its full-bodied Shiraz, as well as for its Grenache and Mourvèdre. To the east, the cool Eden Valley is home to some really fine Riesling and top-class Shiraz, such as that made by Henschke. To the north of Barossa is the Clare Valley, also a source of good Riesling but home to well-structured reds as well.
South-east of Adelaide lies the delightful vineyard area of the Adelaide Hills, where fine Sauvignon, Chardonnay, Riesling and Pinot Noir are produced by wineries such as Petaluma and Llangibby Estate. Langhorne Creek to the east of Adelaide has earned a reputation for its Cabernet Sauvignon, Verdelho and Shiraz while, between Adelaide and the sea, McLaren Vale is a noted area for red wines.
The unique vineyard region of Coonawarra lies 400km south-east in an area of pure limestone topped by a loose, red topsoil. Cool enough to resemble Bordeaux, this area produces great Cabernets and Merlots and is much in demand. Slightly to the north and to the west lie the regions of Padthaway and Mount Benson respectively, which enjoy similar success as sources of great white wines, especially Chardonnay. Wrattonbully however is known for its fresh, varietally-pure Cabernet Sauvignon and Merlot.
However it's the less-distinguished Riverland region that accounts for 50 percent of the state's wine production.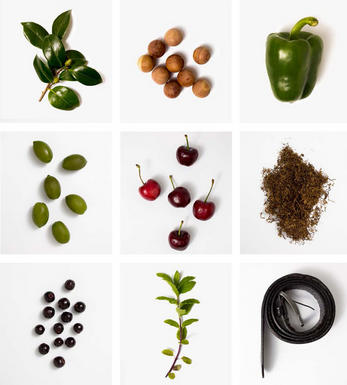 Cabernet Sauvignon
The most famous red wine grape in the world and one of the most widely planted.
It is adaptable to a wide range of soils, although it performs particularly well on well-drained, low-fertile soils. It has small, dusty, black-blue berries with thick skins that produce deeply coloured, full-bodied wines with notable tannins. Its spiritual home is the Médoc and Graves regions of Bordeaux where it thrives on the well-drained gravel-rich soils producing tannic wines with piercing blackcurrant fruits that develop complex cedarwood and cigar box nuances when fully mature.
The grape is widely planted in California where Cabernet Sauvignon based wines are distinguished by their rich mixture of cassis, mint, eucalyptus and vanilla oak. It is planted across Australia and with particular success in Coonawarra where it is suited to the famed Terra Rossa soil. In Italy barrique aged Cabernet Sauvignon is a key component in Super Tuscans such as Tignanello and Sassicaia, either on its own or as part of a blend with Sangiovese.