About this WINE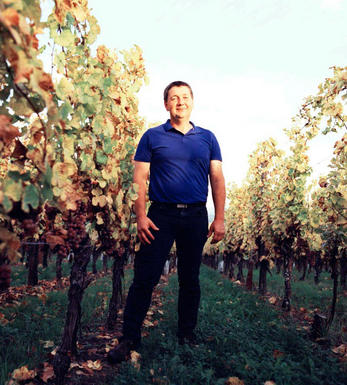 Rolly Gassmann
Located in Alsace's Haut-Rhin village of Rorschwihr, near Ribeauvillé, lies the family domaine of Rolly-Gassmann, whose roots date back to 1661. The 51 hectare estate (40ha in Rorschwihr, 10ha in Bergheim) is owned and run by Marie-Therese, Louis & their son Pierre Gassmann, along with a team of 17 workers.

They work to the principles of biodynamic viticulture yet curiously also apply weed killers. They produce on average 300,000 bottles per annum and they are notable for having more than four years' stock (1 million bottles) in stock at any one time, which would account for the regular visits by French customers; they only export 20% of their annual production.

The 250ha commune of Rorschwihr, first noted for its wine in 742AD, lies on one of Alsace's many faultlines (ala Burgundy), giving rise to a complex tapestry of 21 different soil types, particularly limestone, sandstone, granite and silt. So complex in fact that when the authorities sought to lump together vineyards to form large plots as part of the new Grand Cru system (1970s/80s), the villagers rose up and declared that either there would be 12 Rorschwihr Grand Crus or none at all. Hence today there are no Grand Crus in Rorschwihr.

That said there are some standout Crus/lieux-dits that would surely qualify as Premier Cru sites if ever this classification was tabled. Limestone rich vineyards Silberberg, Kappelweg & Pflaenzerreben are rated for their Rieslings , Rotleibel's darker brown clay and silt soils are meant for Pinot Gris, while the oolithic white lime stone of Oberer Weingarten & Stegreben are perfect for the Gassmann's Gewurztraminer.

Vinification takes place in large oak barrels and stainless-steel, giving wines of great elegance, gentleness and drinkability.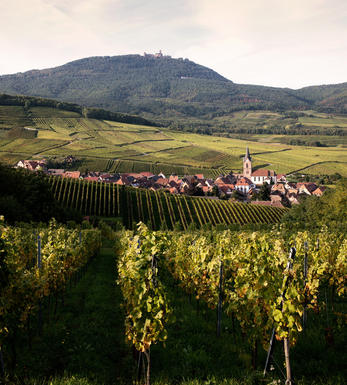 Gewurztraminer AOC Alsace
Gewurztraminer AOC Alsace wines are highly esteemed for their distinctive characteristics and origin in northeastern France's Alsace region. The name "Gewurztraminer" provides a clue to the grape's aromatic and flavorful profile. "Gewurz" translates to "spiced," indicating the wine's propensity for intense, complex aromas and flavours.
The grape variety Gewurztraminer is believed to have originated in the Tramin region of Italy before finding its way to Alsace. It is renowned for its highly aromatic and expressive qualities. The wines produced from this grape offer a captivating olfactory experience with a wide range of fragrances. The most notable aromas in Gewurztraminer wines from Alsace include floral notes like rose petals, jasmine, and honeysuckle. Fruit aromas are also prominent, with lychee, peach, apricot, and tropical fruits like pineapple and mango often present.
The Alsace wine region, nestled in northeastern France along the border with Germany, provides an ideal terroir for Gewurztraminer cultivation. The area benefits from a cool climate, which allows for producing aromatic white wines. Unlike many other wine regions, Alsace labels its wines by grape variety rather than regional names. This emphasis on grape variety showcases each grape's distinct character and expression, including Gewurztraminer.
The wines are typically rich and full-bodied. They often have slight oiliness on the palate, adding to their unique texture. While Gewurztraminer can have a hint of sweetness, most examples from Alsace are generally dry or off-dry (slightly sweet) in style. Combining the wine's weight, richness, and aromatic intensity creates a unique and memorable experience for the palate.
While Gewurztraminer wines are often consumed in their youth to enjoy fresh aromas, some Alsace producers craft age-worthy examples. With proper cellaring, Gewurztraminer can develop complex secondary aromas and flavours, including nuances of honey, gingerbread, and exotic spices. This ageing potential adds further depth and intrigue to these wines.
One distinct feature of Alsace wines, including Gewurztraminer, is the tall and slender bottle shape known as the "flûte d'Alsace." This unique design originated in the 18th century and continues to be used today to differentiate Alsace wines from other regions.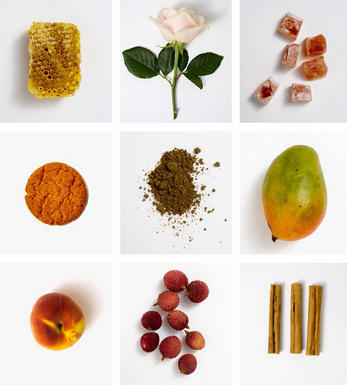 Gewürztraminer
Gewürztraminer is a high quality white grape which produces classic varietal wines in the Alsace region of France.

It is the second most widely planted grape in Alsace and the most widely planted in the Haut-Rhin where it is particularly well suited to the clay-rich soils found in the Vosges foothills. It is normally fermented dry and produces golden, medium to full-bodied wine with heady aromas of lychees, rose petals and white peaches.

It attains naturally high sugar levels far in excess of Riesling and this makes it ideal for sweet, late harvest wines. These can be unctuously sweet and luscious and the best can last for decades. Rieffel, Hugel and Zind Humbrecht consistently produce the finest Gewürztraminer wines in Alsace.

It is also planted in Germany (specifically in the Rheinpfalz and Baden regions), Austria, the Alto Adige in Italy and to a lesser extent in Australia, New Zealand and California. Gerwürz means spice in German, although this pink-skinned grape tends to produce exotically perfumed rather than spice laden wines.