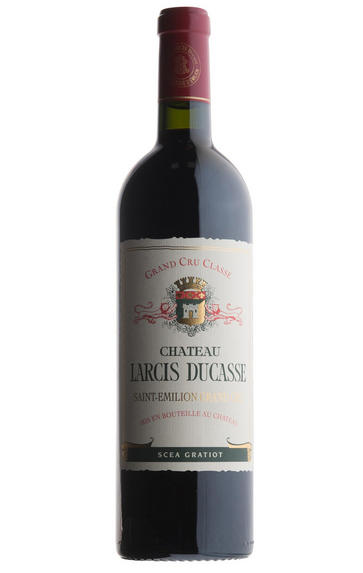 2022 Château Larcis Ducasse, St Emilion, Bordeaux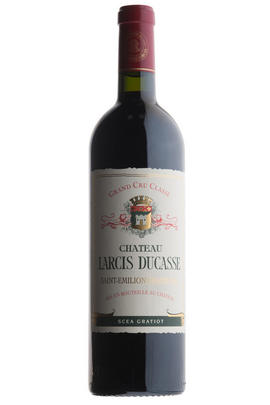 Critics reviews
Neal Martin, Vinous
95-97/100
The 2022 Larcis Ducasse was picked from 13 to 23 September at 34hL/ha. This has quite a rich bouquet with opulent black cherries, boysenberry and blue fruit, vanilla extract and truffle scents. Two samples were tasted, the one at the château showing more precision. 
The palate is medium-bodied with sweet tannins, its flesh belying the structure underneath. Liquorice lingers after the wine has departed. The mineralité floods the finish and articulates its limestone soils with aplomb. This is a seriously fine Larcis Ducasse that exudes panache.
Drink 2030 - 2065
Neal Martin, Vinous.com (April 2023)
Antonio Galloni, Vinous
96-98/100
The 2022 Larcis Ducasse is a huge, inky wine. A firm backbone of structure lies behind all of that opulence, yielding a wine that is both extravagantly rich and super-classic. That's a pretty appealing combination in my book. 
Dark red-toned fruit, spice, leather, tobacco, incense and mocha emerge, but with great reluctance. The 2022 is packed to the core. I don't imagine it will be ready to drink anytime soon, but it is unquestionably one of the wines of the vintage. 
The blend is 84% Merlot and 16% Cabernet Franc, a bit more Franc than usual, ageing in equal parts 225- and 500-litre barrels. Tasted four times.
Drink 2032 - 2062
Antonio Galloni, Vinous.com (April 2023)
You feel the fingerprint of the limestone here, from a team that is never afraid of austerity in a young wine is young. It opens to show creamy black and red fruits, with steely acidity that keeps the ripeness in check. 34hl/h yield, 50% new oak and for the rest 500l casks for ageing.
Drink 2030 - 2042
Jane Anson, JaneAnson.com (May 2023)
Jancis Robinson MW
16.5+/20
86% Merlot, 14% Cabernet Franc. Cask sample.
Lifted, red-berry aromas with a touch of spice. Generous fruit fills the mid-palate with plentiful tannins behind. No lack of matière. Big, chewy tannic base. Slight glow of alcohol on the finish. Promising but needs to come together.
Drink 2030 - 2047
James Lawther MW, JancisRobinson.com (May 2023)
A fleshy, opulent wine, the 2022 Larcis Ducasse bursts with aromas of rich, creamy berry fruit mingled with aromas of liquorice, bay leaf and spices. Full-bodied, broad and enveloping, it's a textural, layered wine with a ripe core of fruit, supple tannins and an expansive finish. 
More dramatic and unabashed than the 2020, this will appeal to readers who place a premium on flamboyant extravagance, but samples tasted later during my visit to Bordeaux exhibited greater freshness and precision.
William Kelley, Wine Advocate (April 2023)
This is really precise, with a laser-guided fine tannin structure throughout the wine and a juicy and electric texture. It's so refined and polished. Endless. A wonderful young wine with a terrific future.
James Suckling, JamesSuckling.com (April 2023)
Smells gorgeous, with black fruits, milk chocolate and floral notes. Supple and lively, crystalline and pure, you get both the juicy fleshiness of the dark and concentrated fruit but with tension, detail, and definition. Clarity and bite, this delivers everything you want regarding tannins, minerality, freshness and density. 
Controlled and purposeful keeps a quiet confidence and strong intensity the whole way through. Clearly powerful, but refined and sophisticated. Compelling, darkly seductive and oh-so drinkable. A fantastic wine in the making. 
Harvest 9 - 23 September. Ageing 16-18 months; 60% new barrels, 40% one wine (225L and 400L). Derenoncourt consultants.
Drink 2025 - 2040
Georgina Hindle, Decanter.com (April 2023)
Tasted on multiple occasions and one of the legendary wines in the making from this vintage, the 2022 Château Larcis Ducasse clocks in as 86% Merlot and 14% Cabernet Franc still resting in 55% new French oak. 
A hypothetical blend of the 2005 and 2018, it's a deep, powerful, opulent Saint-Emilion offering an incredible array of black cherries, blackberries, smoked tobacco, chocolate, and graphite-driven aromas and flavours.
With a rich, full-bodied, expansive mouthfeel, it has ultra-fine tannins, beautiful symmetry in its tannins, acidity, fruit, no hard edges, and a killer finish. I was lucky enough to taste this on four separate occasions, and I thought it had the potential to be a perfect wine every time.
Jed Dunnuck, JebDunnuck.com (May 2023)
About this WINE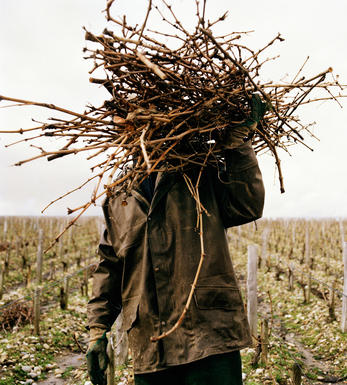 Chateau Larcis Ducasse
Traditionally Ch. Larcis Ducasse, a St Emilion Grand Cru Classé, was regarded as a property with exceptional terrior but a constant underperformer. This has changed, mainly thanks to the talents of a new winemaking team headed up by Nicolas Thienpont (of Ch. Pavie Macquin repute) and Stephane Derenoncourt (the mercurial 'flying wine consultant') who have managed to unlock the potential of this sleeping giant.

The estate is located on one of Bordeaux's finest strips of terroir - the Cote Pavie in St Emilion. Here, this 25-acre property abuts the 1er Grand Cru Classé Ch. Pavie estate. The vines are planted on an eclectic range of soils - alluvial sand deposits, clay, chalk and limestone. The vines, as one would expect for that part of the world, are predominately Merlot (some 75%) Cabernet Franc and Cabernet Sauvignon.

The new winemaking team arrived in 2002 and since then, the wines have gone from strength to strength. Look out especially for the 2005 Ch. Larcis Ducasse (98/100 Parker), 2006 Ch. Larcis Ducasse (91-94 Parker) and 2007 Ch. Larcis Ducasse (92-94 Parker), as these are the manifestation of all the hard work undertaken at the château over recent years.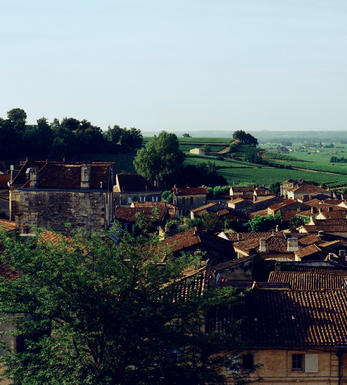 St-Emilion
St Emilion is one of Bordeaux's largest producing appellations, producing more wine than Listrac, Moulis, St Estèphe, Pauillac, St Julien and Margaux put together. St Emilion has been producing wine for longer than the Médoc but its lack of accessibility to Bordeaux's port and market-restricted exports to mainland Europe meant the region initially did not enjoy the commercial success that funded the great châteaux of the Left Bank.
St Emilion itself is the prettiest of Bordeaux's wine towns, perched on top of the steep limestone slopes upon which many of the region's finest vineyards are situated. However, more than half of the appellation's vineyards lie on the plain between the town and the Dordogne River on sandy, alluvial soils with a sprinkling of gravel.
Further diversity is added by a small, complex gravel bed to the north-east of the region on the border with Pomerol. Atypically for St Emilion, this allows Cabernet Franc and, to a lesser extent, Cabernet Sauvignon to prosper and defines the personality of the great wines such as Ch. Cheval Blanc.
In the early 1990s there was an explosion of experimentation and evolution, leading to the rise of the garagistes, producers of deeply-concentrated wines made in very small quantities and offered at high prices. The appellation is also surrounded by four satellite appellations, Montagne, Lussac, Puisseguin and St. Georges, which enjoy a family similarity but not the complexity of the best wines.
St Emilion was first officially classified in 1954, and is the most meritocratic classification system in Bordeaux, as it is regularly amended. The most recent revision of the classification was in 2012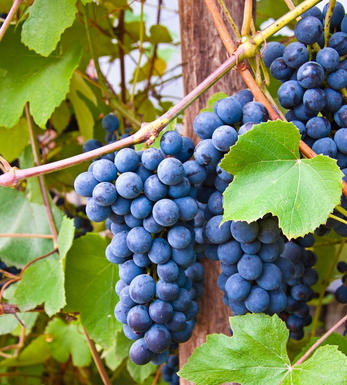 Merlot/Cabernet Franc
Merlot and Cabernet Franc are grape varieties commonly used in Bordeaux-style blends, particularly in the Bordeaux region of France. When these two grapes are blended, they can create a wine that combines the best characteristics of each variety.
Merlot is known for its smoothness, soft tannins, and ripe fruit flavours. It often contributes black cherry, plum, and chocolate flavours to the blend. The grapes are relatively easy to grow and ripen earlier than other Bordeaux varieties, making them versatile for blending.
Cabernet Franc, on the other hand, adds structure, depth, and complexity to the blend. It typically brings aromas of red fruits such as raspberry and strawberry, along with herbal notes like bell pepper and tobacco. These grapes have thinner skins and can be more challenging to cultivate, requiring specific growing conditions to reach their full potential.
When Merlot and Cabernet Franc are combined, the result is a well-balanced wine with various flavours and aromas. The blend often exhibits a Bordeaux wine's medium to full body, along with a smooth texture and moderate tannins. The specific flavour profile can vary depending on the proportions of each grape in the blend and the terroir and winemaking techniques employed.