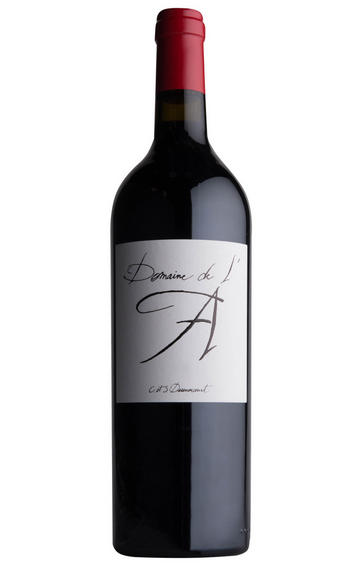 2022 Domaine de l'A, Côtes de Castillon, Bordeaux
Prices start from £117.00 per case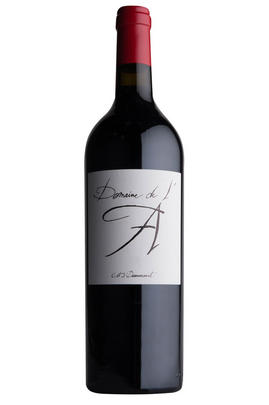 Critics reviews
Antonio Galloni, Vinous
92-94/100
The 2022 Domaine de L'A is a gorgeous, pedigreed wine. Dark and sumptuous in the glass, with tons of supporting structure, the 2020 packs a serious punch. Black cherry plum, spice, leather, liquorice and chocolate are all dialled up.
Drink 2027 - 2042
Antonio Galloni, Vinous.com (April 2023)
Stephane Derenoncourt's home estate, on limestone soils that translate here to chalky tannins, fresh red cherry fruits and sage spice. As is Derencourt's signature with his clients, there is much emphasis on soil management through the growing season, ensuring cover crops and reactive viticulture. Deep plum colour, with plenty of spice and freshness. Harvest September 14 to 27. 30% new oak.
Drink 2025 - 2035
Jane Anson, JaneAnson.com (April 2023)
The 2022 Domaine de l'A derives from vines planted on a superb calcareous plateau and clay-limestone slopes. Exhibiting aromas of juicy cherries, cassis, spices, graphite and liquorice, it's medium to full-bodied, deep and tensile, with a concentrated core of fruit, racy acids and a long, penetratingly saline finish. 
This is a terrific effort from Christine and Stéphane Derenoncourt and their team.
Yohan Castaing, Wine Advocate (May 2023)
Black fruit with lots of grape-skin character. Natural tannin character here. Medium body. Lemon peel and spices.
James Suckling, JamesSuckling.com (April 2023)
Floral and brightly fruited on the nose, blue and black fruits with herbal and saline aromas too giving nuance. Fleshy and seriously built, this has plush muscles, flexing and strutting with energy and verve. It's undoubtedly bold and powerful in the mouth but controlled, round and gourmet.
The gorgeous juicy core is ripe and cool, serious with fine tannins giving the structure, a clear minerality, soft spicing and cool fruit—lovely identity and character. Compelling and forceful in a charming way - this will be excellent. Harvest 14 - 27 September. Ageing 16-18 months, 30% new barrels. Derenoncourt consultants.
Drink 2025 - 2040
Georgina Hindle, Decanter.com (April 2023)
The dense purple-hued 2022 Domaine De L'A clocks in as 75% Merlot and 25% Cabernet Franc. It's concentrated and up-front, with full-bodied aromas and flavours of blackberries, smoky black cherries, chalky minerality, and graphite. 
With an undeniable sense of minerality, ripe velvet tannins, and an excellent finish, it's a no-brainer purchase. It will round into form within just a few years of bottle age and have two decades or more of overall longevity.
Jeb Dunnuck, JebDunnuck.com (May 2023)
About this WINE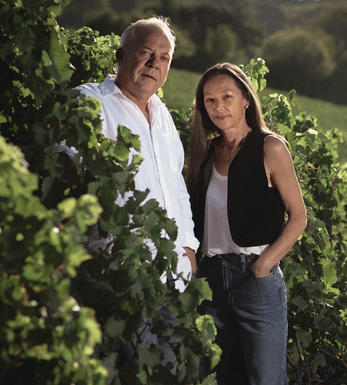 Domaine de l'A
World-renowned consultant Stèphane Derenoncourt and his wife, Christine, purchased 2.5 hectares in the commune of Sainte-Colombe in the Côtes de Castillon in 1999. Today, they have 11 hectares divided among various parcels, the majority on a south-facing slope with tuffeau limestone soil (to which Stephane attributes his wine's floral aroma). The average age of the Merlot (70%) and Cabernet Franc (30%) vines is 55 years old. The domaine is organic but – for the time being – uncertified. Yields are tiny: 28 hl/ha in a generous vintage. Owing to its scale, undulating vineyards and the ethereal character of its wines, the domaine has a distinctly Burgundian vibe.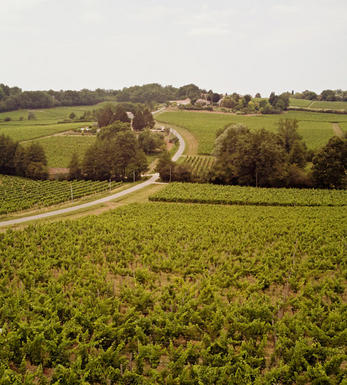 Cotes de Castillon
To the east of the St Émilion wine appellation, and on the north bank of the Dordogne, Côtes de Castillon has been the site of considerable interest and investment since the early 2000s. Wine production is significant, yielding over 1.5 million cases per annum and quality is quite variable, ranging from the everyday from the sandy and light gravel soils to imposing, aspirational wines benefiting from considerable investment, and made from the clay and limestone vineyards on higher slopes.

The style of these latter wines is akin to good St Émilion, and the wines use predominantly Merlot and Cabernet Sauvignon. In common with other regions recognised to produce interesting and good-value wines, several well-known St Émilion proprietors have invested in the appellation over the past decade, among them Gérard Perse of Ch. Pavie, Stephan Von Neipperg of Canon-la-Gaffelière, and consultant Stéphane Derénoncourt.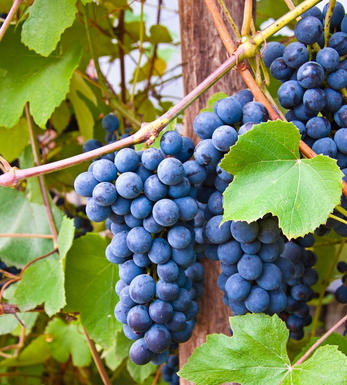 Merlot/Cabernet Franc
Merlot and Cabernet Franc are grape varieties commonly used in Bordeaux-style blends, particularly in the Bordeaux region of France. When these two grapes are blended, they can create a wine that combines the best characteristics of each variety.
Merlot is known for its smoothness, soft tannins, and ripe fruit flavours. It often contributes black cherry, plum, and chocolate flavours to the blend. The grapes are relatively easy to grow and ripen earlier than other Bordeaux varieties, making them versatile for blending.
Cabernet Franc, on the other hand, adds structure, depth, and complexity to the blend. It typically brings aromas of red fruits such as raspberry and strawberry, along with herbal notes like bell pepper and tobacco. These grapes have thinner skins and can be more challenging to cultivate, requiring specific growing conditions to reach their full potential.
When Merlot and Cabernet Franc are combined, the result is a well-balanced wine with various flavours and aromas. The blend often exhibits a Bordeaux wine's medium to full body, along with a smooth texture and moderate tannins. The specific flavour profile can vary depending on the proportions of each grape in the blend and the terroir and winemaking techniques employed.