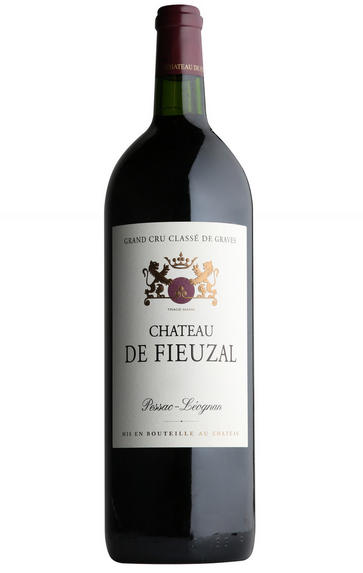 2022 Château de Fieuzal, Pessac-Léognan, Bordeaux
Prices start from £279.00 per case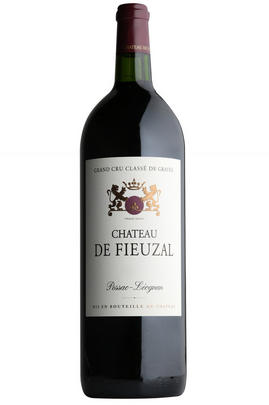 Critics reviews
Jancis Robinson MW
16.5/20
50% Cabernet Sauvignon, 45% Merlot, 5% Petit Verdot. Property owned by the Quinn family, originally from Ireland. Vat room entirely renovated in 2011. Cask sample.
Bright blueish crimson, not that deep. Sweet, fresh nose. Lively and very transparent even if without the depth and richness of some 2022s. Flirtatious even. Slightly drying finish but with some confident fruit tucked in there for the future. Refreshing wine!
Drink 2027 - 2040
Jancis Robinson MW, JancisRobinson.com (May 2023)
The cumulative rainfall at Château Fieuzal was only 385 millimetres in 2022, compared to 753 millimetres in 2021 and 743 millimetres in 2020. But this did not prevent Stephen Carrier and his team from making a fresh and energetic 2022 de Fieuzal, bursting with aromas of violet, iris, menthol and crunchy wild berries mingled with hints of the coniferous forest floor. 
Medium to full-bodied, it's pristinely balanced and beautifully layered, exhibiting a vibrant palate that's deep, tensile and elegant, concluding with a mouthwateringly mineral finish. This estate achieves things no one would have thought possible a decade ago.
Yohan Castaing, Wine Advocate (April 2023)
About this WINE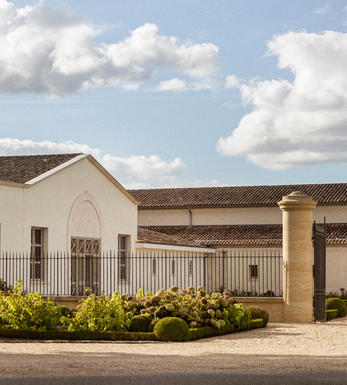 Chateau de Fieuzal
The origins of Château de Fieuzal date back to the first stirrings of winemaking in Bordeaux's Graves region. This Pessac-Léognan estate sits on one of the best gently sloping, gravel-outcrops in the area - long admired for its excellent drainage and heat diffusing properties. While Château de Fieuzal its known for producing some of the best white wines in Bordeaux, its reds are equally good, and in 1959 the estate was awarded the official status of Graves Grands Cru Classé.
Fieuzal is named after the family who owned the property up to 1851. The estate now covers some 75 hectares, 10 of which are used to grow white wine grapes. The current owners are Brenda and Lochlann Quinn, who hired talented young winemaker Stephen Carrier in 2007. Working closely together, they have introduced a rigorous and innovative winemaking style, and have broadened the estate's reputation considerably. As well as hiring Carrier, the Quinns brought well-known Bordeaux winemaking consultant, Hubert de Bouärd, owner of Château Angélus, on board in 2006.
The vines at Château de Fieuzal have a current average age of 30 years, and are planted at a density of 9,000 plants per hectare. Chemical applications are kept to a bare minimum, traditional farming methods are used and grapes are picked and sorted – twice - by hand, all of which helps to preserve the purity of the fruit. Vines are managed on a plot by plot basis, essentially meaning that each undergoes tailored winemaking processes to avoid masking or muting their distinct flavours and aromas. Other developments at Fieuzal have included a restructuring of the vineyard and, in 2011, the inauguration of a new cellar, fully equipped with advanced winemaking facilities.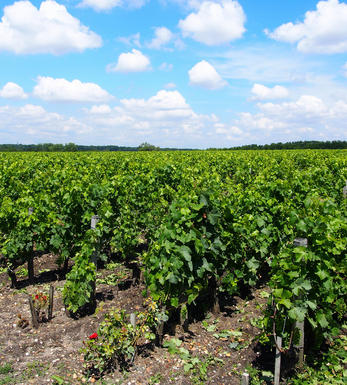 Pessac-Leognan
In 1986 a new communal district was created within Graves, in Bordeaux, based on the districts of Pessac and Léognan, the first of which lies within the suburbs of the city. Essentially this came about through pressure from Pessac-Léognan vignerons, who wished to disassociate themselves from growers with predominately sandy soils further south in Graves.
Pessac-Léognan has the best soils of the region, very similar to those of the Médoc, although the depth of gravel is more variable, and contains all the classed growths of the region. Some of its great names, including Ch. Haut-Brion, even sit serenely and resolutely in Bordeaux's southern urban sprawl.

The climate is milder than to the north of the city and the harvest can occur up to two weeks earlier. This gives the best wines a heady, rich and almost savoury character, laced with notes of tobacco, spice and leather. Further south, the soil is sandier with more clay, and the wines are lighter, fruity and suitable for earlier drinking.
Recommended Châteaux: Ch. Haut-Brion, Ch. la Mission Haut-Brion, Ch. Pape Clément, Ch Haut-Bailly, Domaine de Chevalier, Ch. Larrivet-Haut-Brion, Ch. Carmes Haut-Brion, Ch. La Garde, Villa Bel-Air.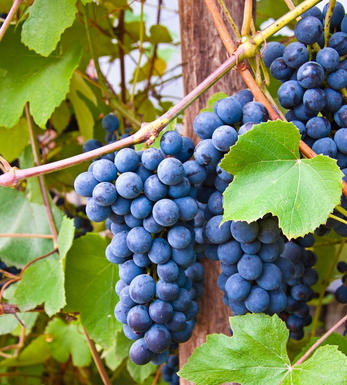 Merlot/Cabernet Franc
Merlot and Cabernet Franc are grape varieties commonly used in Bordeaux-style blends, particularly in the Bordeaux region of France. When these two grapes are blended, they can create a wine that combines the best characteristics of each variety.
Merlot is known for its smoothness, soft tannins, and ripe fruit flavours. It often contributes black cherry, plum, and chocolate flavours to the blend. The grapes are relatively easy to grow and ripen earlier than other Bordeaux varieties, making them versatile for blending.
Cabernet Franc, on the other hand, adds structure, depth, and complexity to the blend. It typically brings aromas of red fruits such as raspberry and strawberry, along with herbal notes like bell pepper and tobacco. These grapes have thinner skins and can be more challenging to cultivate, requiring specific growing conditions to reach their full potential.
When Merlot and Cabernet Franc are combined, the result is a well-balanced wine with various flavours and aromas. The blend often exhibits a Bordeaux wine's medium to full body, along with a smooth texture and moderate tannins. The specific flavour profile can vary depending on the proportions of each grape in the blend and the terroir and winemaking techniques employed.