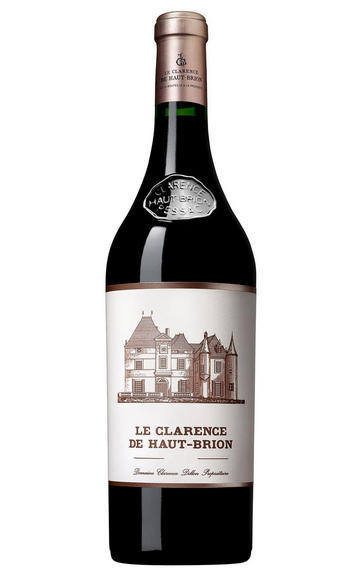 2022 Le Clarence de Haut-Brion, Pessac-Léognan, Bordeaux
Prices start from £792.00 per case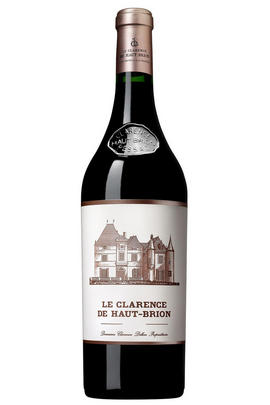 Critics reviews
Neal Martin, Vinous
91-93/100
The 2022 Le Clarence de Haut-Brion has a slightly higher-toned bouquet than the La Chapelle with blueberry, blackberry, iris petal and strawberry pastille aromas. Playful. 
The palate is medium-bodied with a saline entry and fine-boned tannins. The 2022 is poised and focused with a sophisticated finish. Superb.
Drink 2027 - 2047
Neal Martin, Vinous.com (April 2023)
Antonio Galloni, Vinous
92-94/100
The 2022 Le Clarence de Haut-Brion is fabulous. Rich, deep and explosive, La Clarence is everything a second wine should be. In other words, a smaller-scaled version of the original. 
Sumptuous dark fruit makes a strong opening statement. Complicated notes of gravel, dried herbs, crushed rose petals, and blood orange lend gorgeous savoury nuance. Impressive.
Drink 2028 - 2042
Antonio Galloni, Vinous.com (April 2023)
Dense, plush texture, crushed roses, damson puree, orange peel, cocoa beans, baked spices, 32hl/h yields, lowest since 1991.
Drink 2028 - 2040
Jane Anson, JaneAnson.com (May 2023)
The 2022 Le Clarence de Haut-Brion, the second wine of Château Haut-Brion, is elaborated from a blend of 61.2% Merlot, 21.9% Cabernet Sauvignon, 14.5% Cabernet Franc and 1.5% Petit Verdot. It reveals a bright, fruity bouquet with dark berries, plums, tobacco, graphite, and spices aromas. 
On the palate, the wine is medium to full-bodied, layered and seamless, textural and fleshy with structuring tannins and a fresh, tense finish. It is a very nice way to introduce the great wine of Haut-Brion.
Yohan Castaing, Wine Advocate (April 2023)
Jancis Robinson MW
16.5/20
62.1% Merlot, 21.9% Cabernet Sauvignon, 14.5% Cabernet Franc, 1.5% Petit Verdot. Cask sample.
More subdued than La Chapelle de la Mission Haut-Brion at this stage but seems to have more energy and freshness. Mouth-filling fruit on attack. Plush texture. Firm tannins but a slight powdery dryness on the finish. (JL)
Drink 2030 - 2040
James Lawther MW, JancisRobinson.com (May 2023)
A medium- to full-bodied red with fine and lightly chewy tannins. Lots of dark chocolate, crushed stone and graphite flavours at the end. Subtle. 62.1% merlot, 21.9% cabernet sauvignon, 14.5% cabernet franc and 1.5% petit verdot.
James Suckling, JamesSuckling.com (April 2023)
Liquorice, blackcurrant and chocolate on the nose smell inviting with soft perfumed touches. Sappy and wonderfully vibrant, really juicy and lively, not so plush, although the tannins have shape and texture - velvety and mouth-filling, this really keeps a fresh and cool blue fruit touch with stoney elements. 
Light, almost delicate in terms of tannic expression and fruit presentation. Aerial and well-balanced. Lovely clarity and poise well worked and just feels generous and appealing. 1.5% Petit Verdot completes the blend. 3.9pH.
Drink 2026 - 2040
Georgina Hindle, Decanter.com (April 2023)
The 2022 Le Clarence De Haut-Brion is mostly Merlot but includes 22% Cabernet Sauvignon, 15% Cabernet Franc, and a little less than 2% Petit Verdot. It's a darker-fruited, more structured second wine offering medium to full-bodied richness, a ripe, layered, textured profile, beautiful tannins, and classic notes of darker currants, cherries, smoked tobacco, and scorched earth. 
It's clearly an outstanding wine with more than a hint of classic Haut-Brion style.
Jeb Dunnuck, JebDunnuck.com (May 2023)
About this WINE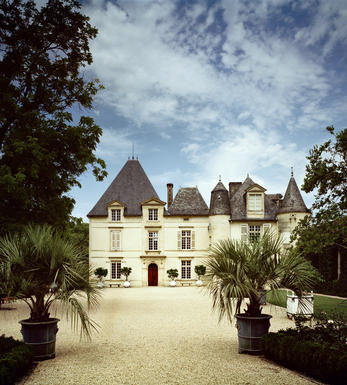 Chateau Haut-Brion
The only property from outside the Médoc to be included in the 1855 Classification, Haut-Brion's viticultural history can be traced back further than its Médoc First Growth counterparts. Samuel Pepys even mentions it in his diaries. Situated in what is now Pessac-Léognan, the property finds itself now in the suburbs of the ever-encroaching city of Bordeaux.

After falling into a state of disrepair the estate was purchased in 1935 by Clarence Dillon, an American financier, since when it has enjoyed a steady and continual resurgence to a position of pre-eminence. Dillon's great-grandson, Prince Robert of Luxembourg, now runs the estate, but a key influence in the reputation which Haut-Brion enjoys today is the Delmas family. George Delmas was manager and wine-maker until 1960, when his son Jean-Bernard took over. Jean- Bernard was a visionary figure, responsible for a number of important innovations, and on his retirement in 2003 his son Jean-Philippe took over as Directeur Générale.

The vineyard is planted to 40% Cabernet Sauvignon, 37% Merlot and 18% Cabernet Franc. A stunning white wine is also made, from a part of the vineyard which is 63% Semillon and 37% Sauvignon Blanc. Production is smaller than at the other First Growth Wines, totalling about 20,000 cases, shared between the Grand Vin and a second wine, formerly called Bahans-Haut-Brion but changed in 2007 to Clarence de Haut-Brion in recognition of Clarence Dillon. Production of Haut Brion Blanc is minute, less than 800 cases in most years.

Beginning with the 2009 vintage a new white wine was introduced in the place of Clarence: La Clarté de Haut-Brion, the offspring of Domaine Clarence Dillon's two prestigious white wines: Château Haut-Brion Blanc and Château La Mission Haut-Brion Blanc.

Fermentation of the red wines takes place in stainless steel vats, after which the wine will spend 22 months, sometimes more, in new oak barrels before being bottled unfiltered. For the white wine fermentation takes place in new oak barrels, after which the wine spends a further year to 15 months on its lees in barrel before bottling. The white wine is truly sensational, equivalent in class to a top-flight White Burgundy Grand Cru, but its scarcity means that it is rarely seen.

The red wine is no less extraordinary; at its best it displays text-book Graves characteristics of cigar-box, curranty fruit, earth, smoky spice and cassis. The high Merlot content, compared to the Médoc First Growths, gives it a voluptuous edge, but does not in any way detract from its ability to age.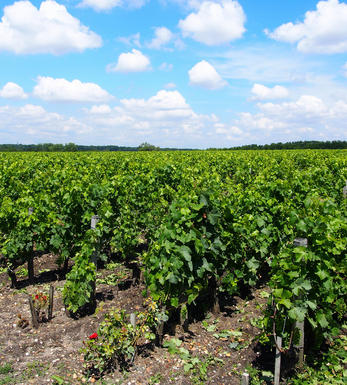 Pessac-Leognan
In 1986 a new communal district was created within Graves, in Bordeaux, based on the districts of Pessac and Léognan, the first of which lies within the suburbs of the city. Essentially this came about through pressure from Pessac-Léognan vignerons, who wished to disassociate themselves from growers with predominately sandy soils further south in Graves.
Pessac-Léognan has the best soils of the region, very similar to those of the Médoc, although the depth of gravel is more variable, and contains all the classed growths of the region. Some of its great names, including Ch. Haut-Brion, even sit serenely and resolutely in Bordeaux's southern urban sprawl.

The climate is milder than to the north of the city and the harvest can occur up to two weeks earlier. This gives the best wines a heady, rich and almost savoury character, laced with notes of tobacco, spice and leather. Further south, the soil is sandier with more clay, and the wines are lighter, fruity and suitable for earlier drinking.
Recommended Châteaux: Ch. Haut-Brion, Ch. la Mission Haut-Brion, Ch. Pape Clément, Ch Haut-Bailly, Domaine de Chevalier, Ch. Larrivet-Haut-Brion, Ch. Carmes Haut-Brion, Ch. La Garde, Villa Bel-Air.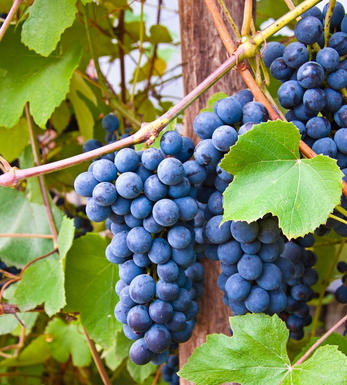 Merlot/Cabernet Franc
Merlot and Cabernet Franc are grape varieties commonly used in Bordeaux-style blends, particularly in the Bordeaux region of France. When these two grapes are blended, they can create a wine that combines the best characteristics of each variety.
Merlot is known for its smoothness, soft tannins, and ripe fruit flavours. It often contributes black cherry, plum, and chocolate flavours to the blend. The grapes are relatively easy to grow and ripen earlier than other Bordeaux varieties, making them versatile for blending.
Cabernet Franc, on the other hand, adds structure, depth, and complexity to the blend. It typically brings aromas of red fruits such as raspberry and strawberry, along with herbal notes like bell pepper and tobacco. These grapes have thinner skins and can be more challenging to cultivate, requiring specific growing conditions to reach their full potential.
When Merlot and Cabernet Franc are combined, the result is a well-balanced wine with various flavours and aromas. The blend often exhibits a Bordeaux wine's medium to full body, along with a smooth texture and moderate tannins. The specific flavour profile can vary depending on the proportions of each grape in the blend and the terroir and winemaking techniques employed.