The Ladoix appellation is designated for red and white (from Pinot Noir and Chardonnay respectively) wines produced in the commune of Ladoix-Serrigny in Côte de Beaune of Burgundy.

Red wines are in the majority (three-quarters) . Some of the Premier Cru vineyards of Ladoix-Serrigny are part of the Aloxe-Corton AOC of the neighbouring village rather than of Ladoix AOC, and vinified and sold as Aloxe-Corton Premier Cru.

There are 11 climats within the Ladoix AOC that are designated as Premier Cru vineyards:
La Corvée , Le Clou d'Orge , La Micaude, Basses Mourottes, Hautes Mourottes (Red & white Wines)
Les Buis, Les Joyeuses, Bois Roussot (Red wines only)
Les Grêchons, En Naget, Le Rognet et Corton (White Wines only)
The climats located within the commune of Ladoix-Serrigny but are classified as
Aloxe-Corton Premiers Crus (red wines only)
are:
Clos des Maréchaudes, La Maréchaude , Les Petites Lolières, Les Moutottes, La Coutière, La Toppe au Vert.
The
Grand Cru appellations of the Corton
hill are overlapping in some areas, and are shared among three communes;
Pernand-Vergelesses
,
Aloxe-Corton
(major part) and Ladoix-Serrigny. Hence some of the Corton and Aloxe Corton vineyards which partially fall within Ladoix-Serrigny may be used for both red and white wine.
Showing 1-2 out of 2 items
Hide All Details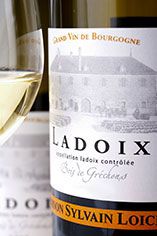 Showing 1-2 out of 2 items