Home > Editorial > Understanding Côte-Rôtie and Hermitage
FIVE-MINUTE READ
---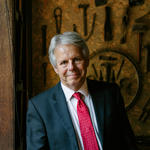 Understanding Côte-Rôtie and Hermitage
Côte-Rotie and Hermitage are the two most famous and collectible wines from the Northern Rhône Valley,says Mark Pardoe MW. Here, our Wine Director explores what makes them so special and examines why, unlike its peers, the Rhône has no system of classification.
Both Côte-Rôtie and Hermitage are defined by geologies that have been created by the flow of the river Rhône on its long journey southwards to the Mediterranean. The vineyards of Côte-Rôtie sit on precipitous slopes on the west bank of the river, often at an angle of 60°. Here, a kink in the river's direction leaves the vineyards facing south and south-east. Hermitage is on the Rhône's east bank where the river suddenly veers in that direction at the towns of Tain and Tournon. The towns face each other on opposite banks, allowing the vineyards to face south and south-west.
Both are very small appellations. Côte-Rôtie's vineyard area was extended in 1982 to include the lower slopes towards Saint-Cyr. Yet it is still barely 200 hectares. Hermitage is even smaller. It is limited to the granite hill of Hermitage and the south-facing sandier soils to the east and covering little more than 150 hectares.
Côte-Rôtie, can be divided between the umbrella distinctions of Côte Blonde and Côte Brune. These famous names split Côte Rôtie into two but are also, confusingly, eponymous names of vineyards within each designation. In simple terms, the wines of the Côte Blonde at the southern end of the appellation are earlier to mature and more aromatic. This is due to the crumbly nature of the schistous eroded rocks which necessitate terracing. Côte Brune's soils are more stable and with more clay, so the wines are bigger boned.
Both appellations share a devotion to Syrah, exclusively so in Hermitage. However, some Viognier is permitted in Côte-Rôtie, if the two are fermented together. This practice is more common in the Côte Blonde, where its aromas add to the wine's finesse. Both appellations are home to the finest expressions of Syrah. (The grape's status is also enshrined in the homage paid by Penfolds in their Syrah-dominant Grange Hermitage. Demand for that Australian icon has never been higher.)
Soils here are multi-faceted and certainly more complex than has been summarised above. But it is these rocky, steep south-facing outcrops and their affinity to Syrah that makes these wines superb and unique. Why then, given their reputation, is there no qualitative hierarchy as in Bordeaux and Burgundy? Sight of a vineyard map for Côte-Rôtie and Hermitage clearly shows the delineations of individual vineyard sites. This is especially true in the former, so the concept could be applied.
For Côte-Rôtie, one answer must be that it is only relatively recently that the wines have become so sought after. Even in the 1960s and '70s, its reputation was so low that the area under vine was only 70 hectares. Almost all grape growers supplemented their living by also growing soft fruit. It took the vision of Marcel Guigal and the enthusiastic support of Robert Parker to create a new image for the appellation. It was also an image built around the importance of single-vineyard sites on a smaller scale than even Côte Blonde and Côte Brune. The opportunity to classify therefore came very late in the day and the reputation came by journalistic endorsement.
The reputation of Hermitage was higher in the past than Côte-Rôtie's. First mentioned in English in 1680 and once a great favourite of the Russian court, it was also prized above the best wines of Bordeaux. It was even added to them (in a process known as Hermitagé) to enhance the wine of Bordeaux's body and esteem. The challenge that Hermitage has is that very few producers own enough of the already very limited land to make their own wine. Even with just their four hectares, Guillaume and Julie Sorrel are the fifth biggest owners of land on the hill of Hermitage: preceded by Jaboulet, Chapoutier, Chave and Délas. With such a concentration of ownership, there is little advantage to a classification and most other growers sell their fruit to the famous merchants.
The development of single-vineyard wines is a more recent phenomenon. Neither are there the empirically tested principles to establish the status of one site over another. Historically, both wines have been made by blending from vineyards right across the appellation. That is the signature of Jean-Louis Chave, the producer of arguably the greatest expressions of Hermitage. He blends from across the hill from all soils and exposures, to create the most complex wine possible.
My sense is that the absence of a classification of Côte Rôtie and Hermitage does not brook comparison with Bordeaux and Burgundy but with Barolo and Barbaresco. These are regions often paralleled with Burgundy. They are also constrained by small production ‒ and have an established cartography of recognised and historical vineyards ‒ often with varied exposures and altitudes. There have been attempts to identify the Grands Crus but none have been considered for legal status.
In addition, there is a long-standing tradition in the Langhe of blending across vineyards and communes, to create Barolo or Barbaresco. The paradigm established by Jean-Louis Chave in Hermitage exactly fits this principle as well. It is likely, therefore, that the moment for a classification of Hermitage and Côte-Rotie has passed, if indeed it ever had a currency.
If there is not to be an authorised guide to these most highly regarded wines, then all we can do is follow the reputations of the producers. There are differing styles, particularly in Côte-Rôtie, and a trend to experiment with different vinification methods. These often include some whole bunches at fermentation and the wines from these two famous names have never been better.
If their rarity is too challenging, then delicious and more affordable introductions can be found, often from the same producers. From St Joseph on the Rhône's western bank, spicy and crunchy Syrah is grown on steep granite slopes. Also on the eastern bank, from Crozes-Hermitage and especially those vineyards in the appellation just north of Hermitage. We haven't even discussed the fabulous, age-worthy, lanolin-textured and apple blossom scented white wines of Hermitage. They are yet another of the Rhône's many enticing components.