Home > Editorial > Château Beychevelle: down to the river
SIX-MINUTE READ
---
Comparisons to Versailles abound, but Château Beychevelle is a lot more than just a pretty façade. We meet Romain Ducolomb, the estate's Technical Director, to understand just what makes this such a special vineyard
There's an old Médocain saying that the best vineyards overlook the river. But sometimes, the river looks back. At least, that's how the story goes at Château Beychevelle in St Julien. Beychevelle derives both its name and its iconic label from a local legend: in the 16th century, passing boats would lower their sails towards the property to pay homage to its then-owner, the Duc d'Epernon. In Gascon dialect, this act was known as bêcha vêla (or baisse voile in modern French), which became "Beychevelle".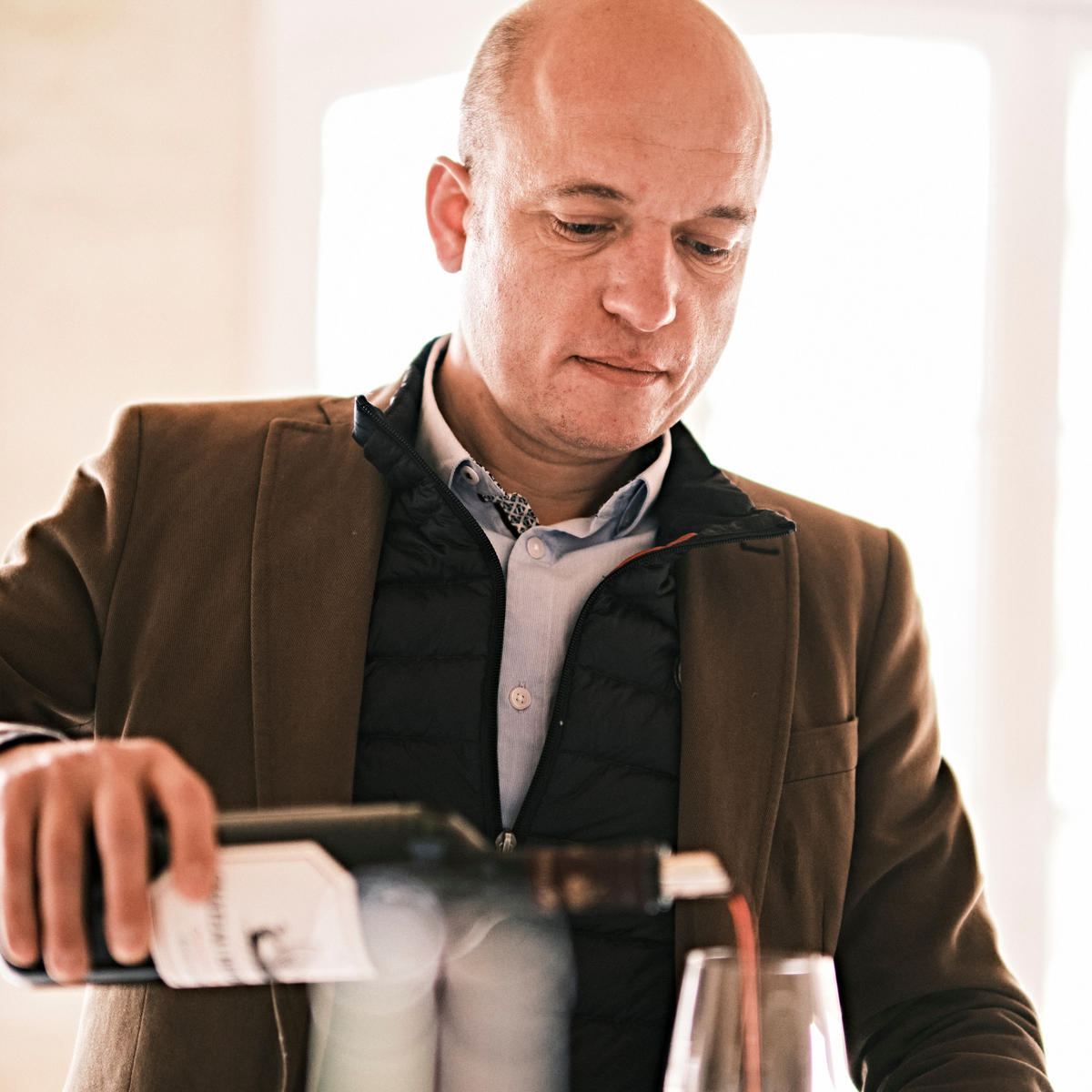 01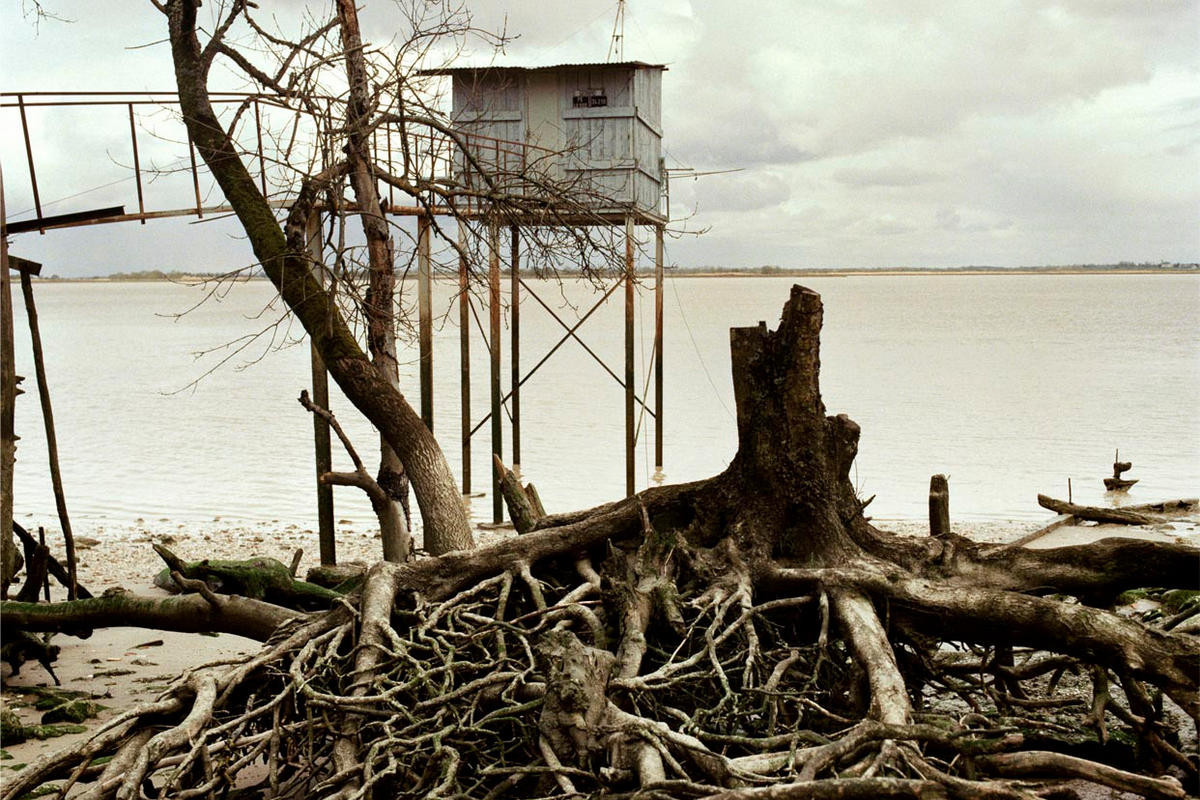 02
01: Romain Ducolomb pours tasting samples for the team

02: One of the fishing huts that line the banks of the Gironde near to the deep, gravel soils of Beychevelle
But Beychevelle is a lot more than old stories and famous labels. First and foremost, it is one of the best-situated vineyards in the region, says Romain Ducolomb, the estate's Technical Director. "You can be the best winemaker, you can have the most money, you can have the best technology," he argues, "but everything is based on the terroir." This is a potentially slippery concept, but for Romain it's quite straightforward: "The best terroir on the Left Bank is deep gravel soil overhanging the river. It's as simple as that."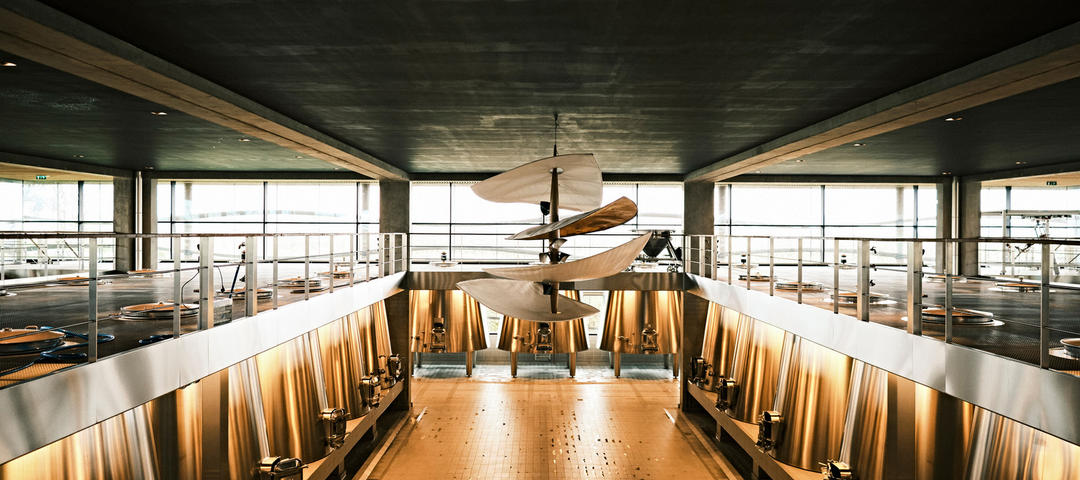 03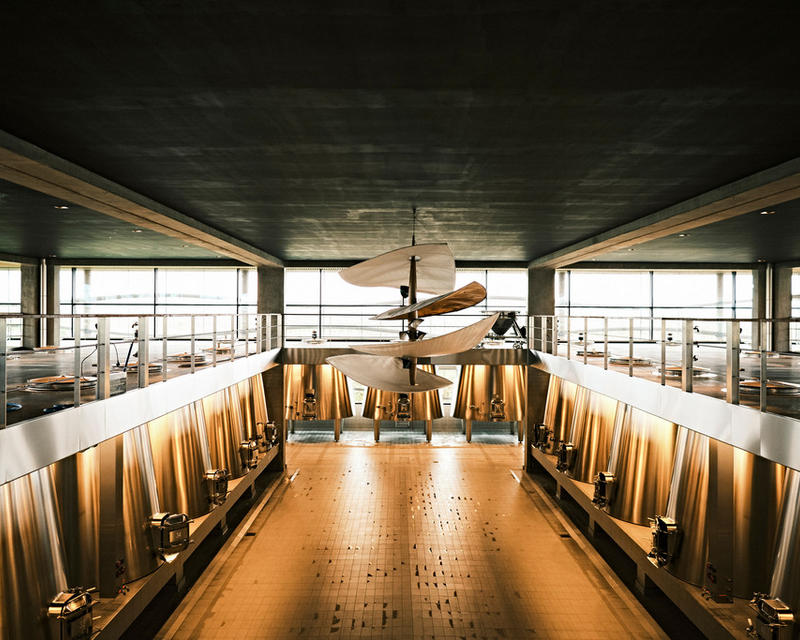 03
03: The new vat room is based on one simple idea: "one tank, one plot"
Beychevelle has a unique microclimate, Romain says. The Gironde is Europe's largest estuary, and it has a moderating effect on the temperature of adjacent vineyards, like Beychevelle: winters are a little warmer than elsewhere; summers are a little cooler, with more wind. "It's almost intangible," Romain explains. "You can't really feel it compared to a vineyard five kilometres inland. But it's essential." This has been a boon in recent years, like 2021 and 2017, when spring frost has hit European vineyards hard. These frosts devastated some of their near-neighbours, but Beychevelle "wasn't impacted at all".
If the quality of the terroir is somewhat timeless, the thinking here is far from static. Romain has made wine in Bordeaux for over 15 years, and at Beychevelle for the last 10. Before that, he studied and worked in his native Burgundy, as well as stints in California, New Zealand and Tokaj. In the New World, he found that winemakers take French wines to be the benchmark – Bordeaux for Cabernet-based blends, Burgundy for Pinot Noir, Champagne for sparkling – but they don't blindly follow. "They ask simple questions," he says. "If they don't understand why they should do something, they don't do it. They don't just repeat a recipe."
When visiting (or even driving past) Beychevelle, you can't help but notice the ultra-modern cellar building. Designed by architect Arnaud Boulain, construction was completed in 2016. Despite it being an architectural feat in its own right, the new cellar can be boiled down to one simple idea, says Romain: "one tank, one plot." With almost 100 separate tanks, the team here have the tools and the space to vinify plot by plot – allowing Romain to get ever more precise with his raw materials for blending. "We're still playing with the same terroir," he says. "It's like if you're watching a movie. In the past it was in black-and-white; now it's 4K TV, high definition. It's the same movie, but the definition is much higher."
04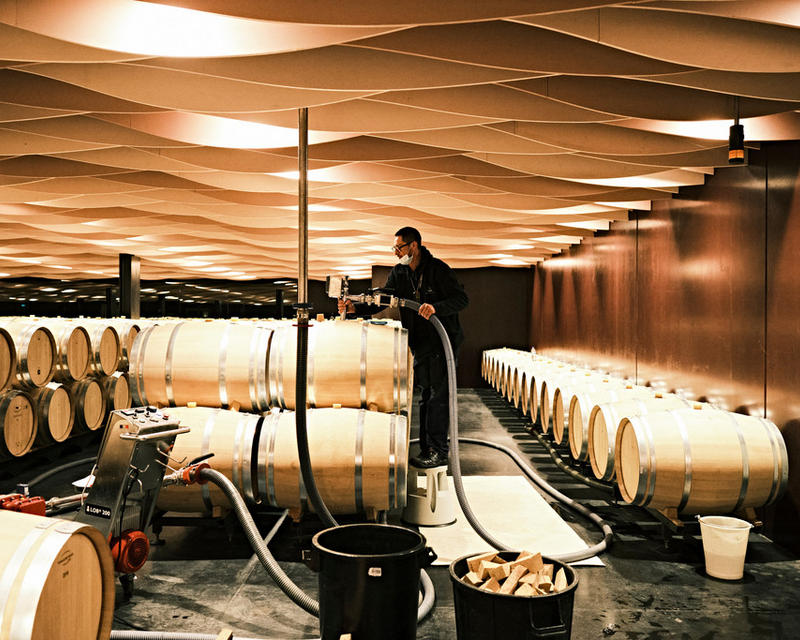 04
04: One of the cellar team fills the barrels using a pipe that's directly connected to the vats above
Romain has brought a dose of healthy scepticism to the proceedings here. "I'm not a Bordeaux native. I'm open-minded. There are great wines made all over the world. And there are interesting things to take from other regions," he says. While he doesn't strive to make Vosne-Romanée in St Julien, the influence of his home region is clear. "I like the finesse and delicacy of Pinot Noir," he says. And at Beychevelle, "the idea is not to make just a big wine, but one with finesse. I learned that from Burgundy." It was in Burgundy that Romain fell in love with the method of pigeage or punching down. As a wine undergoes alcoholic fermentation, the solid particles (the grape skins, pips and so on) rise to the top of the tank, forming a layer known as the cap. Punching down is a method of breaking up the cap to extract more colours, flavours and tannins into the liquid.
Romain likens it to a chef, "always smelling, touching, observing what he's doing. That's pretty much the idea of punching down. You're obliged to see, touch, smell." Compared with the alternative method of pumping-over, pigeage requires the winemaker to get up close and personal with the wine. "You have a closer relationship with your tanks, your grapes and your wine," Romain says. In the past, the team here would carry out one hour of pumping-over in the morning, and a second in the afternoon. With pigeage today, they've increased the frequency and decreased the intensity: "We work basically 24 hours a day, but with very small actions," Romain explains. Again, this allows Romain to work more precisely, making small adjustments here and there to get a little bit more, or less, extraction in a particular lot.
The 2021 vintage was a "pretty tricky" one to manage, concedes Romain. Winter was "too warm and too dry", he says. This meant less water for the vines to keep in reserve and led to an early start to the growing season – leaving vines prone to spring frost. When the frost came, Beychevelle's microclimate meant it avoided the fate of many less-fortunate estates. Yet "vine growth stopped a little bit" all the same, Romain acknowledges. And mildew was a present threat throughout May and June.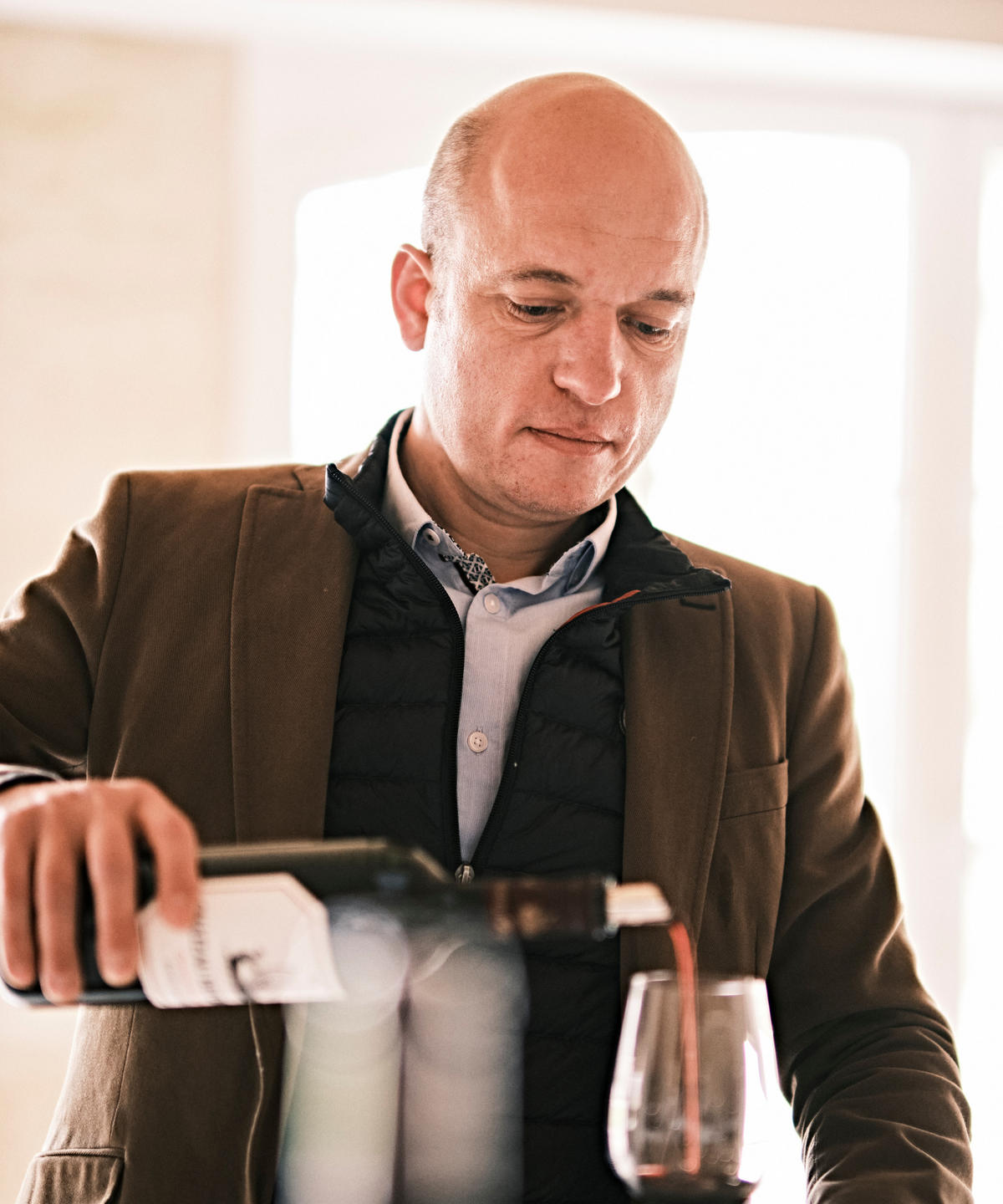 05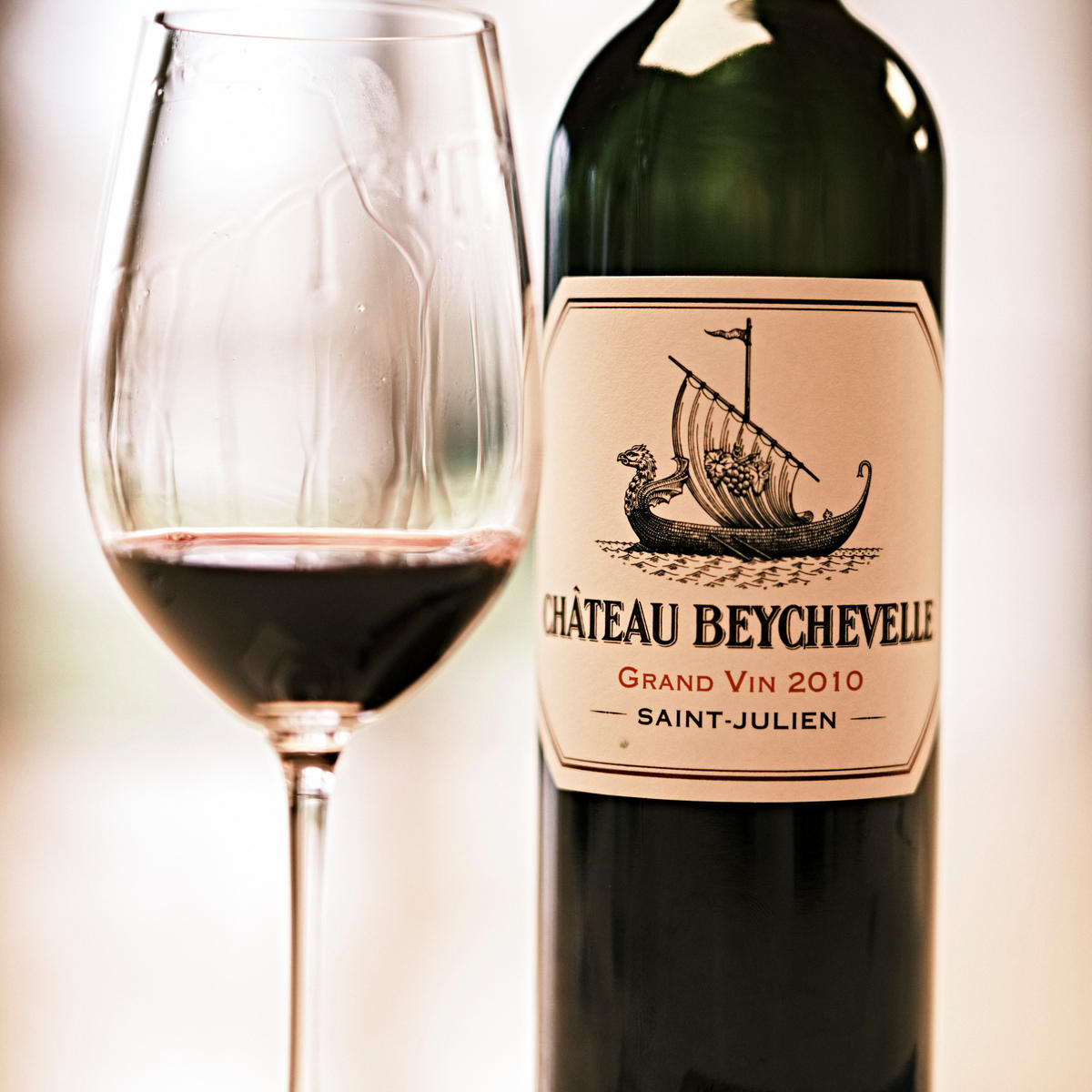 06
05: Romain Ducolomb draws a barrel sample

06: A bottle of the legendary 2010 grand vin
He takes pains to point out that the team did a great job, comparing it to the sort of pressure faced during harvest – "they were very focused, ready to take action in the vineyard, seven days a week, if necessary," he says. "Without them, we wouldn't have made this wine."
Tireless efforts in the vineyard notwithstanding, Romain's hopes for 2021 were not high. A brief reprieve came before harvest, when a forecasted storm never came. But the outlook wasn't good. "This was the first time in a long period that we were quite worried about the quality of the vintage," he admits. He's an accomplished winemaker working with an experienced team; they know what to look out for. "Usually we don't get it wrong" when it comes to assessing a given vintage, he says. He recalls that in 2016 and 2018, it was clear from early on that they had top vintages on their hands. But for 2021, "we were quite worried."
It wasn't until the grapes were brought in and the cellar team got to work that they realised just what sort of vintage they were facing. "It's probably the greatest surprise I've had in my career in Bordeaux," he says, "We had to wait until the last scene of the movie to realise there was a happy ending. In the glass, it has a dark colour, fresh fruit, nice acidity. We got everything we expect for a great Bordeaux wine: balance, harmony, power, sweetness of the tannins."
A glass of Beychevelle is "like a good friend you can always count on," says Romain. Though he has adapted the style somewhat in his time here, the core identity remains the same. "Even if it's a great wine, built to age for decades, it's now very approachable early on. It can be summarised in a few words: balance, harmony, elegance and power, but not rustic, not astringent. You can always count on Beychevelle; you'll never be disappointed."