Home > Burgundy 2021 En Primeur > Domaine de la Soufrandière
Domaine de la Soufrandière
FIVE-MINUTE READ
Words: Charlie Geoghegan
---
In Burgundy, there's a proud tradition of children following in the footsteps of parents and grandparents. But at Domaine de la Soufrandière in the Mâconnais, the Bret brothers decided there was a better way to run the family business
There's a distinctly homely feel to Domaine de la Soufrandière. It might be the large country maison that houses the offices, where two women cheerfully work through mounds of paperwork on a kitchen table. It could be the sheepdog taking a mid-morning nap under a parked car. Or it could be the warm welcome for the greengrocer, who pulls his van right up to the front door to drop off crates of market-fresh vegetables. Time has the appearance of moving slowly here, yet this is deceptive. For all its lived-in charm, this is the headquarters of Jean-Philippe and Jean-Guillaume Bret, who produce some of Burgundy's most compelling wines.
The estate lies just off the main drag in Vinzelles, a sleepy village of 700 people in the south of the Mâconnais. Brothers Jean-Philippe and Jean-Guillaume grew up a world away, in the Parisian suburbs, though they fondly remember visiting their grandparents here from an early age. Their paternal grandfather bought the domaine in 1947, but he was no vigneron; nor were the boys' parents. Instead, the estate was farmed under a system of sharecropping for over 50 years. The vineyard was managed using so-called "conventional" methods, including chemical herbicides and pesticides, not permitted under more sustainable systems like organic farming. The grapes were sent on for vinification at the local co-operative. This would change quickly when the brothers came of age and turned their attention to wine.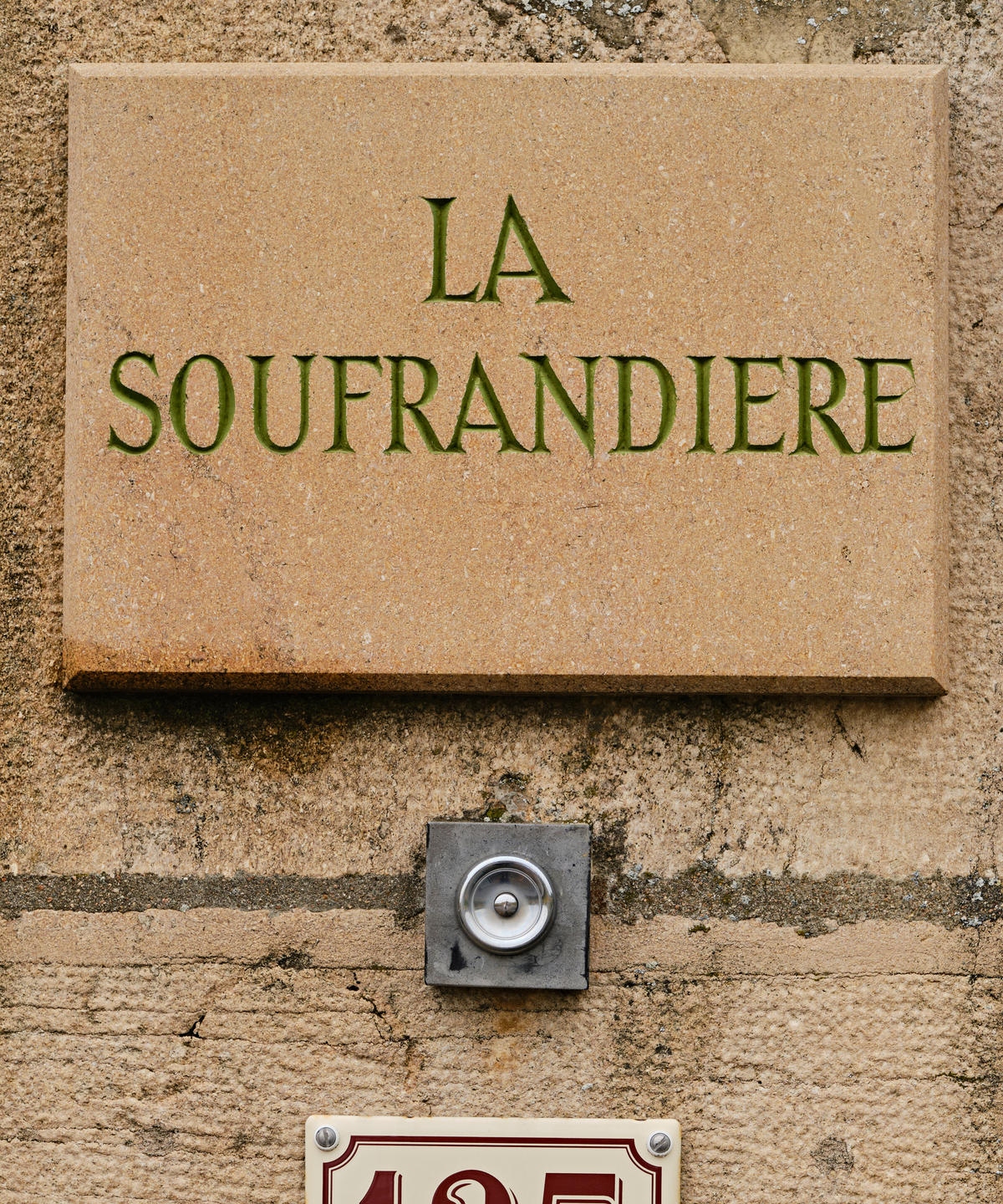 01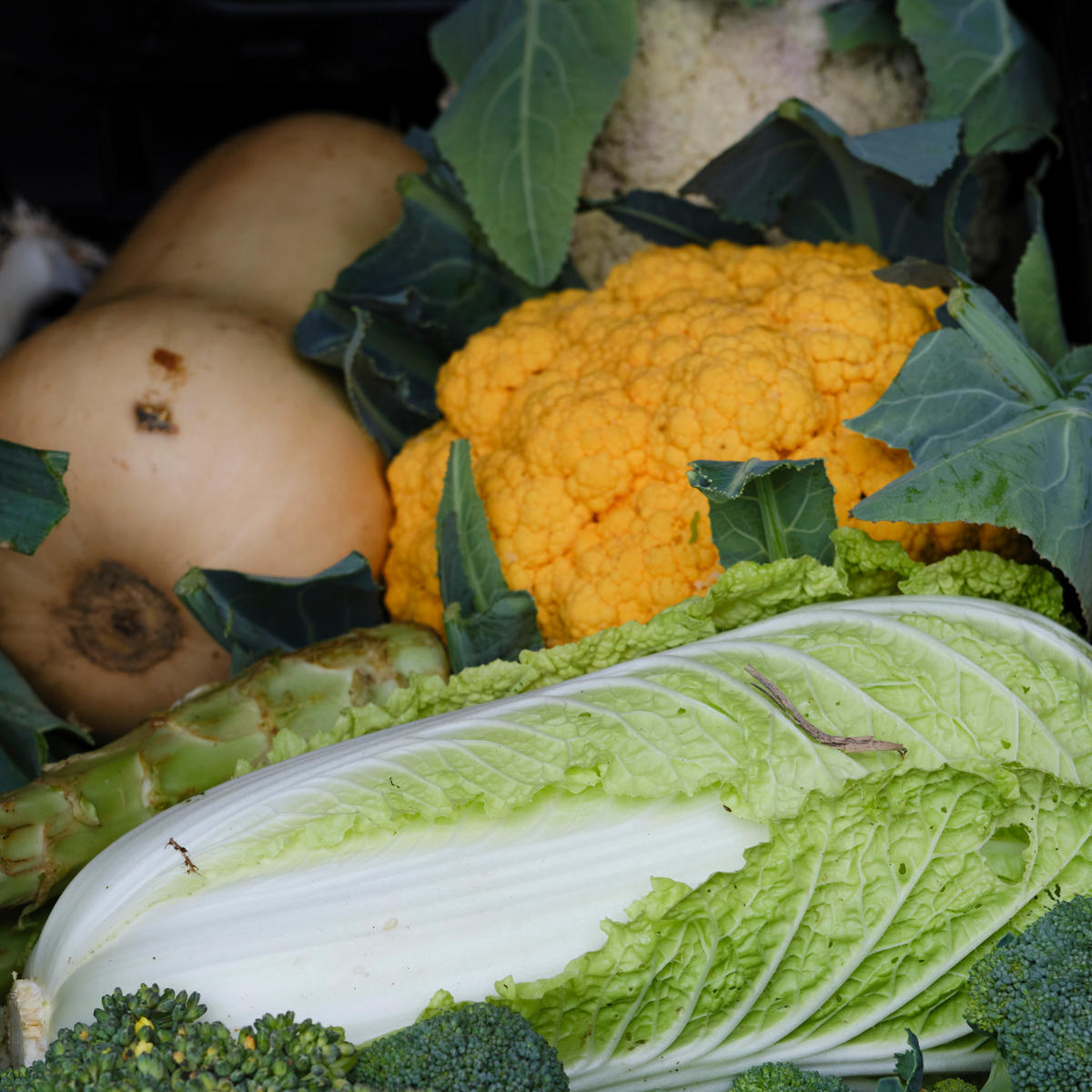 02
01: The domaine is an address to know in the Mâconnais

02: Market-fresh vegetables are dropped off just in time for lunch
When they arrived here in 2000, the pair could have kept the operation going as their parents and grandparents had before them, contracting the work out to third parties. Instead, they opted to end the sharecropping arrangement and take both the grape-growing and winemaking in-house. "I think of it as a gift for the family," Jean-Philippe says. "Our parents never could do it, so it was like a dream for them."
To make the new venture work would require some fundamental changes to the overall approach. The brothers had gone to wine school in the late 1990s, where conventional viticulture was the accepted wisdom. But, convinced of its links to pollution and a loss of biodiversity, they turned their backs on conventional farming altogether.
"Biodynamics increases the plant's capacity to fight back. You don't change the plant; you make it stronger"
The merits of biodynamic viticulture caught Jean-Philippe's eye when he was working under Dominique Lafon. Faced with worryingly low yields for his Meursault plot, Dominique solicited advice. "Conventional advisors told him he had to replant it," recalls Jean-Philippe. Dominique instead listened to Anne-Claude Leflaive of Puligny-Montrachet, who suggested he experiment with biodynamics. This solved the yield problem and had more profound benefits which have stuck with Jean-Philippe. "Biodynamics increases the plant's capacity to fight back," he says. "You don't change the plant; you make it stronger."
Inspired by the likes of Lafon and Leflaive, among others, the pair got to work on transforming an estate that had seen better days. There were challenges everywhere, Jean-Philippe recalls – from building a cellar from scratch to undoing the decades of damage caused to the vineyard by chemical treatments.
03
04
03: There's a homely, lived-in feel to the domaine

04: Les Quarts is among the best vineyards in Pouilly-Vinzelles
"There were herbicides in the soil," Jean-Philippe says. "It was very compact, and there was no grass or other plants growing." For the first time, they started to plough the soil, aiming to promote more biodiversity. Some 20 years on, they've got the hang of it: their four-hectare parcel in Les Quarts has just been ploughed by horse and is the picture of good vineyard health. Lush grasses grow alongside a range of cover crops, which offer broad benefits including naturally fertilising the soil, capturing nitrogen and carbon from the atmosphere, and helping to retain water. There are also juicy tomatoes growing at the end of the rows, in at least four colours; the greengrocer may want to watch his back.
"You can make great wine without sulphites. It'll work – if the soil is alive and the grapes are balanced to support it"
Wine wasn't made here before 2000. But the brothers have very much found their way in the cellar, producing a wide range of distinctive estate wines, many of which champion single sites including their prized Pouilly-Vinzelles, Les Quarts as well as their Mâcon-Vinzelles, Le Clos de Grand-Père. The latter is a relatively recent addition to the holdings, paying homage to the domaine's founder. In 2001, they launched their négociant business, Bret Brothers. While they buy grapes from elsewhere ("only from friends", says Jean-Philippe), those wines are also made here at the domaine. Their Cuvée Zen range is notable for having almost no added sulphites, veering into natural-wine territory while remaining pure and bright in style.
Jean-Philippe remembers being taught how to use sulphites in the 1990s: "Add lots of sulphites at pressing; and at alcoholic fermentation; and at malolactic; and before bottling," he says with some disdain. Small amounts of sulphur dioxide (SO2) are formed as a natural by-product of winemaking, and the addition of sulphites to fermenting and finished wine is standard practice as both an antioxidant and antimicrobial agent. Jean-Philippe uses sulphites as necessary but feels excessive use can limit his wines' complexity. "You can make great wine without sulphites," he says. "It'll work – if the soil is alive and the grapes are balanced to support it." Early attempts to lower sulphite additions here proved tricky, but with better soil health today, he can use fewer and fewer sulphites in the cellar without sacrificing anything in the wine. "We've seen the evolution of quality year after year," he says proudly. "It would be impossible to work this way if we used chemicals in the vineyard."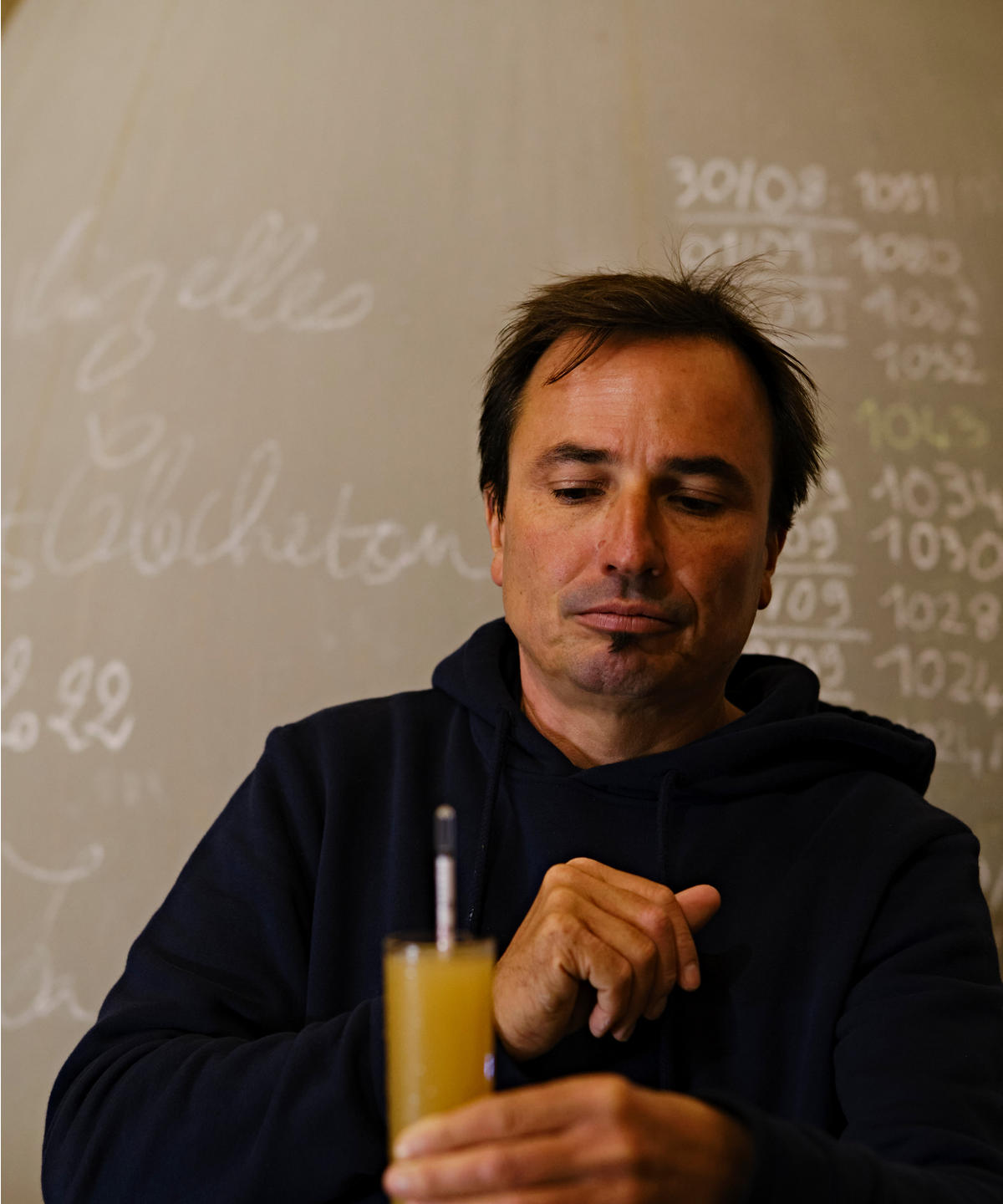 05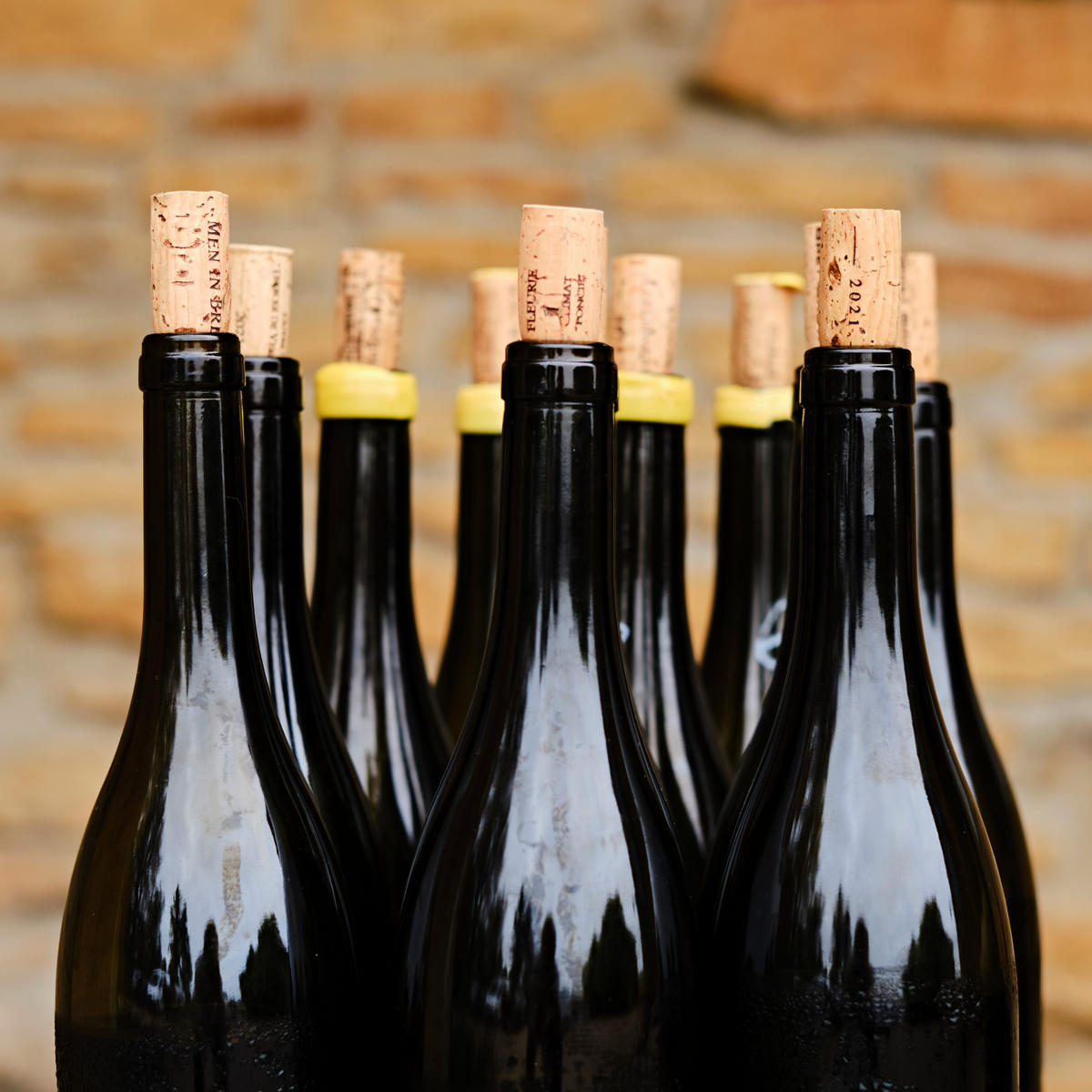 06
05: Jean-Philippe carries out analyses of the current vintage

06: There's an extensive range of wines made here every year
For a seasoned vigneron in his late 40s, Jean-Philippe has a decidedly youthful air. This he credits to the team here, most of whom are in their 20s and 30s, along with an annually rotating cast of students and interns. "They keep us young," Jean-Philippe says. "The day we don't have fun anymore is the day we have to stop."
Despite the challenges of a changing climate and the legacy damage of conventional farming, it doesn't feel like the brothers Bret want to stop anytime soon. Their own children are young; they may pick up the mantle one day, they may not. "We might not be very optimistic for the future, but we can't say that it's lost. There's still some light," says Jean-Philippe. That so many young people come and go here every year doesn't feel like a coincidence. "Our job is not just to make wine. There is something else we have to provide if we can."