Home > Burgundy 2021 En Primeur > Thibault Liger-Belair
Thibault Liger-Belair: an unlikely vigneron?
Words: Charlie Geoghegan
FIVE-MINUTE READ
---
His family have owned vineyards for generations, but Thibault Liger-Belair was the first to get his hands dirty. Here, Charlie Geoghegan finds out how that came to be
His state-of-the-art winery would be more at home in Bordeaux than Burgundy and bears more than a passing resemblance to the lair of a Bond villain. But Thibault Liger-Belair is Burgundy through-and-through. Hailing from an aristocratic family, Thibault surprised his parents when he told them he wanted to become a vigneron. He is not an intellectual, he insists: "I'm more of a manual man; I wanted to do something with my hands."
WEEKEND SCRABBLE IN NUITS-ST GEORGES
The Liger-Belair family has been involved in Burgundy wine since 1720 as négociants and landowners. But for a member of the family to actually work in the vineyard was out of the ordinary. Thibault's father worked at the Paris stock exchange, and Thibault himself was born in the capital. He remembers visiting his grandparents in Nuits-St Georges at the weekend. Today, this is the home of his eponymous domaine. But back then, young Thibault failed to see the appeal. The 60-year age gap between he and his grandmother "wasn't very fun", he recalls, "unless you liked to play Scrabble."
An encounter with a friend of the family, a vigneron, would change things considerably. Thibault, then aged 14, observed that the man was always working, even at weekends. "Why don't you ever take any rest?" Thibault enquired. "Why would I?" came the reply. "I'm with my vines, my vineyard and my wines, instead of being on the sofa watching TV." This planted a seed. Within a couple of years, Thibault had decided that the life of a winegrower was for him. His father was sceptical at first, but Thibault's newfound passion eventually won him over.
"There are no bad terroirs, only bad winemakers"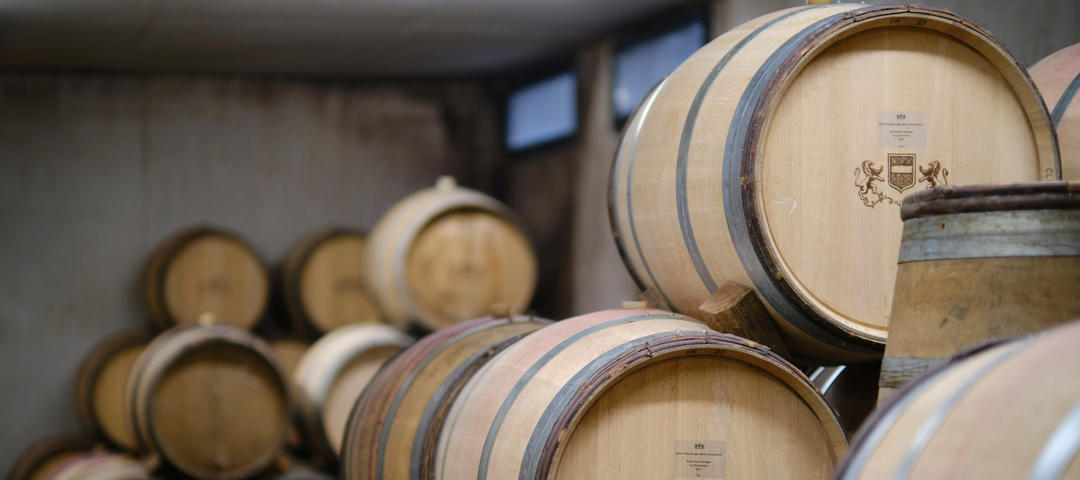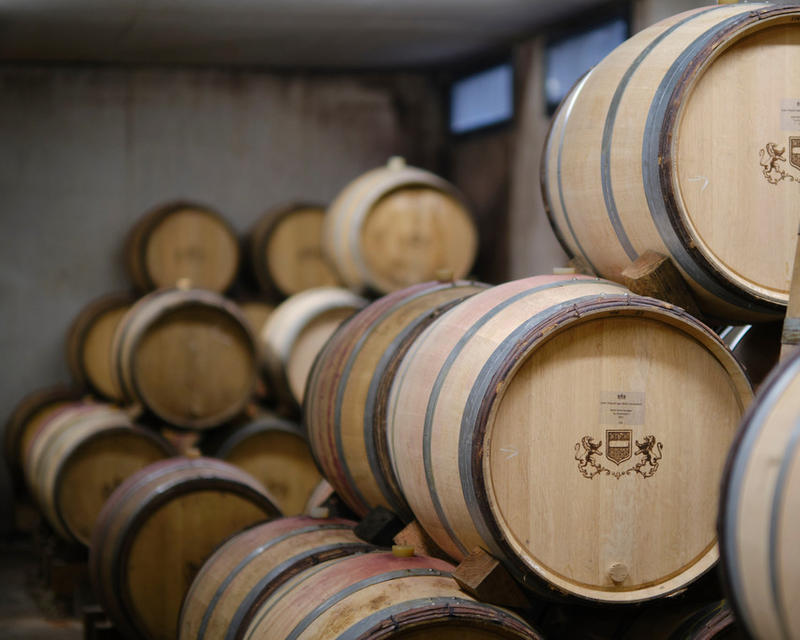 Barrels in the cellars of Domaine Thibault Liger-Belair
Thibault's taken an interesting path. He spent much of the 1990s studying oenology, before venturing into the then-booming dotcom sector, launching a wine website with his friend Marc Perrin of Château de Beaucastel. They sold up shortly after the millennium, at which point Thibault returned to Nuits-St Georges and a new challenge – to rebuild a family vineyard that had been leased out for the previous 60 years. He also began to build up his own domaine, buying choice vineyards within and beyond the Côte de Nuits. In comparison to the immediacy of e-commerce, his new venture was a more long-term gambit – and would call for something of a lifestyle change: "You need a little bit of money, and you need to eat a lot of pasta."
He was 26 when he started here. And though he knew what he was doing in the vineyard, his only real plan to speak of was "just to make wine". He became convinced of the merits of organic farming from day one, having met so many talented growers that worked in this way. Biodynamics came later; he achieved certification in 2009, though withdrew in 2012 because the programme "was too dogmatic". He still practices many of the biodynamic principles in the vineyard, but on his own terms. "I've taken what I thought was good, to help the soil and have good immunity, to make the vine nice and balanced."
From his base in Nuits-St Georges, Thibault makes an extensive range of wines covering some 28 appellations across the Côte d'Or and further south in Beaujolais. Most recently he's been looking at land in Ladoix-Serrigny, not traditionally considered in the same league as some of his other sites. "There are no bad terroirs, only bad winemakers," he says. "Some vineyards are better, some are less interesting, but I think there is a terroir for every moment. Every wine can be interesting, it depends how you manage it."
"Every wine can be interesting, it depends how you manage it"
REMEMBER WHERE YOU COME FROM
Twenty years into his winemaking career, Thibault finds himself at an interesting point: "I'm not part of the new generation, but I'm not part of the old generation either. We were the generation that started to rethink Burgundy." He feels a little conflicted about the new generation. Vineyards here, he believes, have never been managed so well. Yet he is a little worried about Burgundy's future. "I just ask the new generation to not forget where they come from," he says. "Remember that nature can take everything away from you in a couple of years."
For his part, Thibault feels that he and his generation have a responsibility, too. "We must never keep all the information and experience we have to ourselves," he says. "The new generation has taken what we have done, what we've tried to understand, and have gone deeper." But for Thibault, "there are no secrets in our business. Not to share [knowledge] is a mistake. We have two ears and one mouth; we have to listen more than we talk. We have to give the new generation all that we've learned, so they start not from zero but from what we have learned and understood."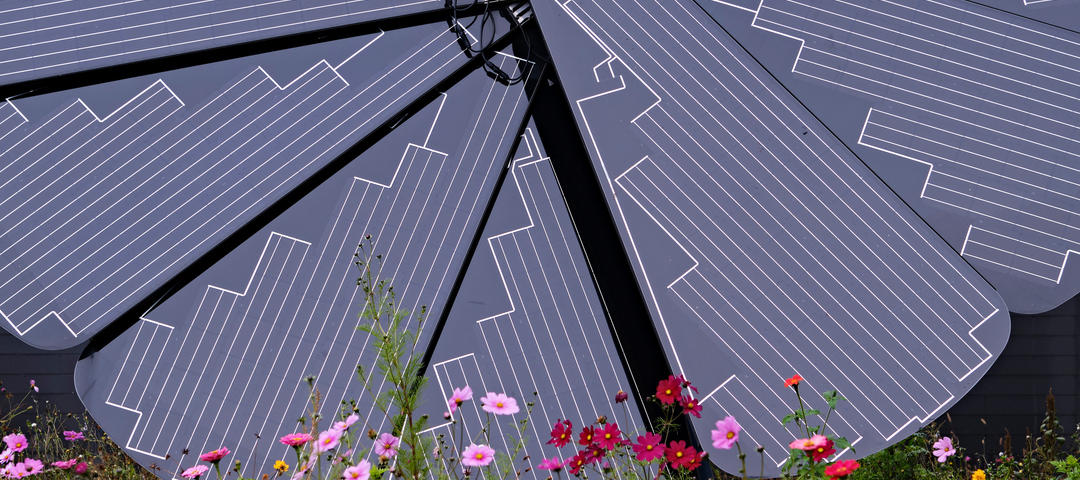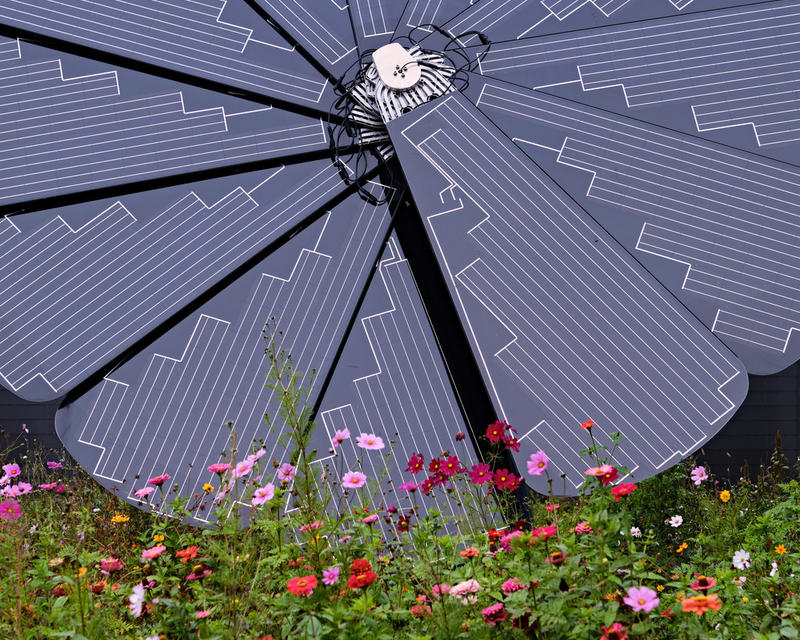 Solar panels and wild flowers at Domaine Thibault Liger-Belair