Home > Bordeaux 2020 > Merlot: rags and riches
FIVE MINUTE READ
---
It is widely grown around the world, and its wines range from the simple and juicy to the sublime and ethereal. But Merlot reaches its zenith on Bordeaux's Right Bank, says Mark Pardoe MW.
It would probably be faster to list the wine-producing countries where Merlot is not grown. This is a ubiquitous grape variety, appreciated for its generosity of yield and taste, and its ability to ripen early. It can fly solo as a varietal wine, or play first or second fiddle in a blend, where it can fill in the gaps around a more austere partner. And it can encompass a wide range of styles, from the simple and juicy to the sublime and ethereal, the latter most notably on the iron-rich clay soils in the heart of Pomerol.
The perfect partner
Let us start the journey in the foothills of Merlot's potential. Unless pruned short before the growing season, Merlot is a vigorous vine and can produce a very generous crop. From this fecundity can come a grape that will have diminished concentration and flavour and, because it is relatively thin-skinned, be low in tannin. Because of its vigour, it is susceptible to drought, but the weakness is easily mitigated in regions where irrigation is permitted. In that scenario, Merlot becomes the perfect quaffing red – easy to pronounce, easy to drink and a staple of every gastropub's wine list.
Where Merlot starts to become more substantial is as a blending partner. In Bordeaux's Médoc, Merlot has long been appreciated, perhaps as Watson to Cabernet Sauvignon's Holmes: not as gifted, but a perfect foil. Even on the Left Bank's warmer soils of gravels and sands, Cabernet Sauvignon is traditionally a late-ripening variety. It can bear bunches of thick-skinned, small berries with tart acidity and firm tannins. Here, Merlot's generosity can add flesh to Cabernet Sauvignon's bones, but without competing against its partner's more complex aromas and flavours.
Throughout much of the Médoc, Cabernet Sauvignon remains a variety that can struggle to achieve full ripeness; Merlot remains an equal or even predominant partner. But in the great communes of the Left Bank, both climate change and better vineyard management are improving Cabernet Sauvignon's end product. The late Paul Pontallier once confided that he would make a 100% Cabernet Sauvignon at Ch. Margaux if he could. Even in his lifetime, the percentage of Cabernet Sauvignon in that blend was in the 90s.
---
At its best Merlot from Pomerol is an astounding wine, and a unique expression made all the more remarkable when compared to its other incarnations. Like so many greatwines, its creation seems to be as much alchemy as expertise.
---
Taking centre stage
Merlot's profile is waning a little in the great vineyards of the Left Bank, though there remain many important pockets – notably at Ch. Palmer, where they retain significant parcels of old-vine Merlot, which usually constitute about half of the blend for the grand vin. But on the Right Bank, Merlot assumes centre stage. Here, the cooler limestone and clay soils of St Emilion and Pomerol are almost always too marginal for Cabernet Sauvignon, and Merlot's precocity is prized.
The region of St Emilion has a number of different expressions. The simpler wines of the basic St Emilion appellation benefit from Merlot's affability, and its capability to make wines that are succulent and approachable. It is often blended with a little Cabernet Sauvignon, which can perform on the lower, more alluvial soils towards the Dordogne, but Merlot is regularly at least 80% of the blend.
As one ascends towards the hilltop town of St Emilion, the slopes turn to limestone and pockets of clay; Cabernet Sauvignon disappears, to be replaced by Cabernet Franc, which ripens a little earlier and performs much better on these soils. Merlot remains in the ascendant here, but rarely as a varietal wine. A dash of Cabernet Franc is usually necessary for perfume and freshness. At some estates, the blend can be 50-50, notably at Ch. Ausone and famously at Ch. Cheval Blanc where, standing in their vineyards, we can look across to Pomerol, and take the final steps to Merlot's summit.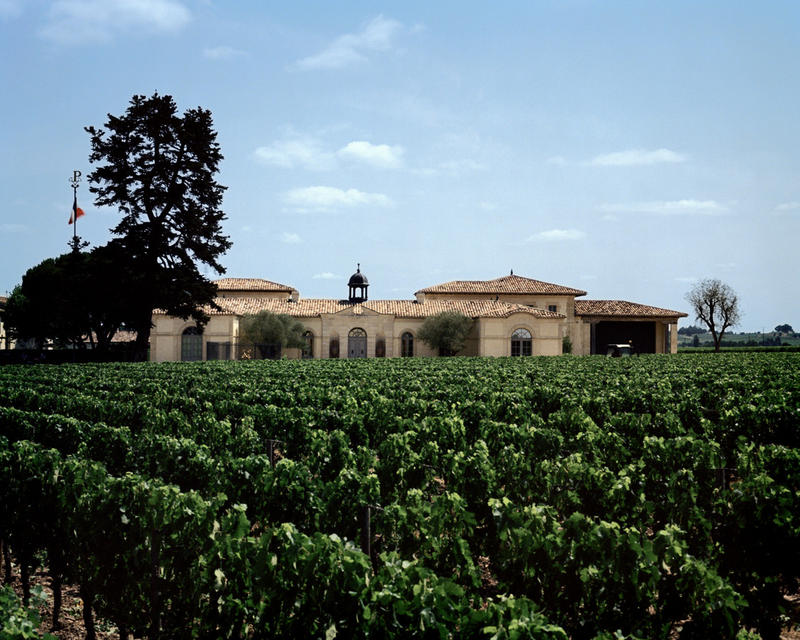 Merlot is expressed in its purest form by Petrus says Mark Parode MW
Merlot's apotheosis
It is here, at the heart of Pomerol's plateau, that Merlot reaches its fullest expression. But the description of these 800 hectares as Merlot's "summit" is perhaps misleading, for it would be hard to image a more featureless landscape. The properties are not châteaux in the true sense, but modest and low. The hamlet of Pomerol does not have so much as a restaurant, and to describe the topography as "gently rolling" would be generous.
At the epicentre is Petrus, whose vineyards sit at the highest point of Pomerol on a high stratum of crasse de fer (an iron-rich sandy gravel), under a blue/grey clay (molasse), a plug of terroir known as a bouttonière (buttonhole). This unique combination covers only 20 hectares, and Petrus sits on more than half of it. Other châteaux with vines on this precious commodity include L'Évangile, La Conseillante, Lafleur, Gazin, Client, Le Gay and Vieux Ch. Certan. This is Merlot's apotheosis, and it is expressed in its purest form by Petrus.
There is a second buttonhole of molasse north-west of Petrus, but without the crasse de fer. The quality that the molasse imparts is evident by the reputation of the wines produced at those properties on it, L'Eglise-Clinet prime among them, although the style is perhaps glossier than when crasse de fer is also present. Moving away from the plateau's high point, the crasse de fer lies deeper and the topsoil becomes more gravelly, allowing Cabernet Franc to contribute, often as much as 20% in a Pomerol blend. Away from the plateau where the land starts to fall, the soil becomes sandier and the wines lighter in texture and weight.
The blackbird of grapes
Why is Merlot so perfectly suited to this terroir; what is the symbiosis between Merlot and the buttonhole? Is it that the clay retains water, easing Merlot's exposure to any water shortages during hot summers? The iron held in the sand is said to add the distinctive notes of violet and truffle to Merlot's intense plummy notes, and the paucity of the soil certainly restricts the vines' vigour. But in the vinous world, there is nothing else like these wines: heady and visceral; the purest silk yet threaded with the merest catch of Velcro tannins; opulent yet cultured.
Whatever the answer, at its best Merlot from Pomerol is an astounding wine, and a unique expression made all the more remarkable when compared to its other incarnations. Like so many great wines, its creation seems to be as much alchemy as expertise. The vine is said to take its name from the French word for blackbird – merle (merlau in Occitan) – because of its predilection for the sweet, early-ripening grapes. As I write, the blackbird in my garden is singing his limpid sunset song, a ubiquitous bird also capable of transcendence.
---
Merlot in Bordeaux 2020: three favourites
Whether as a single varietal or as part of a blend, Merlot plays a key role in many of Bordeaux's finest wines. We've picked three expressions of Merlot in 2020 – each is from a notable family producer on Bordeaux's Right Bank.
2020 Ch. Marsau, Francs-Côtes de Bordeaux
Marsau is the home estate of Mathieu Chadronnier, president of Bordeaux négociant Dourthe. Glossy, plump and elegant, this is a sumptuous single-varietal Merlot from the sometimes-overlooked Francs appellation.
Buy now
2020 Ch. Grand Mayne, St Emilion
Jean-Antoine Nony continues to make this St Emilion Grand Cru Classé in a more elegant style; Merlot leads the way here, supported by Cabernet Franc and Cabernet Sauvignon.
Buy now
2020 Ch. Montlandrie, Castillon-Côtes de Bordeaux
This is the Castillon sibling of Pomerol superstar Ch. L'Eglise Clinet. Noémie Durantou now makes the wine, succeeding her late father, Denis. Merlot-dominant, this has dense fruit and a gourmand tension.
Buy now