Home > Burgundy 2021 En Primeur > Domaine Jean-Pierre Guyon
Domaine Jean-Pierre Guyon
FIVE-MINUTE READ
Words: Charlie Geoghegan
---
Forever getting his hands dirty in the vineyard, Jean-Pierre Guyon keeps something of a low profile. But his meticulous approach in the vineyard and low-intervention winemaking produce a range of elegant wines that speak for themselves
Driving along Burgundy's D974, you could almost miss Domaine Jean-Pierre Guyon. This particular stretch of the road through the Côte d'Or could be any French suburb, all big houses and shuttered windows – were it not for the Grands Crus of Vosne-Romanée in the background. Like its owner, this estate hides in plain sight: elusive, but there if you know what you're looking for. The man has a reputation for keeping a low profile, forever with his head down in the vines or the cellar. Even today, his wines remain less widely known than they should. But if you know, you know. Jean-Pierre crafts some of the most elegant, perfumed and impressive wines in Burgundy. This has not always quite been his intent.
His first vintage here was 1987. He remembers red Burgundy being panned as thin, light and lacking in concentration. But Jean-Pierre was part of a defiant new generation determined to disprove this particular theory, by making "black wine". This called for a relatively heavy hand in the winery, the goal being to extract lots of colour and tannin and produce a bigger, bolder style of Burgundy. Before too long, he started to tire of this approach. "I got to a point where I didn't like my wines anymore," he admits. In blind tastings, he found himself struggling to tell his wines apart, or to identify their origin. "They were too much: too powerful, lacking finesse and elegance."
And so began a process of transformation. Jean-Pierre's attention shifted from the winery to the vineyard. Today he farms 8.5 hectares of vines across Burgundy's quality tiers, from Bourgogne to Grand Cru. He has been working organically since 2000, receiving certification in 2012. It's a lot more work, he says, but he has seen a significant change in the wines. "Today, it's easy to differentiate each terroir," he reports. It's difficult to overstate the attention to detail here, best illustrated perhaps by simply walking through his vines. The plants are taller than you'd expect, and there's a lot of greenery. This may give the mistaken impression that these vines are not cared far, but it's quite the opposite.
Farming this way is a very deliberate choice – one inspired by the imitable Lalou Bize-Leroy. She and Jean-Pierre have adjacent plots of vines in Les Brûlées, a Premier Cru in Vosne- Romanée. Jean-Pierre recalls observing his neighbour's experiments there in the 1990s: she had started to train her vines higher, with the untrimmed canopy of leaves and shoots bent up over the wires and flopping down the other side, like a bridge (hence the French name en pont). Many vignerons found the new technique bizarre, but Jean-Pierre was intrigued and tried it out. Now, almost his entire domaine is farmed this way. He has adapted the technique to provide more protective shading than the grapes would otherwise have – an increasingly important benefit here as he has at times recorded losses of 10-15% of his crop due to sunburn and damage to the skins. The additional work involved means that he operates a ratio of one vineyard worker per hectare of vines, which is a considerable investment of time and energy.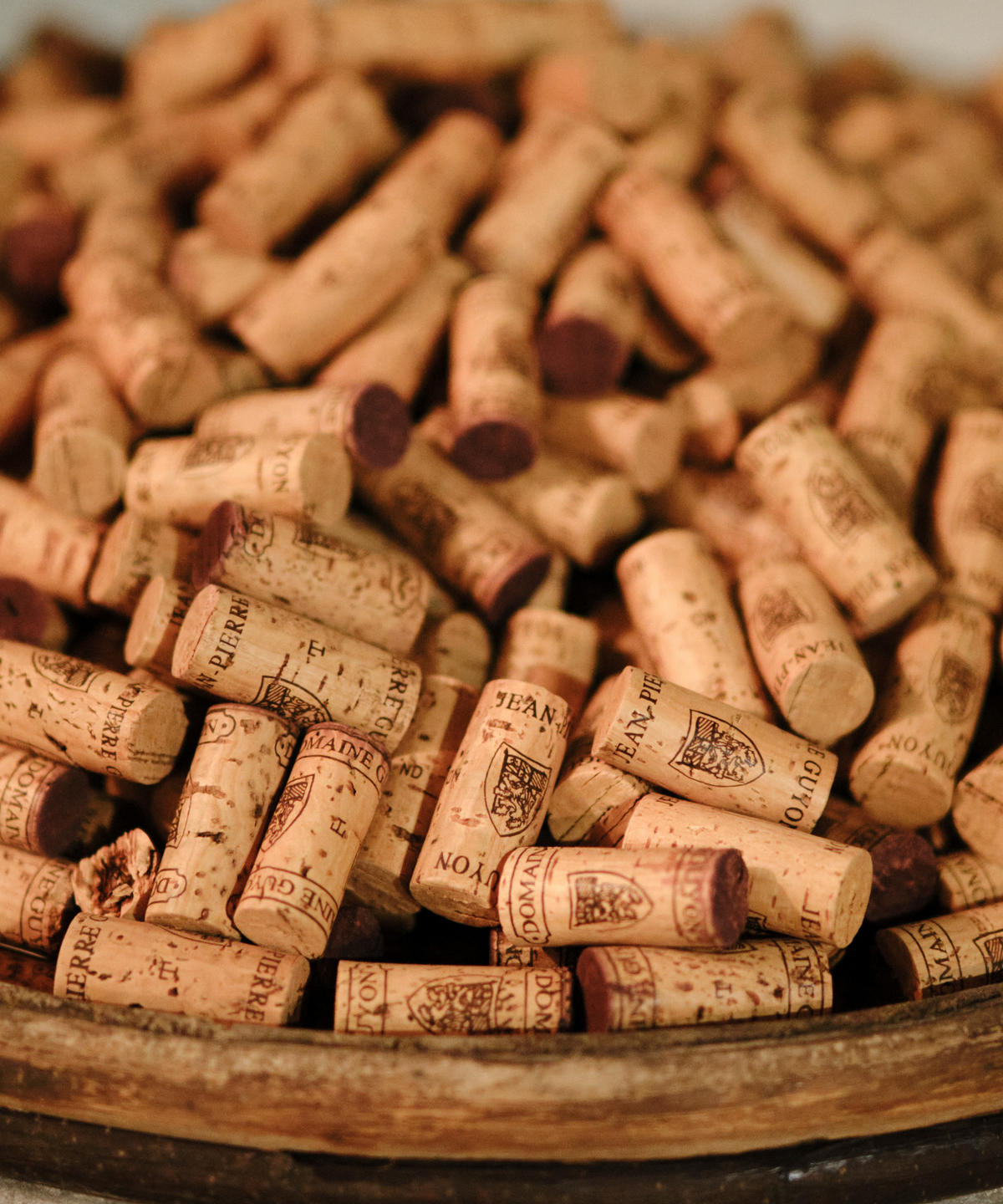 01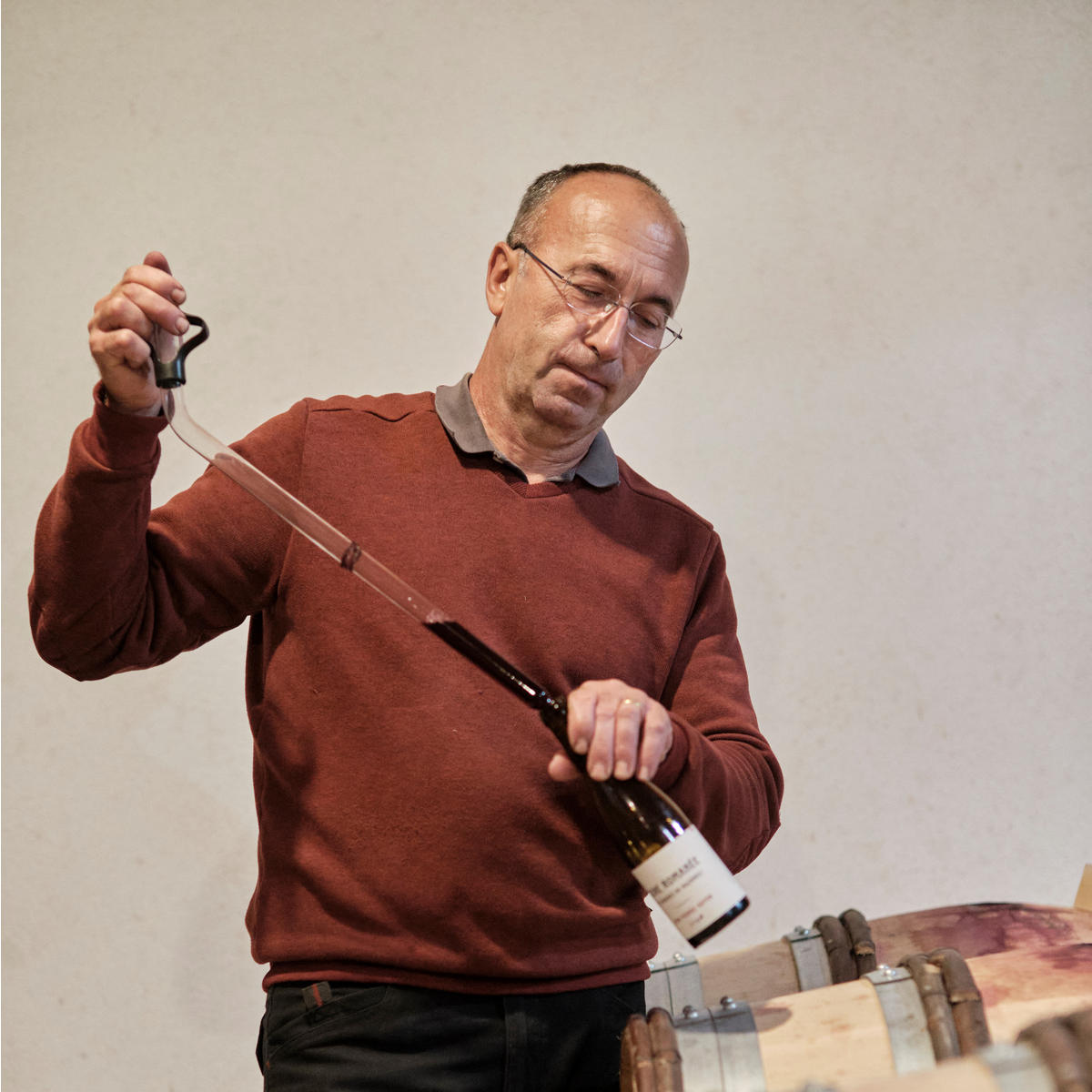 02
01: Jean-Pierre may be interested in our cork recycling scheme

02: If he's not in the vineyard, you'll find Jean-Pierre in the cellar
"I got to a point where I didn't like my wines anymore"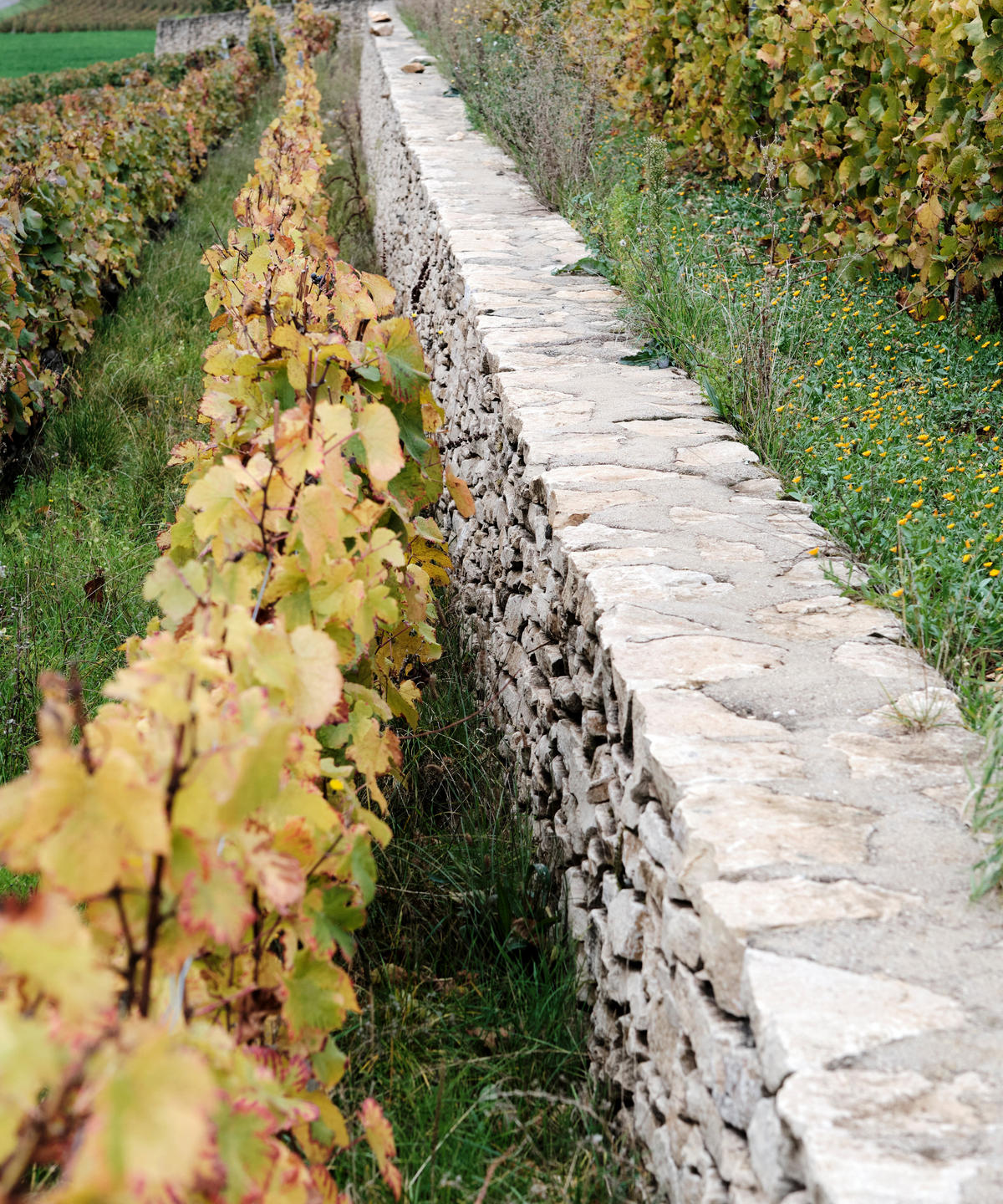 03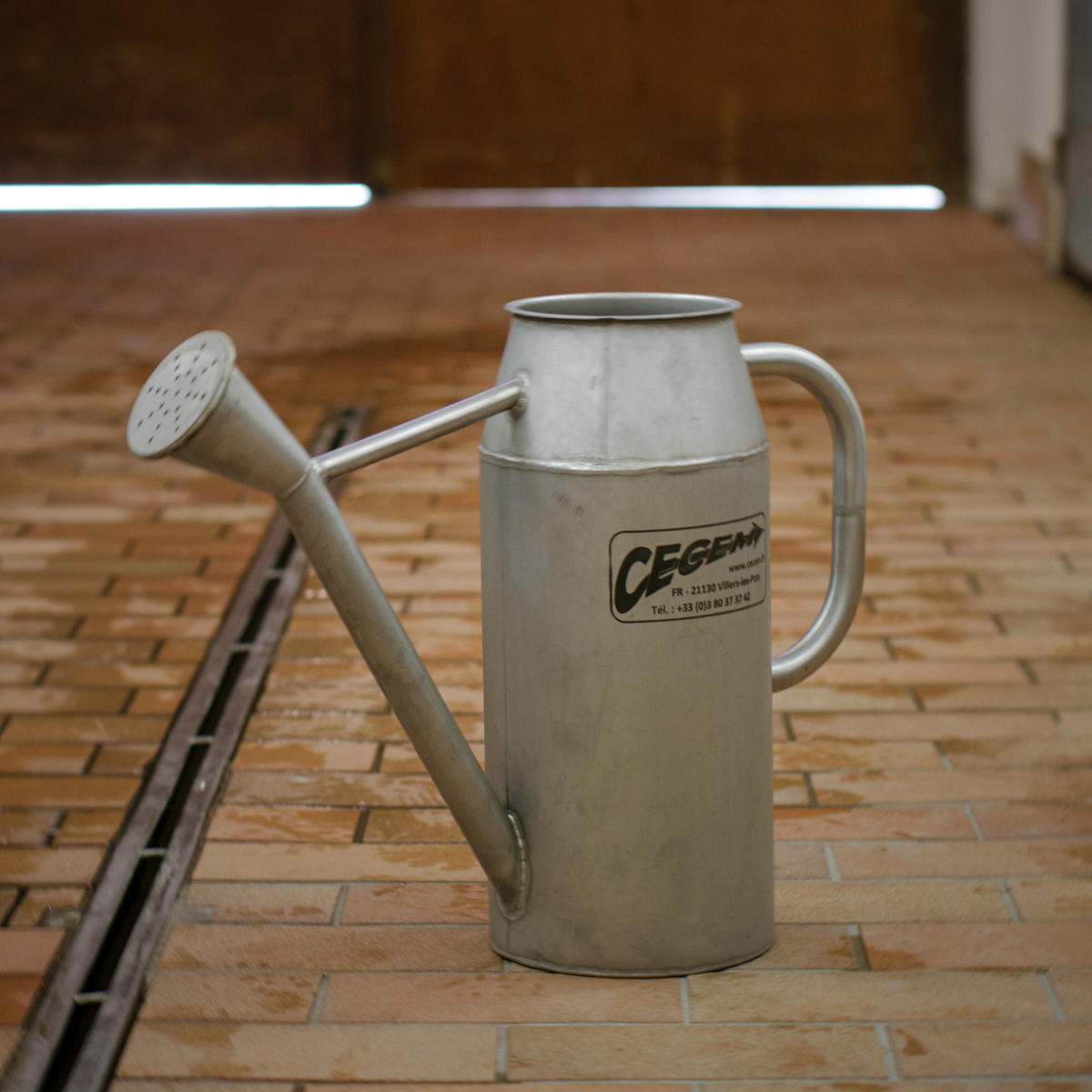 04
03: The Guyons and some neighbours have clubbed in to restore this wall in Les Brûlées

04: People laugh at Jean-Pierre for his custom-made watering can, but he doesn't mind
When he was a younger vigneron, Jean-Pierre recalls the seasons being more marked. It was clearer what needed to be done, and when. "We had more time to do things, we weren't as stressed," he says. "Now, once the vine decides to grow, it grows at full speed, and it doesn't leave you time to plan." Jean-Pierre figures that his own father only experienced frost damage twice in his entire working life. By contrast, frost seems to come up every other year now. "It can be catastrophic," he says. These challenges will only be solved by collective effort, Jean-Pierre believes. "Everyone does their own thing on their side, and I don't think it's the solution."
To accuse somebody of having their head in the clouds is usually an insult, but Jean-Pierre would likely take it as a compliment. At harvest, he assembles a team of more than 20 people around a sorting table. For hours on end, they meticulously remove the central trunk of each and every bunch of grapes. He finds it offers a Zen-like calm. What's left behind are smaller clusters of berries, each cluster held together by a short stem. He calls them nuages (clouds); look close enough at the sorting table as they gently rumble along, and you can see why. This is his take on whole-bunch fermentation, which is so gentle that 70-80% of the berries ferment without being crushed. The technique "changes the wine", he says: "It's saline, it's livelier and more invigorating." It also imparts the sensation of freshness, a bonus in warmer vintages where acidity can be lower.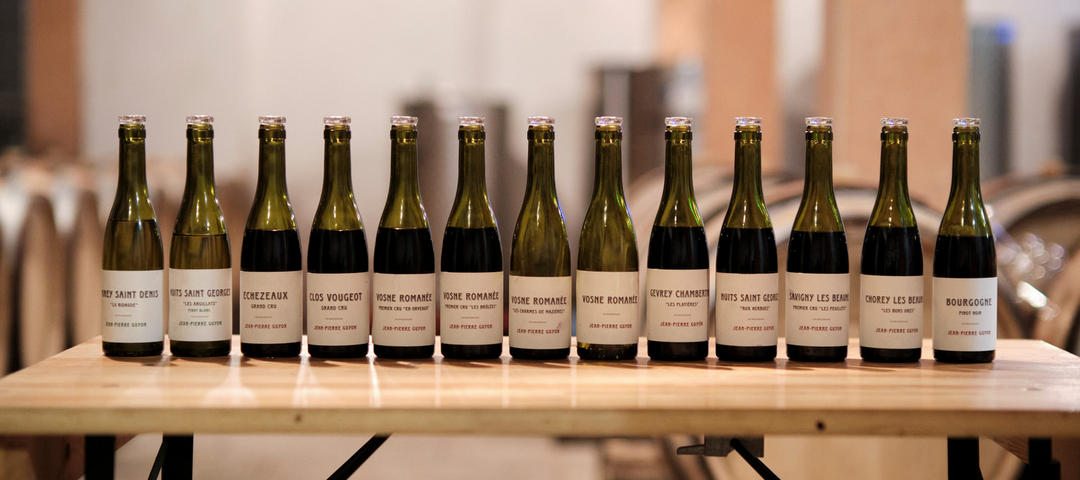 05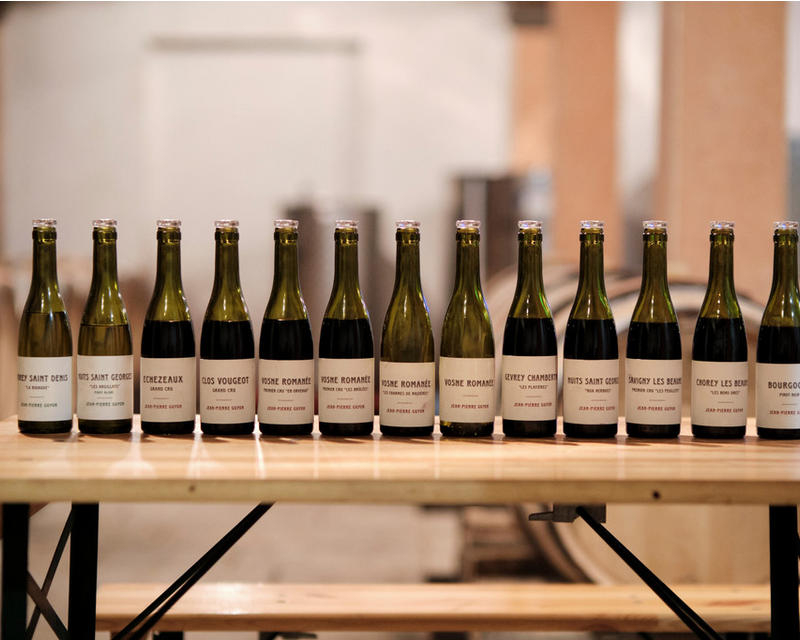 05
05: Jean-Pierre's range runs the full gamut of Burgundy's quality tiers, from Bourgogne to Grand Cru
His black-wine days firmly behind him, Jean-Pierre uses a much lighter touch in the winery than he once did. By most definitions, and his own admission, Jean-Pierre is effectively a natural-wine producer. Every step of the process is gentle, and he has considerably reduced his use of sulphites. A stint making wine in Portugal with Dirk Niepoort turned Jean-Pierre onto another unusual technique, having seen Niepoort's young team pumping-over not with pumps but by hand, with buckets. "You have all this equipment here and you're not using it," he told them in disbelief. But it stuck with him, and again this is something he has adapted – he uses a custom-made watering can to gently wet the cap during alcoholic fermentation. "Other producers make fun of me with my watering can, but I don't mind," he laughs.
Jean-Pierre is adamant that you should aerate his wines before serving. An hour or two in a decanter and his wines start to show their full personality. Something similar could be said of their maker. Seemingly always working and decked out in functional work-gear, he may give off the initial impression of being a little gruff. But spend just a little bit of time in his company and you'll find that the charm and generosity of these wines hasn't come from nowhere.