Home > Editorial > From the vineyards of Hambledon
LONGER READ
---
Hambledon Vineyard are the makers of our Own Selection English wines. In late May, we visited their Hampshire vineyard to meet their winemakers and uncover the processes behind the wines.
Hambledon Vineyard lays claim to being England's oldest commercial vineyard, dating back to 1951. It's located in an idyllic part of Hampshire, less than half an hour from the South Coast.
The closest station to Hambledon is Petersfield, which is where our train arrives from London. Here, we're greeted by Sam Phillips, who manages Hambledon's wine club.
During the 20-minute drive to the vineyard, Sam tells us about his background in wine hospitality, leading a sales team that looked after five-star hotels and Michelin-starred restaurants – an industry severely impacted by the pandemic. It was only recently that he moved out of London to Hampshire, having started working at Hambledon at the beginning of the year.
As we pull into the village of Hambledon, the vineyard emerges into view, spread over sloping hills which rise gently from the road. We pass neat rows of numbered plots, whose vines are still yet to burst.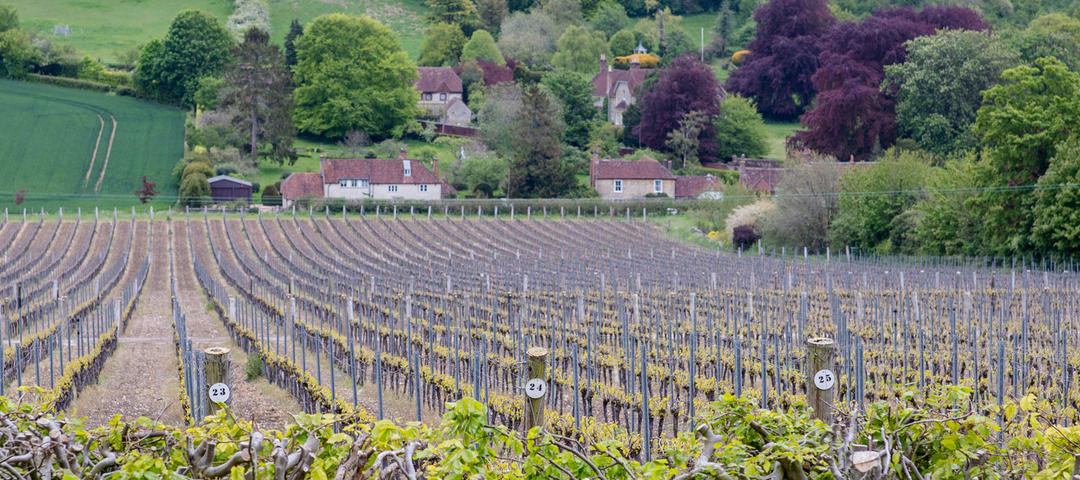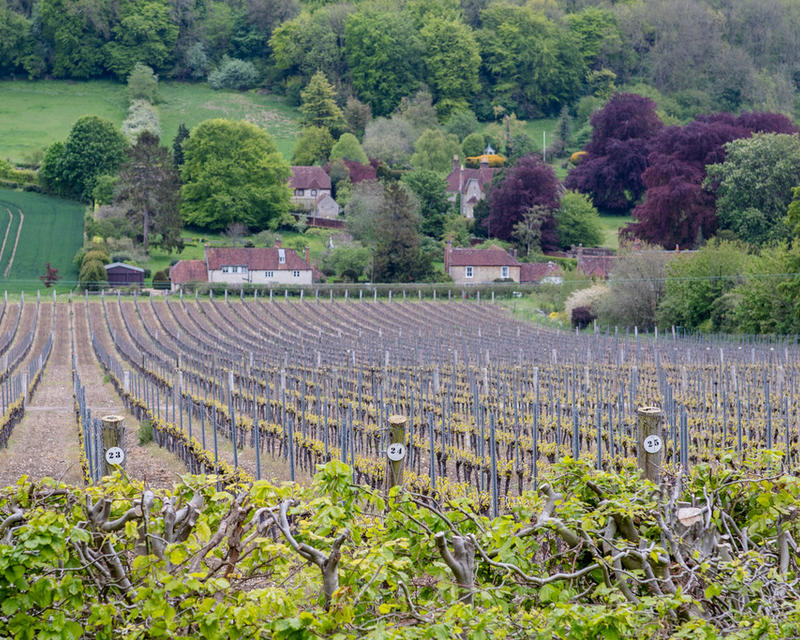 The Pinot Meunier vineyard at Hambledon rises on a gentle slope from the road.
Yesterday, Sam tells us, the vines were battered by hail. There are still traces of rain in the vineyard: scattered droplets hanging delicately from unburst buds.
"This only really started to green up and bud 10 days ago," he explains, over the wind rustling through the trees. "Usually, we'd expect the buds to burst around 15th April, but we had a lot of frost and cold weather." A blessing in disguise, given yesterday's hail. "It would have crucified us."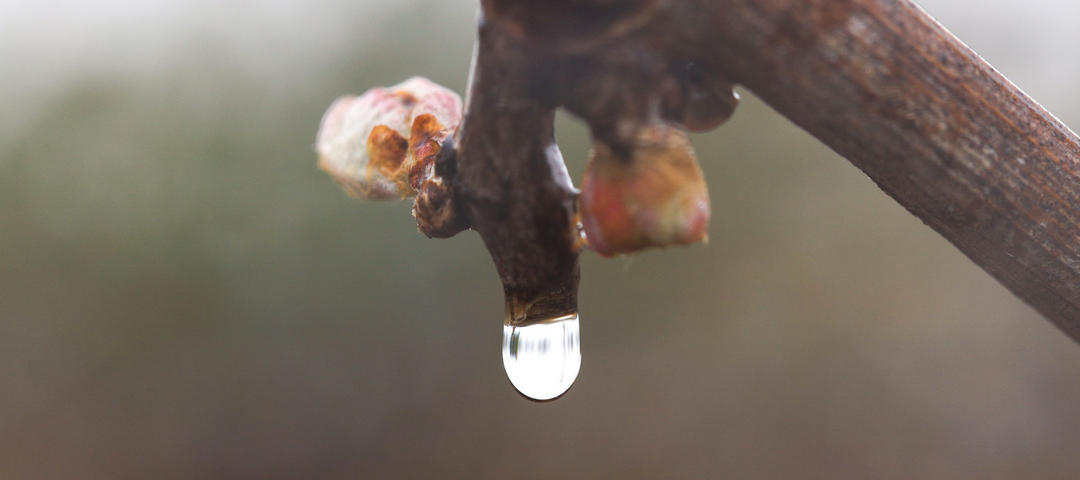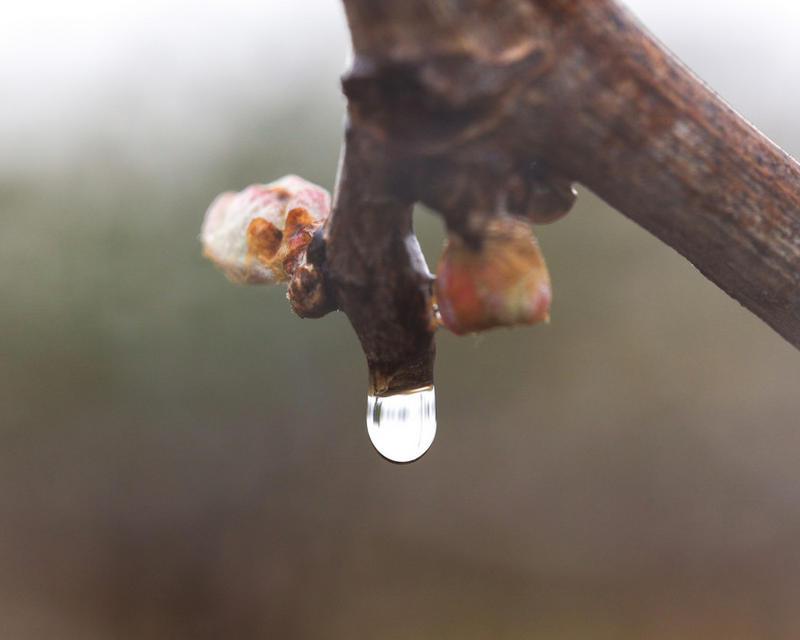 A droplet of rain hangs from the vine – a trace of the dreary weather of late May.
Hambledon's winemaking philosophy is very much influenced by Champagne. The vineyard was established in 1951 by Guy Salisbury-Jones, an army major and Francophile, aided by friends at the illustrious Pol Roger. Today, the affinity with Champagne remains strong. The relationship with Pol Roger was revived in 2005, when current owner Ian Kellett met Hubert de Billy, now president of the Champagne House.
Hampshire and Champagne share a similar terroir: Newhaven Chalk, dating back 65 million years. It's the same chalk which is found in the Côte des Blancs.
"Chalk is an ideal terroir for sparkling wine because it acts like a sponge, retaining water and releasing it slowly into the vines, while simultaneously acting as a natural drainage system," explains Sam.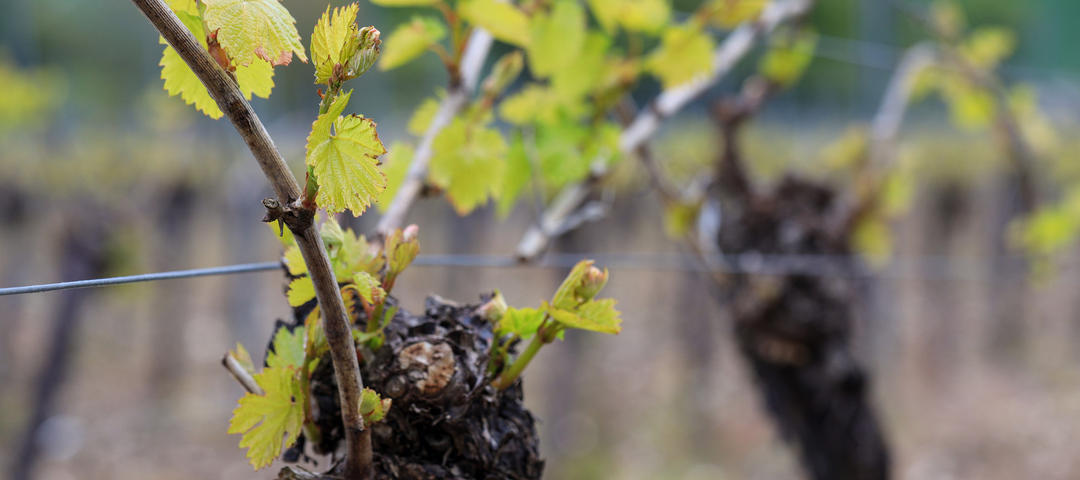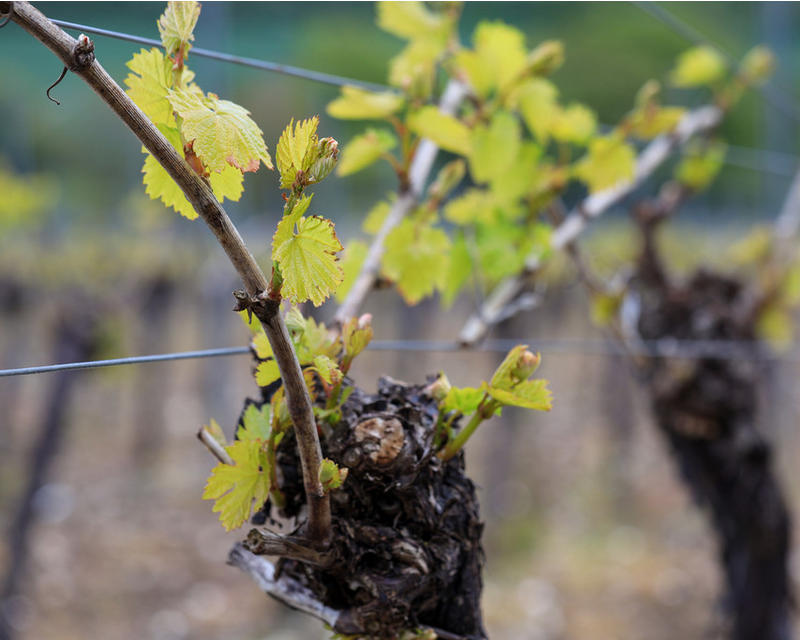 The leaves on the vines only started to emerge 10 days before our visit.
First, we're introduced to the Pinot Meunier vineyards: "an unsexy grape, but it's resilient and hardy. It gives the wine more depth, complexity and structure. The French don't make a huge deal about it, but we love it." Taking its cue from Champagne, the vineyards are also planted with Chardonnay and Pinot Noir.
"We're Chardonnay-dominant. Most of our blends are typically between 50% to 70% Chardonnay," says Sam. As we walk through the Chardonnay vineyard, he gestures to a new al fresco bar space which is currently in its early stages: Hambledon's Dine in the Vines, championing local Hampshire produce and wine.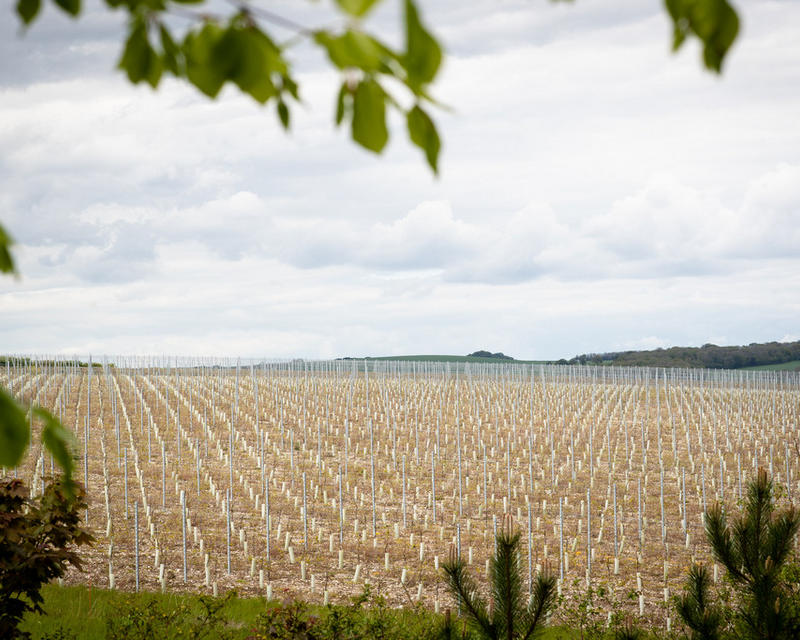 A glimpse of the Chardonnay vineyard through the trees.
Next, we head into the winery, where we're greeted by Tobias Tullberg. Tobias is a part-time winemaker here, currently stranded – by happy coincidence – in England because of the pandemic. He tells us that he usually splits his time between England and Greece, where he makes a pétillant naturel sparkling wine, also known as "pét-nat". But for now, he's here all year round, alongside full-time winemaker Felix Gabillet.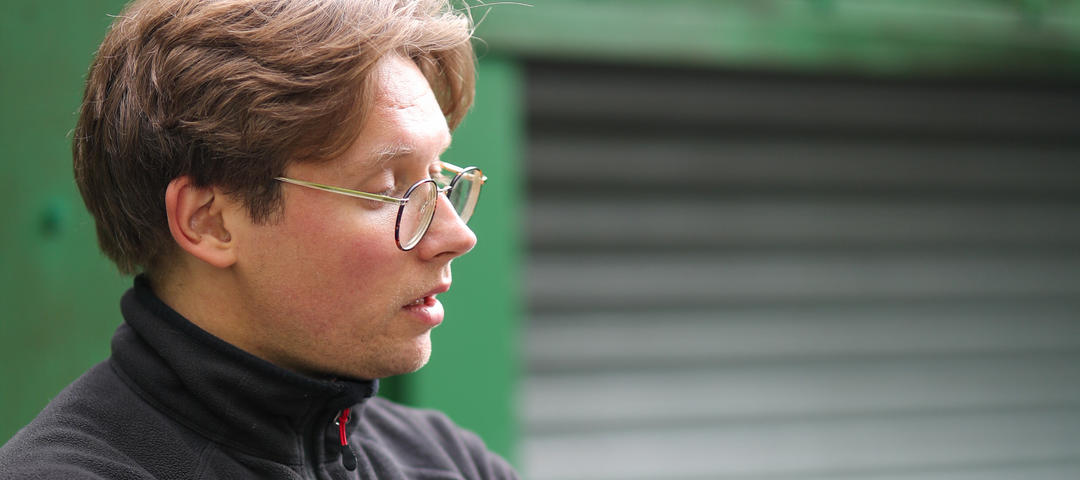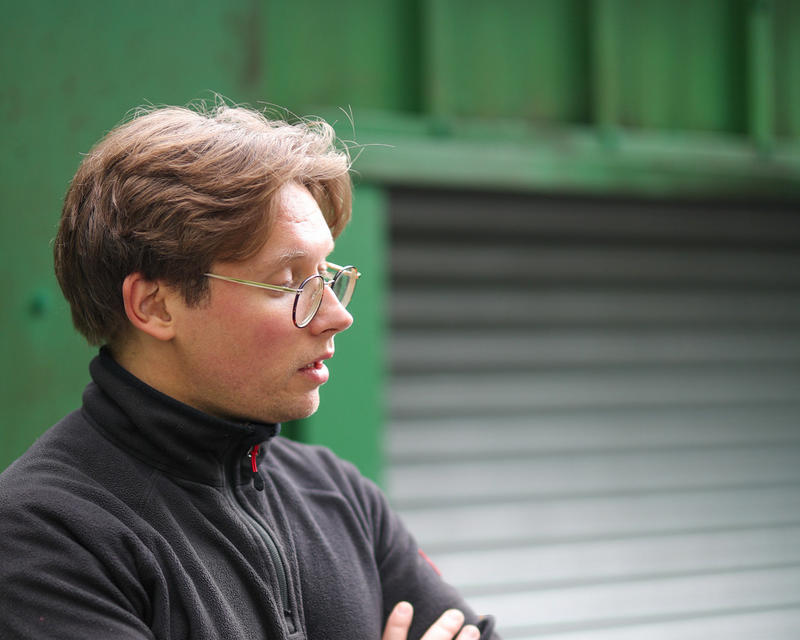 Tobias Tullberg is one of the winemakers at Hambledon.
Late spring to early summer is usually the time for blending and bottling, Tobias tells us. Malolactic fermentation takes place during the winter months, until the beginning of spring, when the wine is left to settle down and racked off the lees. Two weeks later – "almost always after Easter" – the tasting process begins.
Tobias shows us the gravity press, which allows delicate flavours to be gently extracted from the grapes without too much tannin. Sam explains that this allows for a depth of fruit flavours to be fully integrated and develop complexity over time, as the liquid ages on the lees. All the grapes are handpicked from the chalk soils of Hambledon and Hinton (their other Hampshire vineyard), before they're pressed and made into juice within four hours. The grapes are dropped into the press from the top level and crushed by their own weight; the juice then trickles down to the lower levels of the mechanism, where it's gathered for fermentation.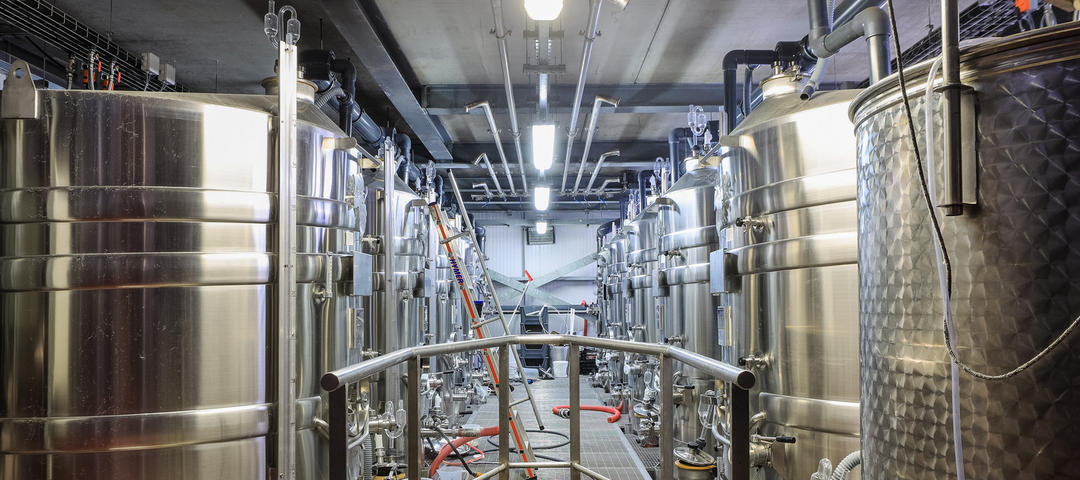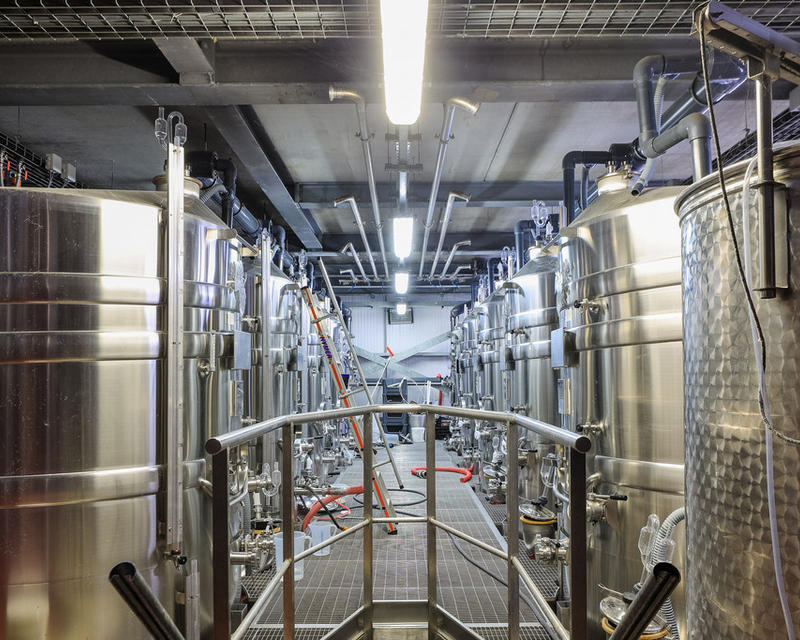 Inside the winery, the juice is fermented in stainless steel vats.
As Sam leads us outside for a wine tasting, we're joined by Felix, who has 15 vintages behind him across the world – five of which have been at Hambledon.
"I spent five years travelling and did two vintages a year – one in each hemisphere," he explains. "I've done two vintages in Australia, two in New Zealand, one in Canada, one in California and one in Champagne."
What was it about England that appealed to him?
"Ever since I started to drink wine, I had a vision that I needed to be part of this. It's a new industry. It was like being in New Zealand 15 years ago – the feeling of being at the beginning of something."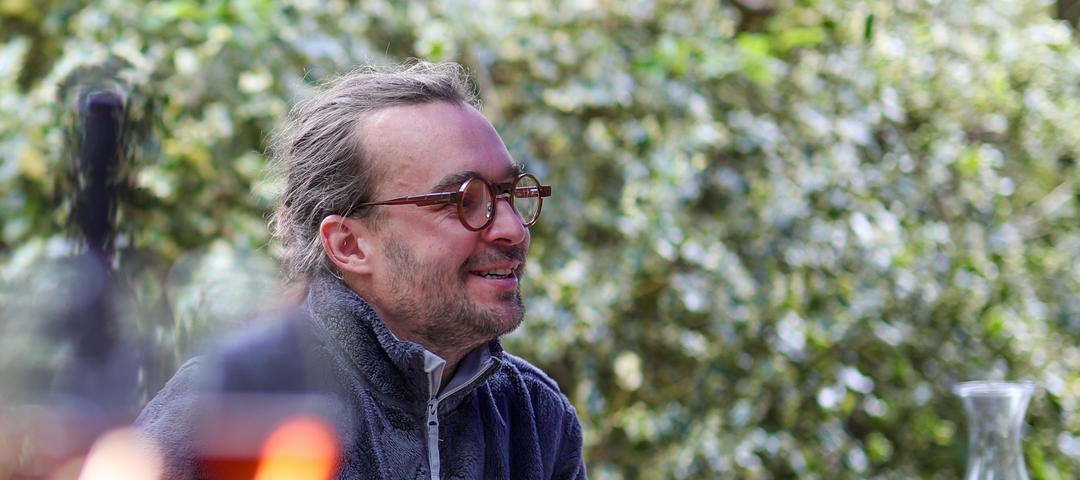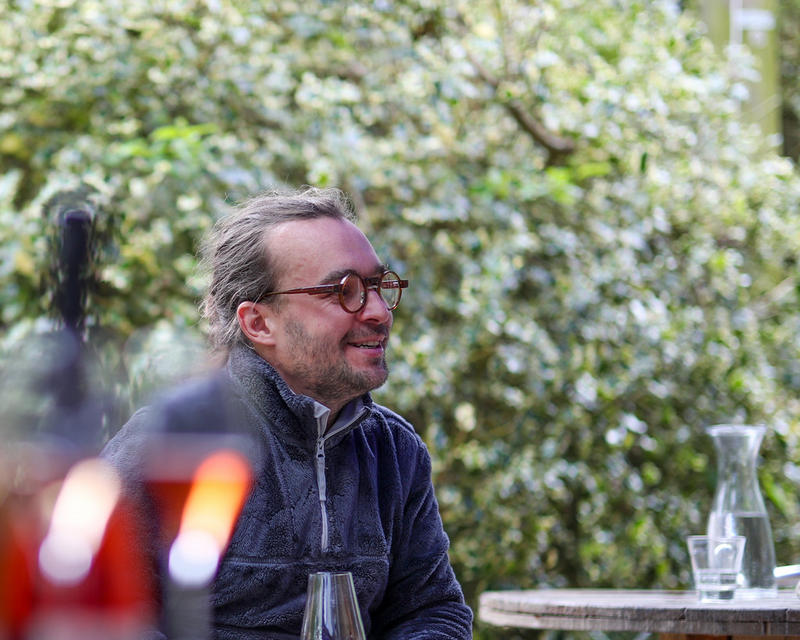 Felix Gabillet is the full-time winemaker at Hambledon.
Our day in the vineyard ends with a tasting of four of Hambledon's wines. We start with the Classic Cuvée, a refreshing wine with notes of magnolia, green apple and stone-fruit. Sam then pours us a glass of the Première Cuvée – elegant and complex, with flavours of orange blossom, apricot and almond croissant. We then taste the Classic Cuvée Rosé, which is deliciously fruity with notes of strawberries, cranberry and a touch of sourdough. Then, finally, we taste their Première Cuvée Rosé, made of 100% Pinot Meunier. Dark and rich, the palate brims with ripe red fruit balanced with an earthy, savoury note. "It's surprisingly versatile with food," says Sam, "matching incredibly well with a range of cuisines, from curry dishes to BBQ food – a real savoury treat."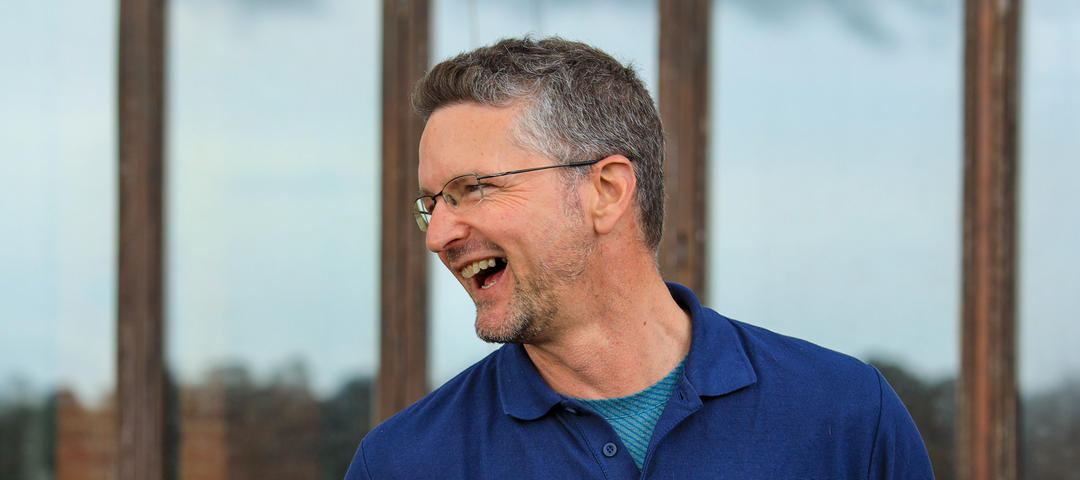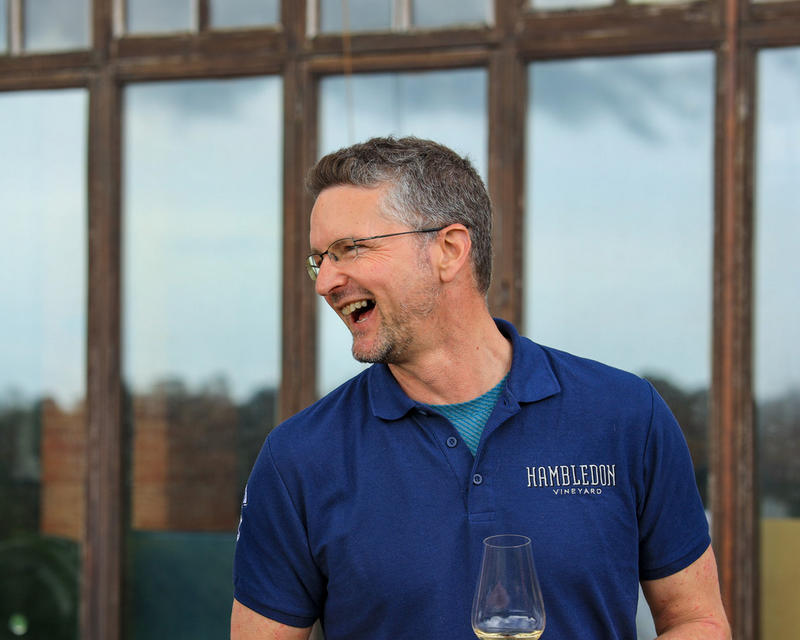 Sam Phillips is Club Manager at Hambledon, and our unofficial tour guide for the day.
It was around the early 2000s when English sparkling wine started to garner attention. Now, almost two decades on, it no longer feels like a movement in its early stage – but the next chapter of British wine holds great promise. And Hambledon Vineyard are right at the forefront of it.