2005 was a classic season, just a little drier than average, but not with the vine stress experienced in the CÙte d'Or.

There was no frost in April and May and the flowering in warm and sunny June was rapid, building up to the peak temperatures in August .

Yields were below average in 2005, lower than the abundant 2004, but not as low as 2003. It seems that there were few problems with frost, hail or disease. The focus was on the vintage.

At the moment the 2005 seems more fruit, than terroir driven. Rich, but with fresh acidity thanks to timely picking.

The premier and grand cru may well be approachable earlier than the 2004s. Bernard Legland of domaine des Marronniers observes, "they are so pleasant, we would like to drink them now."

2005 certainly packs more of a punch than the nervy 2004s in which the more marginal conditions produced greater translucency to the terroir. It is also more consistent than the higher-yielding 2004 and the generic quality level is good. The intensity of the fruit in the best wines should make this a vintage to keep. Overall a very good vintage.
Showing 1-1 out of 1 items
Hide All Tasting Notes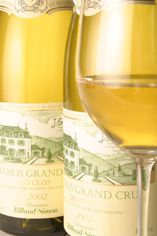 Showing 1-1 out of 1 items