Home > Editorial > Why you should drink sweet wine this Christmas
FIVE-MINUTE READ
---
From the dried-fruit flavours of Port to the honeyed notes of Sauternes, Christmas is the perfect occasion for sweet wine. In our short collection of stories and advice, Alexandra Gray de Walden reminisces on fond memories; Clara Bouffard imparts her top food-matching tips; and Stewart Turner shares a recipe for chestnut choux buns with clementine sauce.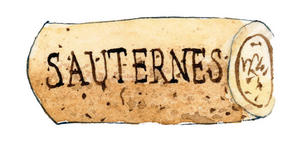 The sweet wines of Bordeaux are all too often overlooked, but Clara Bouffard believes there's no better occasion to enjoy them than at Christmas. Having grown up in the region, she takes a closer look at the magical – and painstaking – process involved in bringing a bottle to life.
At a Bordeaux château, Christmas doesn't only mark the end of the year – it also marks the conclusion of the sweet white wine fermentation cycle and the start of maturation. Producers enjoy some time off with their family before the winter cycle begins, with work such as pruning. But during the rest of the year, the process of making Sauternes requires great passion and dedication.
In Inside Bordeaux, Jane Anson says that Sauternes is "made by masochists, drunk by hedonists". Take it from a sweet-winemaker's daughter: this couldn't be more accurate. Every time I drink Sauternes, I can't help but feel grateful to taste such a noble product. Winemakers face nothing short of a battle to produce a bottle of Sauternes – from having the right climatic conditions to the challenge of harvest (botritysed grapes don't all ripen at once, so picking happens in several stages).
If you've ever visited Sauternes during harvest, you're lucky. You'll have experienced the mystical atmosphere and unique climate that nature brings about at that time of the year.
If you haven't, allow me to paint a picture for you: at night, the cold waters of the Ciron river meet the warmer waters of the Garonne. Until midday, a deep fog settles on the land and the vines. This fog brings with it the ideal conditions for Botrytis Cinerea – the so-called "noble rot" – to settle on the grapes, making micro-perforations to the skin. In the afternoon, wind and sun cause the water in the grapes to evaporate, concentrating both the sugars and aromatics within.
The soil also plays an important part in the process: most typically in Sauternes, you'll find a blend of sand and gravel. The former allows great drainage through the soil, keeping the roots cool; this is important for acidity. The latter absorbs the sun's heat, helping to warm the vineyard up after those humid mornings.
It's fascinating how all these natural happenings come together in such a small and specific area to produce a magical wine. Sweet Bordeaux is both undervalued and underpriced, and offers some of the best value for money in the whole region.
It's the ultimate Christmas wine produced in Bordeaux – the perfect reason to hold onto a wonderful bottle during the year. It's well worth the wait for this most special of occasions, to be savoured in the presence of family over a Christmas table.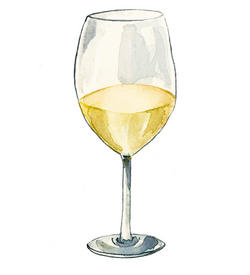 From Vintage Port to honeyed Sauternes, Christmas gives us the perfect opportunity to indulge in the richness of sweet wines. However, how you serve them is an important consideration. Henrietta Gullifer outlines the key things to remember when pouring sweet wines throughout the season.
Whether you'd opt for a delicate off-dry Riesling, a honey-soused Sauternes or a sticky Vintage Port, there tends to be a sweet wine for everyone. Personally, I'm an enormous fan of a sweet Tokaji – even more intense than a Sauternes but boasting a fantastic, refreshing acidity, it's a truly special treat.
When considering a sweet wine, the first question is: when do you serve it? You have several options, the most obvious being with dessert. For instance, a Pedro Ximénez Sherry alongside Christmas pudding makes a beautiful match, with those dried-fruit flavours complementing each other.
But increasingly, there's a greater awareness that sweet wine is not just an accompaniment for dessert. Whether you choose to pair Port or Sauternes with cheese, or a sweet Riesling with a seafood starter, sweet wines are now more openly served at various points throughout a meal.
Often, we tend to serve sweet wine at too high a temperature. Ideally, it should be served at 8-10°C, but straight from the fridge will also work perfectly. This prevents the wine from having too cloying a nature. The exception to this is Port: serving it too cold will exacerbate the tannins and dull fruit flavours.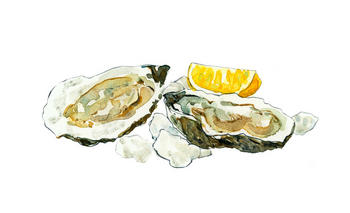 Sweet wine is often associated with dessert, but the truth is that these wines are incredibly versatile, pairing beautifully with everything from oysters to blue cheese. Clara Bouffard shares some helpful tips for food-matching the sweet wines of Bordeaux.
Traditionally, sweet-wine pairings with food have been limited to foie gras or dessert. But Sauternes actually has incredible gastronomic versatility, with a delicate balance between sweetness and acidity that earns these wines a firm place at the dinner table.
Sweet wine may be a favourite throughout the year – but no gastronomy beats Christmas food in being perfectly suited to the rich, indulgent flavours of a Sauternes, Cérons or Loupiac. In France, these are rarely consumed as dessert wines; one can opt to enjoy a glass with a starter, such as foie gras, salmon or oysters. The sweet and savoury combination is just right for a perfectly balanced mise-en-bouche.
Yet the versatility of sweet wines goes beyond the apéritif. They would be a superb match for meats such as turkey, guineafowl or roasted pork, as well as sautéed Grenaille potatoes or truffled mashed potatoes. I would also seriously recommend pairing them with a blue cheese, or a Comté aged for at least 30 months: key here is contrast and balance.
With dessert courses, it's best practice to avoid pairing wines with anything too rich or too sweet. Fruit-dominant desserts, such as a lemon meringue tart, will perfectly balance the sweetness and acidity.
Serving Sauternes on ice with a slice of orange, or as part of a cocktail, is a more contemporary approach – a local favourite becoming widely adopted in Sauternes, where hospitality and wine tourism are growing.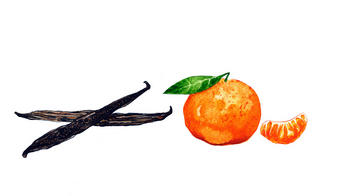 Michelin-trained chef Stewart Turner shares one of his favourite recipes to enjoy with sweet wines: chestnut choux buns with clementine sauce. It's perfect as a lighter alternative to the classic Christmas pudding.
Dessert wines might not currently be a fashionable style, but there's no better way to finish a meal than with a lusciously sweet nectar – it rounds it off perfectly. When it comes to dessert at Christmas, it's hard to look past the classic pudding or bûche de Noël. I'm a lifelong fan of Christmas pudding, but always feel it's exceedingly heavy after a full-on Christmas lunch and prefer to save it for Boxing Day.
This is my recommendation for a slightly lighter alternative Christmas Day dessert. Although it may look complicated, all the elements can be prepared in advance – even the choux buns can be piped and frozen, then cooked when needed. It's also worth remembering that sweet wines are the perfect match for blue cheese.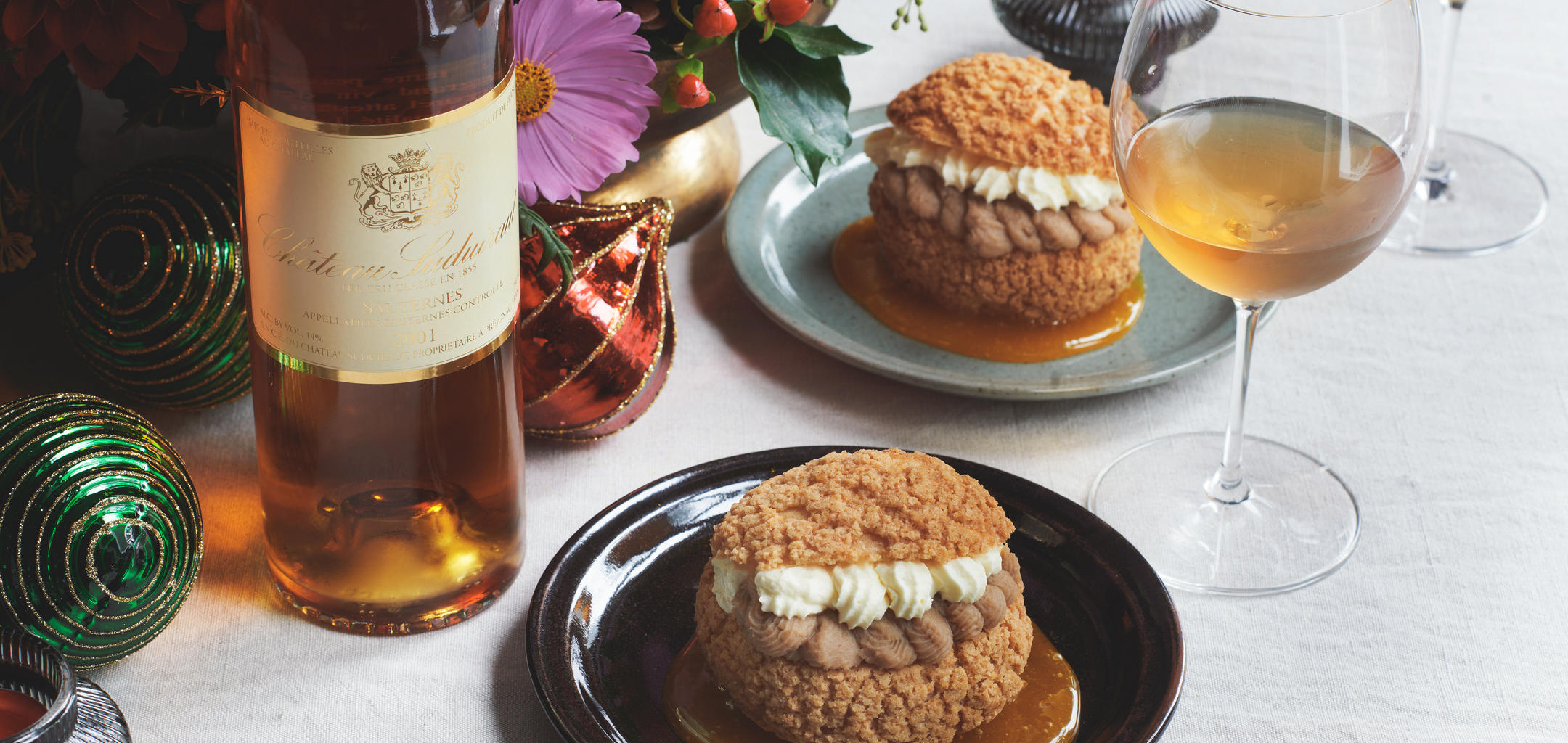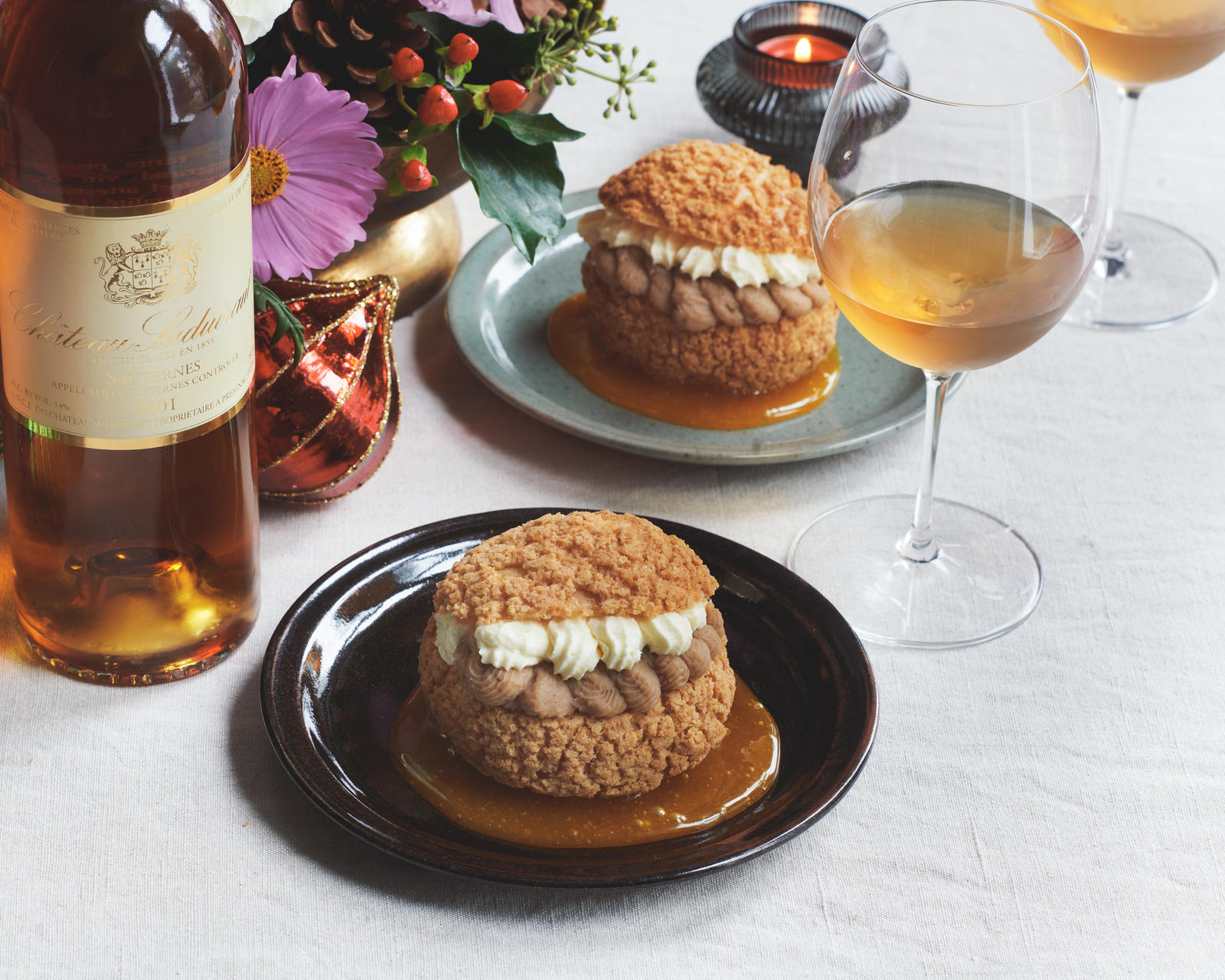 The recipe: Chestnut choux buns with clementine sauce
75g butter
200ml water
100g strong plain flour or bread flour
3 eggs, beaten
Craquelin (see below for the recipe)

Preheat the oven to 200°C. Place the butter in a saucepan with the water. Heat gently until the butter melts, then bring to a rolling boil. Lower the heat, add the flour and allow to cook for around 30 seconds, beating continuously until the mixture leaves the sides of the pan.
Allow to cool for a few minutes, then add the eggs one at a time, beating in each egg thoroughly before adding the next.
Remove the craquelin from the freezer. Let it stand for a few minutes, then cut out 8 x 5cm discs. Return to the freezer.
Pipe the choux buns into 5cm mounds onto a parchment-lined baking tray. Make sure you leave space for each bun to rise, then top each with a craquelin disc.
Bake for 20 minutes, until the buns are well-risen and golden. Crack open the oven door and leave for a further five minutes to allow the buns to set. Remove from the oven and allow to cool.
Craquelin
75g butter, softened
75g demerara sugar
75g plain flour, all-purpose
Beat together all the ingredients to form a soft dough.
Place the dough between two sheets of parchment paper and roll out until it's 3 millimetres thick. Slide onto a tray and freeze.
The filling
200g chestnut puree
30g maple syrup
15ml The King's Ginger
200g double cream
½ vanilla pod, split and seeds removed
250ml clementine juice and grated zest of clementine
100g icing sugar
50g butter
80g candied chestnut pieces (optional)
Place the clementine juice, zest and 70g of the icing sugar in a small pan and bring to the boil. Simmer the mixture and reduce by half. Lower the heat and whisk in the butter, a little at a time, before setting aside at room temperature.
Place the chestnut puree in a bowl and beat in the maple syrup and The King's Ginger. Whip the double cream to soft peaks with the remaining icing sugar and vanilla seeds.
When ready to serve, split the choux buns and spoon or pipe in the chestnut puree. Top with the candied chestnut pieces, finish with the whipped cream and place on the top half of the bun.
Spoon the clementine sauce into the centre of your plates and place the choux bun in the centre. Enjoy.
Our 2022 recommendation for sweet wine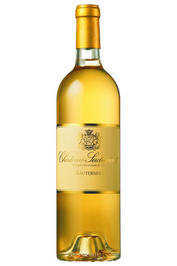 2009 Château Suduiraut, Sauternes, Bordeaux
ntense and luscious with ripe notes of orange peel and pineapple, the 2009 Château Suduiraut is one of our favourite Sauternes of the vintage. The palate of this sweet white Bordeaux has wonderful rich citrus and passionfruit flavours, whilst a vanilla cream note adds to the lush, honeyed mouthfeel. Crisp acidity adds freshness, making this an absolutely delicious Sauternes – and a fabulous dessert wine to drink with Christmas pudding.