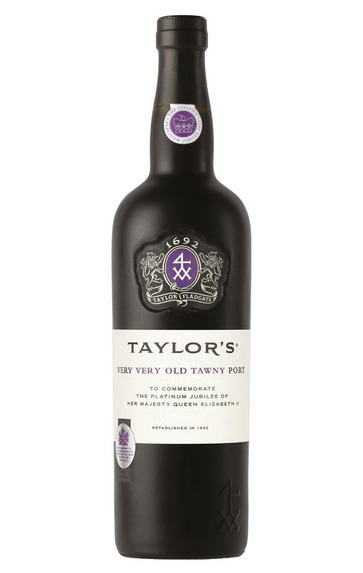 Taylor's, Platinum Jubilee, Very Very Old Tawny Port, Portugal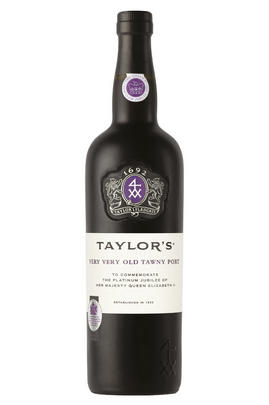 Critics reviews
This is a treat, never to be repeated. David Guimaraens who blended the wine said to me it is 'a blend of the finest I have' and hopes that Her Majesty gets to drink a glass of it (however I heard recently that HM is no longer drinking!). David was understandably coy about what went into the blend (and there is no indication of age but it is 'very, very old'). Having tasted the wine I fully believe him when he says it is our 'finest' (and there is considerable loyalty to the monarchy at the British end of the Port trade): deep mature amber-tawny hue; lovely, lifted, delicate spicy aromas with a touch of torrefaction (coffee) and honey; wonderfully fresh and precise on the palate, intensely sweet, spicy honeyed fruit, long and mellifluous, undeniably rich but stops short of cloying, the richness offset by a streak of acidity, glorious finish that goes on and on and on. 2,000 bottles in total.
Richard Mayson, richardmayson.com (May 2022)
About this WINE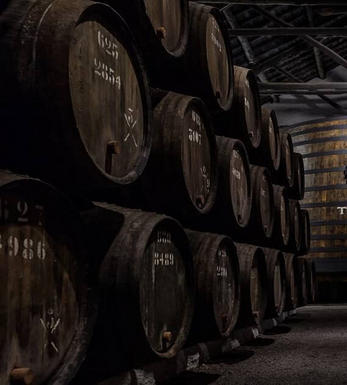 Taylor Fladgate
Taylor's Port, sometimes called Taylor-Fladgate (particularly in the U.S.) is one of the most well-known of all Port wine brands.

The first Taylor joined in 1816, followed later by a Fladgate and a Yeatman. Taylor's is the only Port wine shipper to remain completely independent throughout its history. British ownership continues to this day, when, after the last Yeatman, Dick, died in 1966, the firm passed via his widow to her nephew, Alistair Robertson.

Adrian Bridge, Alistair's son-in-law, is the current Managing Director. David Guimarãens leads the winemaking team that is responsible for maintaining Taylor's position as a premium Port wine producer.

Taylor's was the first to commercialise a Single Quinta (Estate) Vintage with their 1958 Quinta de Vargellas. Taylor's were one of the first shippers to offer a 10 & 20 year old Aged Tawny ports and in the early 1970's it pioneered the Late Bottled Vintage (or LBV) style.

In addition to Vintage Port, Taylor's has also enjoyed considerable success with its Quinta de Vargellas, under which label Vintage wine is made in good years that have not been declared.The range has been augmented by the 116-hectare Quinta de Terra Feita in the Pinhão valley and Quinta do Junco, Vila Nova da Gaia and Xisto.

The Port wines are typically closed and austere when young; it is only with adequate ageing that they loosen up and offer their subliminal qualities. Worth waiting for, though, to secure stocks one is best advised to buy young.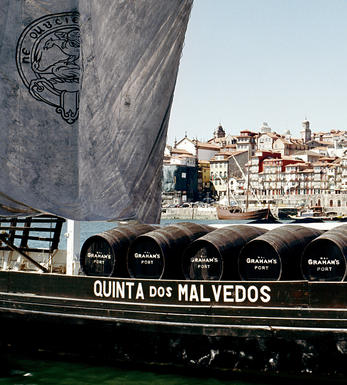 Port Wine
According to an old saying in the Port trade, every wine would be a Port, if it could. Certainly these sweet, fortified wines demand centre stage whenever they appear. Rich, saccharine, intensely-flavoured and, at their best, wonderfully majestic and harmonious, they are wines to be savoured on their own, or with a fine chunk of cheese after a meal.

Port comes from the Douro region of Portugal, about 50 miles east of Oporto, specifically the regions of the Cima Corgo, Baixo Corgo and Douro Superior. The Cima (Higher) is the heart of the Port-producing region, centred around the town of Pinhão, and is the source of most high quality Ports. The vineyards are steep, the granite and schist soil inhospitable, and the temperature very hot. Mechanisation is tricky to say the least. The landscape, with the Douro River at its heart, is stunning.
The British have played a vital part in Port's history, which continues to this day. Port started life as a full-bodied, dry red wine, known in 17th century London as 'blackstrap'. Brandy was often added to the wine by British merchants to ensure it arrived in good condition. In 1678, however, two English wine merchants visiting the Douro region found the "sweetish and extremely smooth" wines of the Abbot of Lamego, with whom they were staying, better than any others they had tasted. The Abbot admitted adding brandy to the wine during (rather than after) fermentation, and the two Englishmen bought all of his stock and shipped it home.
At the same time several now-famous companies were being established in the region: what was to become Warre was set up by Englishman John Clark in 1670, Croft was founded in 1678, Quarles Harris in 1680 and Taylor's in 1692.
The Methuen Treaty of 1703 that gave Portuguese wines preferential duty rates in Britain added a welcome boost, while the measures introduced by the Marquis of Pombal – including the demarcation of the Douro Port region in 1756 and the ban on using elderberry juice – helped improve and ensure quality.

More than 80 grape varieties are allowed for Port production, with quality varying considerably. Led by the elegant and aromatic Touriga Nacional, the finest varieties are the fruity Touriga Francesca, the soft Tinta Barroca, the succulent Tinta Roriz (aka Tempranillo), the fine Tinta Cão and the dark Tinta Amarela. For white Port, Gouveio (frequently confused with Verdelho), Malvasia Fina and Viosinho are considered to be the best.
Grape-growing in the Douro region has traditionally been a fairly unscientific affair with up to 30 different varieties grown in field blends on small-holdings across the region. Such plots are beginning to be replaced by single varietal vineyards, but with 28,000 individual growers farming 39,000 ha of vines, this is unlikely to be a quick fix.
All Port wine is fortified. The grapes were traditionally crushed by foot in large stone troughs called lagares although these days this process has largely been automated, with the aim of extracting as much colour and tannin as possible. When the sweetness in the fermenting grape must reaches a certain level – normally when the alcohol is about six to eight percent – a clear, flavourless 77 percent alcohol brandy known as aguardente is added to stop the fermentation. The maturation process then harmonises the fruit, tannins and alcohol in the wine, which by this time is about 19 to 20 percent alcohol. Ports are normally labelled under the name of their shipper - e.g. Graham, Dow or Fonseca - who is responsible for blending, maturing and bottling the wines.
Port is made in two different styles: bottle-aged and cask-aged. The bottle-aged styles are aged for a short time in cask or tank and then do most of their maturing in bottle; Vintage and Single Quinta Ports are classic examples. These are rich, full-bodied and packed full of red and black fruit.
Cask-aged Ports are aged in wooden casks until they are perfectly ready to drink. The cask-aged styles include Tawny, Aged Tawny and Colheita Ports (aka Single Harvest Reserve). These tend to be lighter, nuttier, and slightly less sweet. They display dried fruit flavours, are more food friendly, and are usually silkier and finer. Ruby, Crusted and Late Bottled Vintage Ports are aged from two to six years in cask or tank and are ready to be drunk as soon as they are bottled. They are closer to the up-front fruit style of bottle-aged Ports but only the Crusted and traditional LBV styles improve in bottle.
Even though it is very much in the minority, White Port is also made. It comes in two different styles, dry and sweet, although even the dry style is normally medium-dry.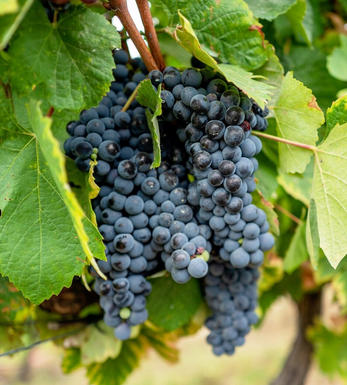 Port Blend
There are around 40 different grape varieties permitted in the production of Port - however the vast majority of Ports are produced from a blend of 5 grapes - Touriga Nacional, Touriga Francesca, Tinta Barroca, Tinta Roriz, and Tinto Cão.
Touriga Nacional produces small, dark-skinned grapes that produce opaque black wines of great extract and high tannins - it gives grip, body, and structure to the blend.
Touriga Franca has a thinner skin and consequently produces wines lighter in colour and tannins than Touriga Nacional. It contributes fruit, aroma, suppleness and roundness.
Tinta Roriz is the Portuguese name for Tempranillo and its high sugar content and low acidity contribute colour and fruit.
Tinta Barroca which is normally grown at highish altitudes and on north-facing slopes, is prized for producing wines of delicacy, finesse and with smooth, velvety fruit. It brings elegance and sweet, ripe fruit to the final blend.
Finally Tinto Cão produces fine and complex wines, though it is probably the least important of the 5 grapes as its painfully small yields have reduced plantings to almost insignificant levels.