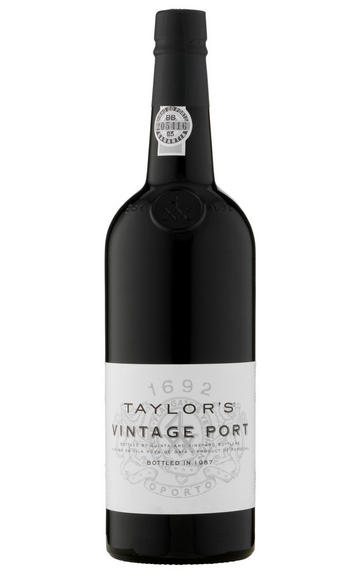 2003 Taylor's, Port, Portugal
Prices start from £79.50 per bottle (75cl).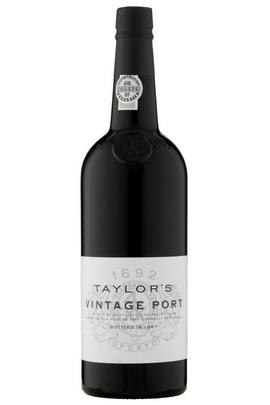 Critics reviews
The 2003 Vintage Port is a field blend aged approximately 21 months in oak vats. It comes in with 93 grams of residual sugar. This oldie will be rereleased soon. As much as the Fladgate Group's 2003 oldies in this report all have bragging points, this is Taylor's, and the structure takes the lead for all of them. Still a wee bit tight, this is far younger than the Croft, not fully mature or at peak and classic Taylor's. 
The remaining tannins support the fruit perfectly, but nothing to me is better here than the flavour profile. This is a fine Taylor's, with plenty of room to evolve and improve. It could actually use a few more years, not to tame the tannins but to acquire more maturity. This is the winner of the three (including Croft and Fonseca), but the Fonseca shows better today, and the Croft seems to be at its peak. So, cellar this a bit more and drink the others now.
Drink 2022 - 2065
Mark Squires, Wine Advocate (August 2022)
David Guimaraens is a huge fan of 2003s, saying they are in the shadow of the 2000s the way 1966 was in the shadow of the 1963s, but 'when you have a warm year following a cool year, the wines have incredible longevity'. But he is not thinking of touching them yet.
Very subtle nose indeed, and to me, someone without unlimited access to vintage ports(!), this seems pretty delicious now. Yes, there is lots of tannin but also lots of very charming pruney fruit. Exciting with sufficient freshness as well as sweetness and interest.
Drink 2026 - 2053
Jancis Robinson MW, JancisRobinson.com (December 2022)
This is coming around beautifully now with dark plums, orange peel, chocolate and graphite undertones. It's full-bodied with fine and chewy tannins and a long finish—a very fresh and elegant Taylor for this hot vintage, which slightly surprised me from the beginning. 
It's drinkable but better in five years for me.
James Suckling, JamesSuckling.com (February 2023)
Leather, coffee and spice at the outset. Sweet spices, chocolate and mocha, bring depth and structure supported by firm, ripe tannins, leading to a berry fruit and bitter chocolate finish.
Drink 2022 - 2050
Richard Mayson, Shane Jones, Demetri Walters MW, Decanter.com (October 2022)
Bright, saturated ruby. Vibrant, pure aromas of blackberry, violet and bitter chocolate. Juicy, minerally, precise and penetrating, but quite primary and unevolved today. Shows strong but integrated acidity and a tight kernel of fruit—best today on the slow-building, rising, aristocratic finish. But today, the wine's tannins are less evident than its acids. This seems distinctly less ripe and chewy than the great 2000 Taylor's, but it's still extremely unevolved. Latour-like in its structure and reserve.
Stephen Tanzer, Vinous.com (January 2006)
About this WINE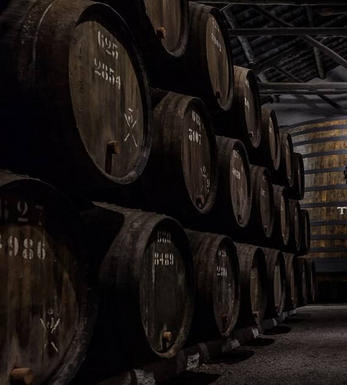 Taylor Fladgate
Taylor's Port, sometimes called Taylor-Fladgate (particularly in the U.S.) is one of the most well-known of all Port wine brands.

The first Taylor joined in 1816, followed later by a Fladgate and a Yeatman. Taylor's is the only Port wine shipper to remain completely independent throughout its history. British ownership continues to this day, when, after the last Yeatman, Dick, died in 1966, the firm passed via his widow to her nephew, Alistair Robertson.

Adrian Bridge, Alistair's son-in-law, is the current Managing Director. David Guimarãens leads the winemaking team that is responsible for maintaining Taylor's position as a premium Port wine producer.

Taylor's was the first to commercialise a Single Quinta (Estate) Vintage with their 1958 Quinta de Vargellas. Taylor's were one of the first shippers to offer a 10 & 20 year old Aged Tawny ports and in the early 1970's it pioneered the Late Bottled Vintage (or LBV) style.

In addition to Vintage Port, Taylor's has also enjoyed considerable success with its Quinta de Vargellas, under which label Vintage wine is made in good years that have not been declared.The range has been augmented by the 116-hectare Quinta de Terra Feita in the Pinhão valley and Quinta do Junco, Vila Nova da Gaia and Xisto.

The Port wines are typically closed and austere when young; it is only with adequate ageing that they loosen up and offer their subliminal qualities. Worth waiting for, though, to secure stocks one is best advised to buy young.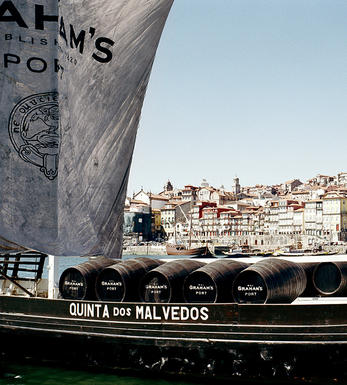 Vintage Port
Vintage Port accounts for only a small percentage of the total Port production - which includes Tawny, Ruby, Late Bottled Vintage, Single Quinta Vintage styles, among others - but is the finest, longest-lived and most expensive style that is produced. The best are as good as any wine in existence.
With the exception of legendary vineyards like Quinta do Noval Nacional and Quinta do Vesuvio, Vintage Port is made from a blend of wines from a producer's finest plots. It is aged for around 18 months in wooden casks before bottling; from then on the watch-word is patience. At least 15 years ageing – and for the top wines it will be significantly longer – is required before the tannins, spirit and fruit are fully integrated. Indeed, the finest examples can last well over 50 years.
Vintage Port is only made in exceptional years (normally around three times per decade) with considerable stylistic variation between different years and shippers. However, they all share a sweet, warming, spicy richness, power and complexity. In other good but not great vintages, many shippers produce a Single Quinta Vintage Port from their finest vineyard. These are made in the same way and have the same style as Vintage Port but tend to mature faster and are less profound. All Vintage Port throws a sediment as it matures, and thus requires decanting.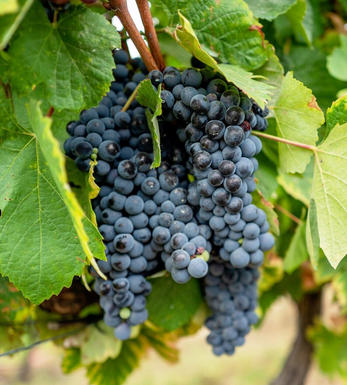 Port Blend
There are around 40 different grape varieties permitted in the production of Port - however the vast majority of Ports are produced from a blend of 5 grapes - Touriga Nacional, Touriga Francesca, Tinta Barroca, Tinta Roriz, and Tinto Cão.
Touriga Nacional produces small, dark-skinned grapes that produce opaque black wines of great extract and high tannins - it gives grip, body, and structure to the blend.
Touriga Franca has a thinner skin and consequently produces wines lighter in colour and tannins than Touriga Nacional. It contributes fruit, aroma, suppleness and roundness.
Tinta Roriz is the Portuguese name for Tempranillo and its high sugar content and low acidity contribute colour and fruit.
Tinta Barroca which is normally grown at highish altitudes and on north-facing slopes, is prized for producing wines of delicacy, finesse and with smooth, velvety fruit. It brings elegance and sweet, ripe fruit to the final blend.
Finally Tinto Cão produces fine and complex wines, though it is probably the least important of the 5 grapes as its painfully small yields have reduced plantings to almost insignificant levels.