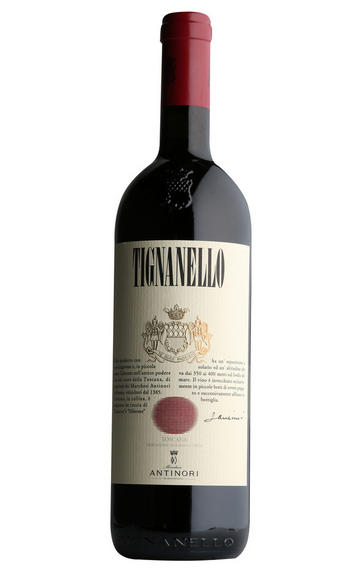 2010 Tignanello, Antinori, Tuscany, Italy
Prices start from £880.00 per case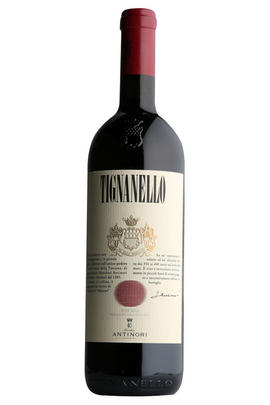 Critics reviews
Humming with energy and life from the very moment you put your nose in the glass, Marchesi Antinoris 2010 Tignanello shows magnificent aromatic layering and an enormous capacity to peel back and reveal itself in beautiful slow motion. This is an articulate wine with a long story to tell about the quality of its profound 2010 fruit. This Tignanello has the elegance of 2004 and the structure of 2007. A brief note on the structure: The mouthfeel here is not broad and big. Instead, it shows a sharp and elegantly streamlined feel with impressive persistency. Compared to 2009, the Sangiovese component is slightly higher with 80% of the noble Tuscan variety followed by 15% Cabernet Sauvignon and 5% Cabernet Franc.
Drink 2016 - 2035
Monica Larner, Wine Advocate (Aug 2013)
Antonio Galloni, Vinous
96/100
Antinori's 2010 Tignanello is stunning, as it has been since I started tasting the component wines in 2011. Firm yet sweet, silky tannins form the backbone for this gorgeous, vivid wine. Dark red cherries, plums, cloves, mint and sage inform a Tignanello that impresses for its delineation, nuance and power. Clean, saline notes support the mineral-drenched finish. The 2010 isn't huge, but rather is a vertical wine endowed with tremendous energy and vibrancy. I can't remember a Tignanello with this much crystalline tension and pure energy. Simply put, the 2010 Tignanello is a magnificent, towering wine from Antinori.

Drink 2016 - 2030

Antonio Galloni, vinous.com (Aug 2013)
One of the best Tignanellos ever made. Aromas of currants and blueberries with hints of flowers. Full body with fine tannins and a refined finish. A red that delivers balance and beauty. Rich and gorgeous. Blend of sangiovese and cabernet sauvignon. Better in 2015.

James Suckling, jamessuckling.com (Nov 2013)
This is silky smooth with a succulent balance of featherweight tannins and deep black pepper-spiced blackberry and black cherry fruits. It's an excellent quality, powerhouse wine that is intense yet softly spoken. The 2010 vintage was a late-budding year and summer only really kicked in during July, after which the weather picked up and delivered beautifully ripe grapes.

Drink 2019 - 2034

Jane Anson, Decanter.com (Nov 2019)
About this WINE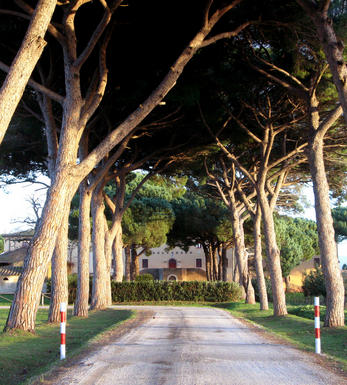 Antinori
Antinori is the most famous name in Italian wine and the influence of Piero Antinori in the last 25 years has been nothing short of revolutionary. Antinori's flagship wine, Tignanello, first appeared in 1971 and caused a sensation by its use of Cabernet Sauvignon in a Sangiovese blend and with its practice of ageing in small French barriques. Antinori was accused of vinous treachery and treason but soon barrique-aged blends of Sangiovese and Cabernet began appearing all across Tuscany.
Solaia is a Cabernet-dominated blend, which, like Tignanello, is from the Santa Cristina estate and is stunningly rich. Tenuta Belvedere is in Bolgheri on the Mediterranean coast .

The Guado al Tasso estate is also part of the small, prestigious Bolgheri DOC zone which has been famous for its Rosé wines since the Seventies: along with the white wines made here, they were awarded the DOC in 1984, which was extended to the reds in 1994. The area is now best-known and admired for its outstanding red wines, the so-called Super-Tuscans. The estate covers over 1,000 hectares, 300 of which are planted with vineyards, and the rest with wheat, sunflowers and olives

Tenuta Guado al Tasso was part of feudal lands of about 4,048 hectares along about 7km of coast and belonged to the Della Gherardesca family, whose roots in this region date back to over 1,200 years ago. In the Thirties the land was inherited by Carlotta della Gherardesca Antinori - mother of Piero Antinori - and her sister, who was married to Mario Incisa della Rocchetta (who took possession of the nearby Tenuta San Guido). There were seven castles on the estate, four of which are still standing, and 86 watchtowers, built 1000 years ago to protect the family from Saracen invaders from the African coast.

There are currently 300 hectares of vineyards at Tenuta Guado al Tasso, situated at an altitude of 45-60m a.s.l. on various types of soil. The varieties planted are Vermentino (a grape variety native to the coastal area of Liguria and northern Tuscany, which has also flourished for many years in Corsica and Sardinia), Sangiovese, Cabernet Sauvignon, Merlot and Syrah. There are also small quantities of other varieties including Cabernet Franc.

Many ideas and resources have been invested in the Guado al Tasso estate, for constant research into improved quality: as a result, a nursery for rooted cuttings was created here in 1994, mainly for the propagation of Vermentino, but also to produce the best possible selections of Sangiovese, Cabernet Sauvignon and Merlot for use in other Antinori estates.

The mitigating influence of the Mediterranean prevents drastic temperature variations and the vines flower and ripen early, thanks to the stable, fairly warm microclimate with its extraordinary light during the final phases of ripening. Thanks to the microclimate of the "Bolgheri amphitheatre", harvesting takes place early here, about two weeks before the Chianti harvest.

The Guado al Tasso estate makes Scalabrone (Bolgheri Rosato DOC) from Sangiovese, Merlot and Syrah, Vermentino di Bolgheri DOC, a monovarietal Vermentino (made for the first time in 1996) and since 1990, the Guado al Tasso Bolgheri DOC Superiore from Cabernet Sauvignon and Merlot grapes.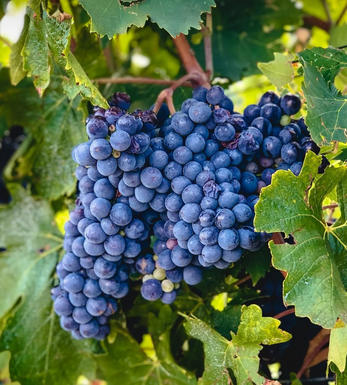 Sangiovese
A black grape widely grown in Central Italy and the main component of Chianti and Vino Nobile di Montepulciano as well as being the sole permitted grape for the famed Brunello di Montalcino.
It is a high yielding, late ripening grape that performs best on well-drained calcareous soils on south-facing hillsides. For years it was blighted by poor clonal selection and massive overcropping - however since the 1980s the quality of Sangiovese-based wines has rocketed upwards and they are now some of the most sought after in the world.
It produces wines with pronounced tannins and acidity, though not always with great depth of colour, and its character can vary from farmyard/leather nuances through to essence of red cherries and plums. In the 1960s the advent of Super Tuscans saw bottlings of 100% Sangiovese wines, as well as the introduction of Sangiovese/Cabernet Sauvignon blends, the most famous being Tignanello.