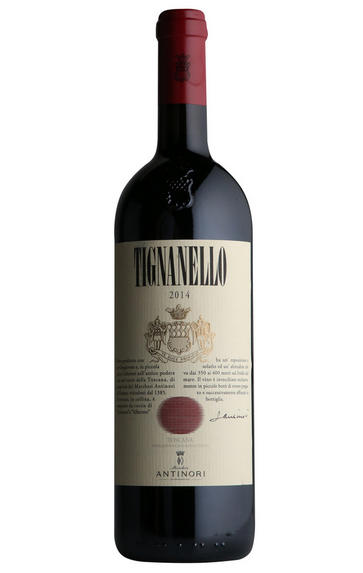 2014 Tignanello, Antinori, Tuscany, Italy
Prices start from £650.00 per case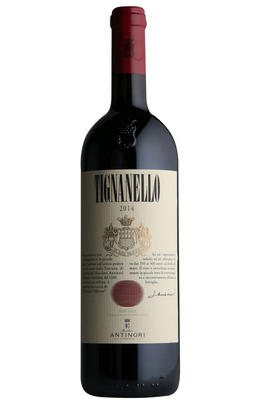 Critics reviews
Antonio Galloni, Vinous
96/100
The highlight in this range, the exquisite 2014 Tignanello, is all about persistence and understated class. The aromatics alone are captivating. Sculpted, finely delineated flavours add to the wine's vivid personality. 
Because of the challenges posed by the growing season, the blend leans more heavily toward Cabernet Sauvignon than is typically the case. Above all else, though, the 2014 is all about harmony, and there is plenty of that here. Unfortunately, production is down 30%.
Drink 2020 - 2039
Antonio Galloni, Vinous.com (July 2017)
Tignanello has this amazing ability of always being, well, Tignanello. Its very DNA makes it among the world's most distinctive and recognizable wines. I'm happy to report that this is also the case for the 2014 Tignanello, which faced very different growing conditions than most. The wine is beautiful and balanced with sweet tannins and a supporting oak texture neatly folded at the back. 
The wine is all about measure and proportion, and it aspires to these goals with an impressive sense of natural harmony. This is not an overtly powerful or muscular expression. Instead, it shows a tasty, almost savoury form of elegance. This vintage was made with 75% Sangiovese, meaning the Cabernet presence is slightly bigger than normal. 
Ultimately, this wine is more finessed and delicate, and I appreciate the careful tannic management on display here.
Drink 2018 - 2028
Monica Larner, Wine Advocate (April 2017)
Really pretty aromas of currants and roses follow through to a medium body, firm and silky tannins and a fresh finish. Very well done for 2014 and a wonderful Tignanello to drink now or later.
Better after 2019
James Suckling, JamesSuckling.com (February 2017)
About this WINE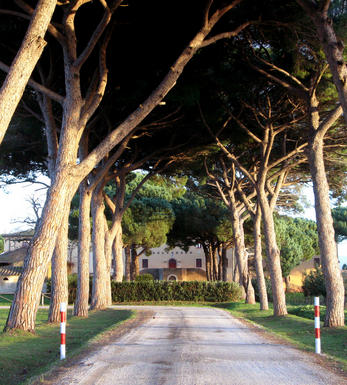 Antinori
Antinori is the most famous name in Italian wine and the influence of Piero Antinori in the last 25 years has been nothing short of revolutionary. Antinori's flagship wine, Tignanello, first appeared in 1971 and caused a sensation by its use of Cabernet Sauvignon in a Sangiovese blend and with its practice of ageing in small French barriques. Antinori was accused of vinous treachery and treason but soon barrique-aged blends of Sangiovese and Cabernet began appearing all across Tuscany.
Solaia is a Cabernet-dominated blend, which, like Tignanello, is from the Santa Cristina estate and is stunningly rich. Tenuta Belvedere is in Bolgheri on the Mediterranean coast .

The Guado al Tasso estate is also part of the small, prestigious Bolgheri DOC zone which has been famous for its Rosé wines since the Seventies: along with the white wines made here, they were awarded the DOC in 1984, which was extended to the reds in 1994. The area is now best-known and admired for its outstanding red wines, the so-called Super-Tuscans. The estate covers over 1,000 hectares, 300 of which are planted with vineyards, and the rest with wheat, sunflowers and olives

Tenuta Guado al Tasso was part of feudal lands of about 4,048 hectares along about 7km of coast and belonged to the Della Gherardesca family, whose roots in this region date back to over 1,200 years ago. In the Thirties the land was inherited by Carlotta della Gherardesca Antinori - mother of Piero Antinori - and her sister, who was married to Mario Incisa della Rocchetta (who took possession of the nearby Tenuta San Guido). There were seven castles on the estate, four of which are still standing, and 86 watchtowers, built 1000 years ago to protect the family from Saracen invaders from the African coast.

There are currently 300 hectares of vineyards at Tenuta Guado al Tasso, situated at an altitude of 45-60m a.s.l. on various types of soil. The varieties planted are Vermentino (a grape variety native to the coastal area of Liguria and northern Tuscany, which has also flourished for many years in Corsica and Sardinia), Sangiovese, Cabernet Sauvignon, Merlot and Syrah. There are also small quantities of other varieties including Cabernet Franc.

Many ideas and resources have been invested in the Guado al Tasso estate, for constant research into improved quality: as a result, a nursery for rooted cuttings was created here in 1994, mainly for the propagation of Vermentino, but also to produce the best possible selections of Sangiovese, Cabernet Sauvignon and Merlot for use in other Antinori estates.

The mitigating influence of the Mediterranean prevents drastic temperature variations and the vines flower and ripen early, thanks to the stable, fairly warm microclimate with its extraordinary light during the final phases of ripening. Thanks to the microclimate of the "Bolgheri amphitheatre", harvesting takes place early here, about two weeks before the Chianti harvest.

The Guado al Tasso estate makes Scalabrone (Bolgheri Rosato DOC) from Sangiovese, Merlot and Syrah, Vermentino di Bolgheri DOC, a monovarietal Vermentino (made for the first time in 1996) and since 1990, the Guado al Tasso Bolgheri DOC Superiore from Cabernet Sauvignon and Merlot grapes.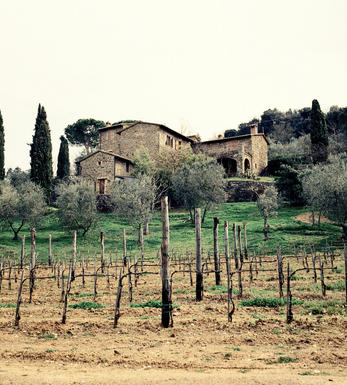 IGT Tuscany
IGT (Indicazione Geografica Tipica) Tuscany is a wine classification from Italy's Tuscany region. It is one of the official wine classifications recognized by the Italian government. IGT is a step below the highest classification, DOCG (Denominazione di Origine Controllata e Garantita), and above the DOC (Denominazione di Origine Controllata) level.
The IGT classification was introduced in 1992 to allow winemakers more flexibility in grape varieties and employ winemaking techniques while still ensuring a certain level of quality and geographical indication. This classification gives winemakers more freedom to experiment and innovate, deviating from the strict regulations of the DOC and DOCG classifications.
IGT Tuscany wines can be produced throughout the entire region of Tuscany, encompassing various sub-regions and terroirs within the area. This classification allows winemakers to use traditional Tuscan grape varieties, such as Sangiovese, and non-traditional grape varieties, including international ones like Cabernet Sauvignon, Merlot, Syrah, and others.
The IGT Tuscany classification gives winemakers the flexibility to create wines that showcase the unique characteristics of their specific vineyards and winemaking styles. It allows for experimentation with blending different grape varieties, using innovative winemaking techniques, and exploring new regional vineyard sites.
IGT Tuscany wines can vary greatly, from traditional and terroir-driven expressions to more modern and international styles. This classification has played a significant role in developing Super Tuscan wines, often IGT designated and known for their high quality and international recognition.
Overall, IGT Tuscany provides a platform for winemakers in the region to express their creativity and produce wines that reflect their unique vision while maintaining a connection to the rich heritage and traditions of winemaking in Tuscany.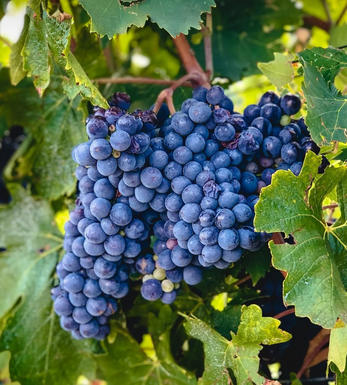 Sangiovese
A black grape widely grown in Central Italy and the main component of Chianti and Vino Nobile di Montepulciano as well as being the sole permitted grape for the famed Brunello di Montalcino.
It is a high yielding, late ripening grape that performs best on well-drained calcareous soils on south-facing hillsides. For years it was blighted by poor clonal selection and massive overcropping - however since the 1980s the quality of Sangiovese-based wines has rocketed upwards and they are now some of the most sought after in the world.
It produces wines with pronounced tannins and acidity, though not always with great depth of colour, and its character can vary from farmyard/leather nuances through to essence of red cherries and plums. In the 1960s the advent of Super Tuscans saw bottlings of 100% Sangiovese wines, as well as the introduction of Sangiovese/Cabernet Sauvignon blends, the most famous being Tignanello.