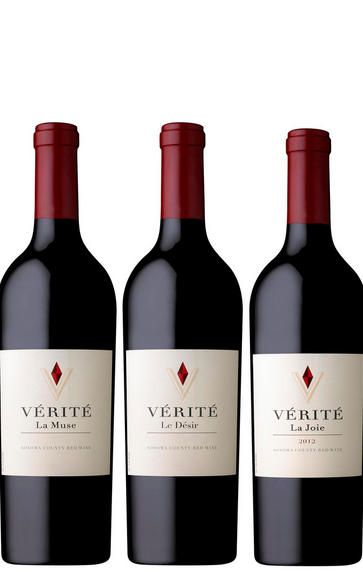 2015 Vérité, Horizontal (La Désir, La Muse, La Joie), Three-BottleAssortment Case
Prices start from £999.00 per special (225cl).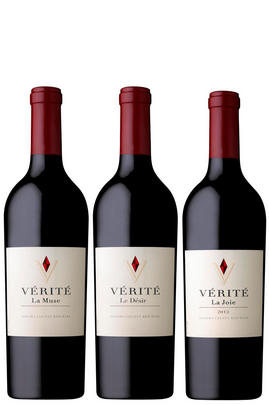 About this WINE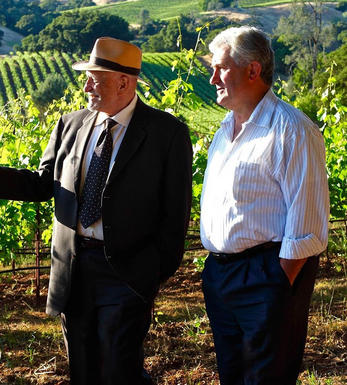 Verite Winery
The Vérité estate is a vision created by the late Jess Jackson, a man who in Robert Parker's eyes "was one of the most extraordinary men in the wine world I have ever met." These wines always rate very highly (indeed, since 1998 seven have been awarded 100 Parker points) and the 2010 vintage is gaining great praise from the press and critics alike as a potential emergence of a new iconic wine from the United States.

The wines of Vérité, French for "truth," are the result of a combination of old world experience and new world fruit. The wine is a distinct blend of varietals harvested from small vineyard blocks, each cuvée culminating in a bespoke union of grape varieties, climate, soil expression and winemaking technique. Vigneron Pierre Seillan refers to this methodology as droit du sol: "right of the soil."

"The wines are elegant and complex, possessing superb concentration of flavor and color. These are wines meant to age over the next thirty years and will develop greater depth and character in your cellar." Pierre Seillan, winemaker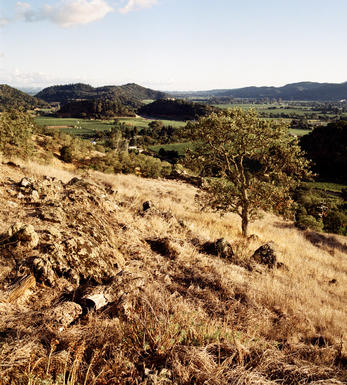 Sonoma County
North Coast's Sonoma County is California's largest AVA with 19,800 ha (2005) of vines. It has forever been the home of the meek and mild small grower as compared to the grandeur and might of neighbour Napa; more picturesque too, as much of the sandy, gravely loam land belonged to true orchards and fruit farms until the 1970s.
Sonoma Valley covers a small part of Sonoma County but its wines often outshine its illustrious neighbours in Napa County. Zinfandel, Pinot Noir, Chardonnay, and Cabernet Sauvignon are cultivated here with much success. Sonoma Valley has long enjoyed a special place in the history of California wine. The first vineyards in the valley were planted by Franciscan monks in 1823. In 1857 Agoston Haraszthy, one of the founding fathers of California's commercial winemaking, opened here the highly successful Buena Vista Winery.
Closer to the coast are the region's top producing AVAs for Pinot Noir and Chardonnay: Russian River, Sonoma Coast and Green Valley, while the slightly warmer Dry Creek and Alexander Valleys have earned a reputation as a hotspot for Cabernet, and increasingly, Zinfandel and Merlot.
Recommended producers
Ridge, Teira, Williams & Selyem, Rochioli are definitely worth investigating.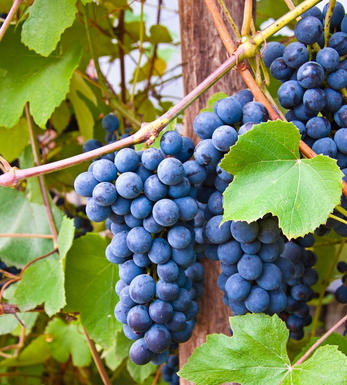 Merlot/Cabernet Franc
Merlot and Cabernet Franc are grape varieties commonly used in Bordeaux-style blends, particularly in the Bordeaux region of France. When these two grapes are blended, they can create a wine that combines the best characteristics of each variety.
Merlot is known for its smoothness, soft tannins, and ripe fruit flavours. It often contributes black cherry, plum, and chocolate flavours to the blend. The grapes are relatively easy to grow and ripen earlier than other Bordeaux varieties, making them versatile for blending.
Cabernet Franc, on the other hand, adds structure, depth, and complexity to the blend. It typically brings aromas of red fruits such as raspberry and strawberry, along with herbal notes like bell pepper and tobacco. These grapes have thinner skins and can be more challenging to cultivate, requiring specific growing conditions to reach their full potential.
When Merlot and Cabernet Franc are combined, the result is a well-balanced wine with various flavours and aromas. The blend often exhibits a Bordeaux wine's medium to full body, along with a smooth texture and moderate tannins. The specific flavour profile can vary depending on the proportions of each grape in the blend and the terroir and winemaking techniques employed.