About this WINE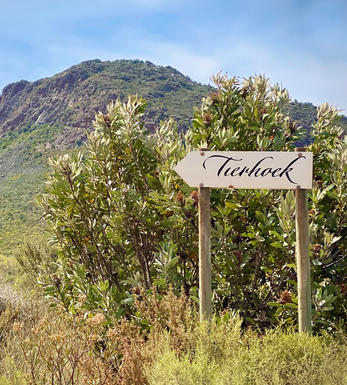 Tierhoek
Originating from the rugged, mountainous ward of Piekenierskloof (on the border with Cederberg), the wines at Tierhoek are made by Roger Burton, with fruit from the farm, which is the only fully-restored Sandveld farm in South Africa.

The term Sandveld is not strictly defined, sometimes being applied to the geographical area, traditionally the sandy plains between Tierhoek and the coast, or used to describe areas of sparse, open vegetation. In a more holistic sense it refers to the "going back in time feel" that the farmhouse at Tierhoek embodies, in both its architectural style, with thick whitewashed walls, and the practical, simple furniture, made from local fruit woods (in particular orange wood).

The Skimmelberg Mountain provides an incredible backdrop to the vineyards. The Sandveld Sauvignon Blanc is made from grapes that are produced organically (though not certified, all the vineyards are tended along organic principles). The vines grow on fragmented sandstone and silica soils, benefiting from the cooler, higher-altitude climate typical of the region. Harvesting is by hand and careful selection is carried out in the vineyards. Roger aims to produce a wine that is fresh and clean in style, with balance between varietal character and a sense of place.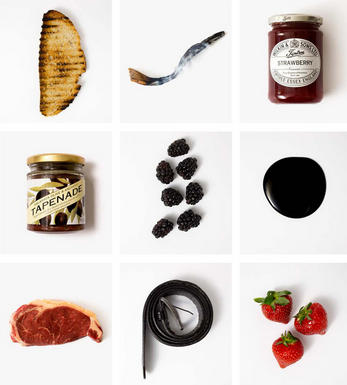 Grenache/Garnacha
Grenache (Noir) is widely grown and comes in a variety of styles. Believed to originate in Spain, it was, in the late 20th century, the most widely planted black grape variety in the world. Today it hovers around seventh in the pecking order. It tends to produce very fruity, rich wines that can range quite widely in their level of tannin.

In many regions – most famously the Southern Rhône, where it complements Syrah and Mourvèdre, among other grapes – it adds backbone and colour to blends, but some of the most notable Châteauneuf du Pape producers (such as Château Rayas) make 100 percent Grenache wines. The grape is a component in many wines of the Languedoc (where you'll also find its lighter-coloured forms, Grenache Gris and Blanc) and is responsible for much southern French rosé – taking the lead in most Provence styles.

Found all over Spain as Garnacha Tinta (spelt Garnaxa in Catalonia), the grape variety is increasingly detailed on wine labels there. Along with Tempranillo, it forms the majority of the blend for Rioja's reds and has been adopted widely in Navarra, where it produces lighter styles of red and rosado (rosé). It can also be found operating under a pseudonym, Cannonau, in Sardinia.



Beyond Europe, Grenache is widely planted in California and Australia, largely thanks to its ability to operate in high temperatures and without much water. Particularly in the Barossa Valley, there are some extraordinary dry-farmed bush vines, some of which are centuries old and produce wines of startling intensity.