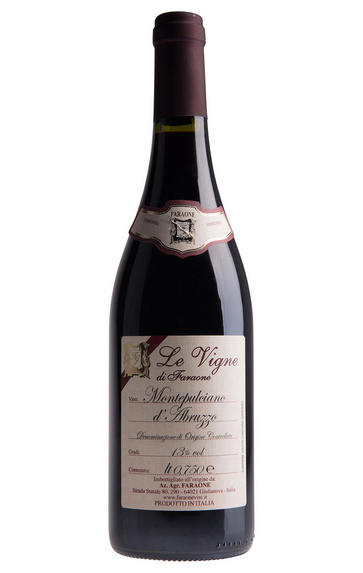 2018 Montepulciano d'Abruzzo, Le Vigne, Faraone, Abruzzo, Italy
Prices start from £19.50 per bottle (75cl).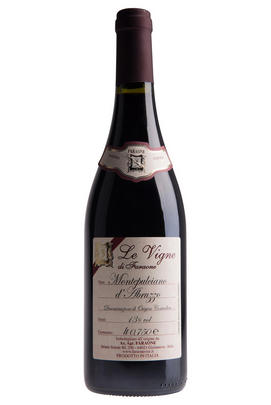 Critics reviews
The 2018 Montepulciano d'Abruzzo Le Vigne is dark and brooding with musky black fruits, savory herbs and underbrush forming its slightly rustic bouquet. It's round and pliant with a balanced inner sweetness and mineral-tinged wild berries that add traction toward the close. Grippy tannins line the palate in youthful poise as bitter hints of licorice and black currants slowly fade. Readers who don't mind a bit of funk in their Montepulciano will find a lot to like about the 2018 from Faraone.
Drink 2022 - 2028
Eric Guido, Vinous.com (October 2022)
About this WINE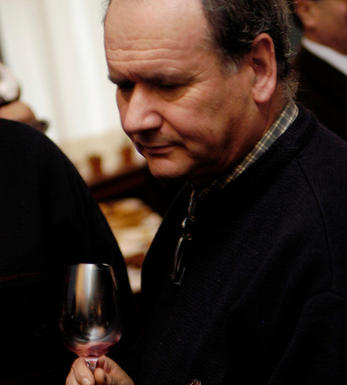 Faraone, Abruzzo
The Faraone family produces traditional Montepulciano d'Abruzzo wines. Their 9ha property is now focused on the new 'Collepietro' vineyard at Mosciano Sant'Angelo in the Colline Teramane DOCG zone of Abruzzo, some 10 miles from the Adriatic.

Faraone's story dates back to 1916, and particularly to the 1930s when Montepulciano, Sangiovese and Passerina were first planted; bottling started in 1970. Giovanni Faraone makes the wine, aided by his wife Paola & sons Alfonso & Federico; the latter an oenologist who's worked in France and New Zealand before taking up a post in Umbria. They also make a fine Trebbiano d'Abruzzo, Passerina and Pecorino.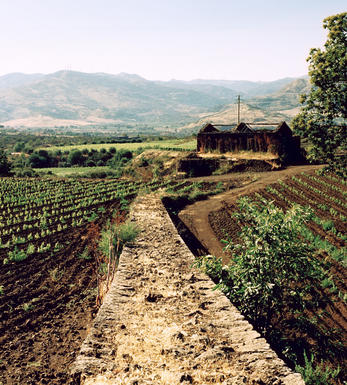 Montepulciano d'Abruzzo
Abruzzo lies diametrically across from Rome and the province of Lazio, on the east coast, below the Marche, divided up along a 150 km coastal strip between the provinces of (north-south) Teramo, Pescara and Chieti (with L'Aquila in the Apennines).

Abruzzo is made up of 35% hills and 65% mountain with 75% of viticulture lying on the hills between 30 – 400 msl, mostly pergola Abruzzese trellising for quantity, with extensive irrigation. Abruzzo's coastline is frequently 'refreshed' by the cooling air currents blowing inland from across the Adriatic Sea and the Balkans. Prominent 3,000 metre Apennine Mountains Gran Sasso and Majella, capped in snow until May, form a backdrop to the undulating coastal range that rises quite abruptly from the sea.

Naturally the movement of air currents shuttling between sea and mountain assists viticulture, especially during 40 degree summer days. It is said that the Teramo region benefits most from the sea and has a higher percentage of sand mixed in with its calcareous clay soils, hence the recent DOCG. The southern part, south of Pescara, in the province of Chieti is less open to the influences of the coast and has a higher percentage of heavier clay.

Since 2003 there's been an influx of new grape growers-turned bottlers, spurred on by the region's first DOCG Montepulciano d'Abruzzo Colline Teramane. It's clear however, that many lack the knowhow or heritage to do this professionally (hence poor winemaking) or hire expensive consultants to fast-forward or pay off the bank loan, resulting in boringly international, overly technical wines.

There has been a definite move back to indigenous grape varieties as producers grapple with climate change, believing, as do others in Italy, that these grapes are better placed to deal with the meteorological extremes. According to Valentini, the traditional high tendone/pergola Abruzzese form of trellising seems better placed to cope with these hotter climes, shielding the fruit and supporting acidities, an opinion echoed in Valpolicella by Monte dei Ragni.

Montepulciano d'Abruzzo (also known as Cordisco) is a 'noble' grape with a history back to 1793, whose origins lie in the Valle Peligna of the Apennines, to the town of Sulmona. Purple coloured, packed with flesh, low-medium tannins but inclined to give reduced gamey wines, it is the workhorse of the bulk wine industry, distributed as blending wine everywhere in Italy; the DOC can be blended with 15% other Abruzzese grapes. White Trebbiano d'Abruzzo dates back to the 16th century but its identity is frequently confused with Trebbiano di Toscana, Trebbiano di Romagna and Trebbiano di Soave. DOC allows blending with 15% local white varieties such as Chardonnay, Fiano and Bombino. Mostly over cropped to give insipid 'sweet water' wines of low alcohol, light body, grassy almond notes, yet potentially very good if treated with respect, without irrigation and on VSP trellising.

Autochthonous white Passerina, Pecorino and Cococciola varieties have become fashionable, giving wines with more obvious personality at high yields than Trebbiano. Cerasuolo d'Abruzzo rosato is making a comeback too.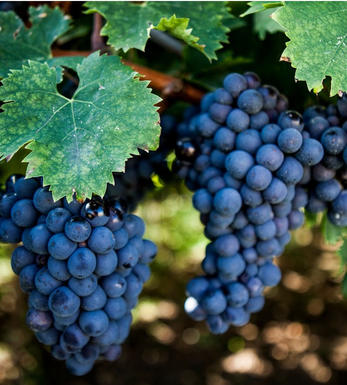 Montepulciano d'Abruzzo
An important Italian red grape variety extensively grown in Central and Eastern Italy. Confusingly it has no connection with the Tuscan town of Montepulciano, nor the Sangiovese based Vino Nobile di Montepulciano which is produced there.

It is adaptable to most soils and is a high yielding and late ripening grape. It is extensively planted in the Abruzzi district and perhaps Montepulciano d`Abruzzo is its most famous incarnation. In the Marche region it is blended with Sangiovese to produce Rosso Conero and Rosso Piceno.
It normally produces light to medium bodied fruit driven wines, often low in tannins and acidity and which are usually best drunk young. However there are a handful of producers who produce 100% Montepulciano wines from low yielding old vines which are then oak aged and which will continue improving in bottle for 10 years or more.