Tetramythos, Retsina, Patras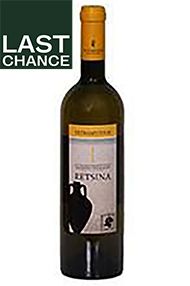 The Producer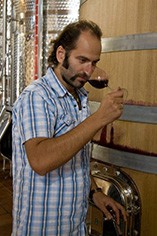 Tetramythos Winery
The winery of Tetramythos is situated near Ano Diacofto, whilst the vineyards are amongst the nearby villages of Aegialia in the wine region of Patras (Achaea). They are ranged between 450 – 1,000m on the slopes of Mount Aroania, where breezes from the gulf of Corinth assist in creating a microclimate that results in fine quality grapes. In classical times Pausanias referred to the villages of Aegialia as ideal for the cultivation of grapes.

Tetramythos was founded by the brothers Aristides and Stathis Spanos, whilst another native of the area, Panagiotis Papagiannopoulos, joined them in 1999 as wine maker. The vineyards were extended in 2003 and a modern winery built and equipped the following year. Today they operate organically, focusing on the native black varieties of Mavro Kalavrytino (the ski resort of Kalavryta is just up the road), Agiorgitiko, as well as the native white grapes of Roditis and Malagousia. They also grow Sauvignon Blanc, Merlot and Cabernet Sauvignon.

View Producer
The Grape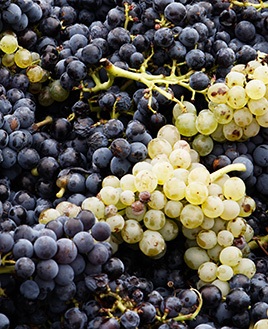 Roditis
The lightly pink-skinned wine 'of Rhodes' is a valuable grape, in-so-much as it retains its varietal character and acidity when grown in the warmer regions of central and southern Greece. When grown (often at high altitude) and made with care, in a relatively protective fashion, Roditis is delicately aromatic, broadly textured and elegantly flavoured. It is often employed in the manufacture of Retsina, and equally as often blended with the less characterful Savatiano.
View Grape
The Region
In centuries past wine jars were sealed with pine resin in order to preserve the wine within. This was not a practice exclusive to Greece. In fact wine jars, unearthed by archaeologists in the Zagros Mountains of Iran, show evidence of pine resin being employed as a preservative as far back as the late sixth millennium BC. In the 1st century AD, amongst others, Pliny the Elder and Columella recorded the different types of resin that could be mixed with wine as a preservative, or used to seal amphorae. Even though the Romans started utilising wooden wine barrels from the 3rd century AD, resin in wine remained popular.

The modern form of Retsina, or resinated wine, is common to Greece and most often found in Attica and those areas adjacent to it. Usually it is fermented like any other white wine, before the addition of resin from Pinus Helepensis to the recently fermented wine. Savatiano is most commonly associated with Retsina, particularly in Attica, whilst in Achaea, Euboea and Boeotia, Roditis (Rhoditis) is also commonly used. Some Retsinas are made from Assyrtiko, and many other local grape varieties are also permitted.

By law Retsina is released as a non-vintage wine, though it is made from grapes harvested in a single vintage. Today's Retsinas are far less pungent and strongly flavoured than those of yesteryear, though many of the more highly resinated wines invariably end up being made for local consumption. Retsina is a vestige of our former selves, a survivor from the ancient world and, above all, a versatile accompaniment to a table (or picnic blanket) of varyingly flavoured dishes.

View Region
Customer Reviews
Questions And Answers