1999 Vigna al Cavaliere, Michele Satta, Sangiovese Rosso IGT
The Producer
Tua Rita
View Producer
The Grape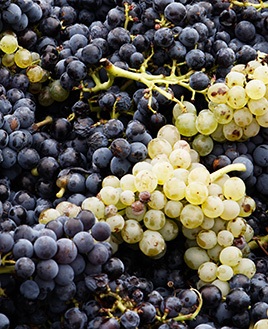 Savagnin
Savagnin is a high-quality white-wine grape cultivated almost exclusively in the Jura in eastern France. It is cultivated to a limited extent throughout the Jura vineyards (usually on the poorest marls soils on west-facing slopes) and may be included in any of the region's white wine appellations.

However it is most widely used but is usually in practice reserved for the Jura's extraordinary vin jaune. The Jura's most renowned wine undergoes a process similar to sherry, whereby a film of yeast covers the surface, thereby preventing oxidation but allowing evaporation and the subsequent concentration of the wine. The result is a "sherry-like" wine with a delicate, nutty richness.
Renowned ampelographer Pierre Galet maintains that Savagnin is identical to the Traminer which was once grown widely in Germany, Alsace, Hungary, and Austria, and that Gewürztraminer is the pink-berried musqué mutation of Savagnin.
View Grape
The Region
Responsible for only 6 percent of Italy's total wine production in 2006 (half that of the Veneto) Tuscany may not be a heavyweight in terms of quantity, but as the home of two of the country's most famous fine wines - Chianti and Brunello di Montalcino - it certainly holds its own in terms of quality.
Tuscany is Italy's most ancient wine region, dating back to the 8th century BC when the Etruscans developed the area in parallel with the Greeks, before ceding to the Romans. Along with building roads and sewers, they developed the region's viticultural potential, using wood for winemaking rather than amphorae, and passing their expertise onto their French neighbours. With the demise of Rome in the 5th century AD, the Longobards established Lucca as the capital of what was then known as Tuscia. Florence and Siena became banking and trading hubs during the Middle Ages, with Chianti – then a white wine – first documented in the 14th century.
Tuscany passed from the Medicis to the Habsburgs as part of the Holy Roman Empire, and then onto the Austrian Empire before becoming part of a reunified Italy in 1861. The quality of Chianti was first recognised by the Grand Duke of Tuscany, Cosimo III, who classified its finest areas in 1716.
Located in the west-central part of the country with the Tyrrhenian Sea lapping its coastline, Tuscany's climate ranges from Mediterranean on the coast to continental deep in the Apennines. More than two thirds of the province is covered with hills, an important terroir factor in the production of fine Tuscan wine. The finest such areas are Chianti Classico, Chianti Rufina, Brunello di Montalcino, Vino Nobile di Montepulciano, Morellino di Scansano and Bolgheri. Sangiovese (in its various clones) is the black grape of choice.
Recommended producers: Valgiano, Caiarossa, Villa Calcinaia, Bibbiano, Badia a Coltibuono, La Serena, Scopetone, Lisini, Sesti, San Giuseppe, Cerbaiona.

View Region
Storage Details
Storage in BB&R Warehouses
Wines bought from Berry Bros. & Rudd can be stored
in our temperature controlled warehouses.
We can only accept orders for unmixed cases.

Storage Charges:
£12.00 (inc. VAT)
per case per annum



Customer Reserves
For wines purchased In Bond,
Duty & VAT charges become payable upon withdrawing from your reserves.
BBX wines can only be bought In Bond.
More information on wine storage
£10.20 (inc. VAT)
per case per annum
for Cellar Plan Members
Customer Reviews
Questions And Answers