2004 Domaine Capmartin, Cuvée Tradition, Madiran
The Producer
Domaine Capmartin
Madiran used to be a byword for tough, earthy and rustic wines which had ferocious tannins that never softened. Since the mid 1980s the quality has greatly improved with the wines being softer, richer in fruit, and with smoother and more supple tannins.
Guy Capmartin is a 3rd generation vigneron from Madiran who decided in 1987 to leave Domaine Barrejat, which was his family`s Domaine and set up on his own. He now has 8 hectares of vines and produces 3 different cuvées of red as well as a superb dry white Pacherenc. The Cuvée Tradition is a blend of 40% Tannat, 30% Cabernet Franc, 20% Cabernet Sauvignon and 10% Fer Servadou. It can be approached when young, but ideally one would wait for 5 years or so before pulling the cork.
View Producer
The Grape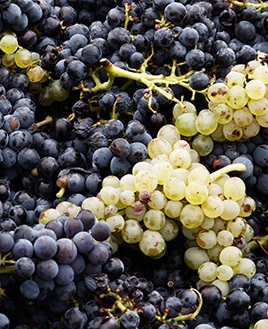 Tannat
Tannat is best known as the dominant grape variety in Madiran, Southwest France's most famous red wine. The grape probably originated in the Basque country and almost certainly derives its French name from its high tannin levels. It is a thick-skinned grape variety that produces deeply coloured, well-structured wines that can be tough and austere in youth. However with ageing the massive tannins round out while the wine develops nuances of spices, coffee, cocoa, and vanilla.
In Madiran it is blended (typically 60-70%) with Cabernet Sauvignon, Cabernet Franc, and Fer. The only other country where Tannat is seriously grown is Uruguay, where it was planted by Basque settlers in the 19th century. It is known as Harriague in Uruguay and recently plantings have spread over the border into Argentina.
View Grape
Customer Reviews
Questions And Answers