1990 has been porclaimed as one of Burgundy's most successful vintages, arguably the finest between 1978 and 1999 for white wines, as well as especially for reds. Not everybody is a fan because the heat of the summer produced rich wines which are not entirely typical of Chablis.

Chablis 1990- The Weather
The vines budded early, producing a large number of embryo bunches, were held back by cool weather at the flowering, developed well over a long hot summer and were saved from drought by much needed August rain which revived the ripening process. The cool weather at flowering was significant as it resulted in a certain amount of millerandage in the pinot noir, providing small grapes with a high proportion of skin (hence colour and extract) to juice.

Chablis 1990 - First Impressions
The white crop was on the high side but with plenty of fruit and a refreshing acidity, suggesting a fine vintage if just short of a great one. On balance the 1989s seemed to have the edge in white.

Chablis 1990 - The Wines in Bottle
Most village and 1er Cru Chablis wines are fully ready to drink, but the best Grand Cru bottles can still hit the heights of greatness, drinking well to 2015.
Showing 1-1 out of 1 items
Hide All Tasting Notes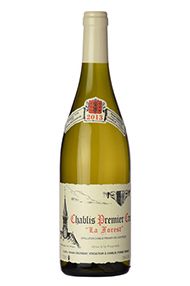 Showing 1-1 out of 1 items