Critics reviews
This juniper blunderbuss was created by wine merchant Berry Bros & Rudd to make the ultimate G&T, and my goodness it delivers – piney, powerful, but with a lemon-sherbet sweetness.
The Times

It might just be the perfect gin: vivid and fresh with botanicals that are bright and fierce so they don't get lost when you add tonic
The Telegraph

Sadly fruit flavoured spirits don't count as part of your ve-a-day. They taste bloody good though .
No.3 London Dry Gin, Named after the address of Berry Bros & Rudd (London's oldest wine and spirit merchant), No.3 boasts six balanced botanicals with juniper at its core. Perfect for a classic martini or a gin and tonic with a twist of lime. Or both.
Squaremile.com

Three centuries of trading, three fruits and three spices... Berry Brothers' No.3 is a triple triumph. Juniper, the key ingredient in gin is complemented by sweet Spanish orange peel, grapefruit peel, Angelica root, Moroccan coriander and cardamom seeds.
A gin with a pedigree, Waitrose Weekend
Weeknend's must-have: The Gin. Named after the company's St James's Street address. It's clean and simple with juniper to the fore.
The Mail on Sunday

Distilled in copper stills with coriander and earthy angelica, as well as juniper, this gin makes superb martinis.
Red magazine, Victoria Moore

For a Dry Martin I favour Berry Bros. No.3. At 46% it is the perfect strength for a Dry Martin. Featuring just 3 fruits and 3 spices, it is fresh and spicy with an earthy backbone
GQ

It's fresh, vibrant and citrusy and although spot on with tonic, It's as a dry martini that really shines - The Spectator
A Gin that has authenticity, integrity and soul
The Gin Blog

No.3 London Dry Gin is distilled to a proprietary recipe of berry Bros and Rudd, London's oldest wine and spirit merchant. The name No.3 refers to the address in St James Street, London: their home since 1698. With juniper at its heart, it unashamedly celebrates the integrity and character of traditional London Dry Gin: three fruits and three spices distilled in traditional copper pot stills.
Vogue

Distilled in traditional copper pot stills in Holland, No.3 is designed to reflect the essence of what a good traditional gin should be and meet the modern challenge of marrying well with tonic and in cocktails. With assertive juniper balanced with sweet orange peel and a twist of grapefruit this gin's distinctly citrussy tones are lengthened nicely by a warm backnote provided by cardamom seeds. A bottle would make a nice gift, both for its drinkability and handsome presentation.
Word Of Mouth Blog, October 2012 Created using just six ingredients- juniper, Spanish oranges, grapefruit peel, angelica root, corinder seeds and cardamom pods- and distilled in a traditional copper pot still, No. 3 has a bright, crisp nose, flavoured with juniper and spice with a citrus zing. 
Waitrose Magazine. June 2017. 
About this SPIRIT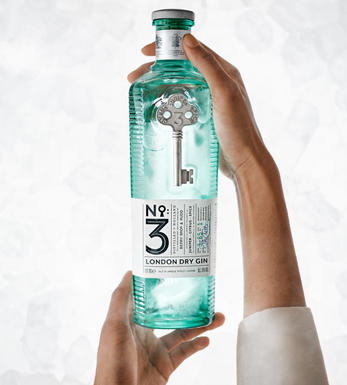 No.3 London Dry Gin
More than a decade ago, we created No.3 to be "gin, just as it should be". Since then, it has been awarded World's Best Gin four times.

It took us two years to get the recipe just right. We worked with Dr David Clutton, the only man to hold a PhD in gin, as well as the world's leading mixologists and Master Distillers to perfect the combination of juniper, citrus and spice.

Of course, much of the character of a gin comes from the way in which it is distilled. For this, we chose to work with a family-owned company in Holland – the original home of gin – that has been distilling for over 300 years. No.3 is produced in its 100-year-old, brick-encased, copper pot still.

The result is a classic London Dry spirit, combining coriander, angelica root, cardamom, grapefruit, sweet orange peel and juniper. Whether in a G&T or a dry martini, No.3 Gin is crisp, refreshing and perfectly balanced.

Discover the story behind our No.3 London Dry Gin here.