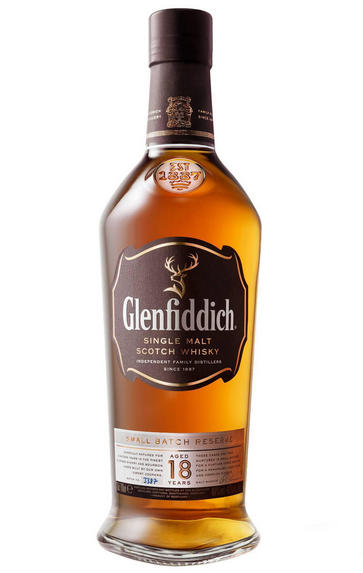 Glenfiddich, 18-Year-Old, Speyside, Single Malt Scotch Whisky (40%)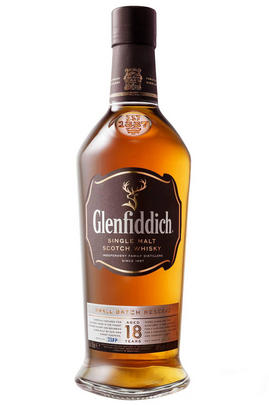 Critics reviews
Nose
Very rich.
Palate
More mellow and rounded, soft and restrained, with very soft body.
Finish
Nutty with a flowery hint of peat.
Comment
Scores points for sophistication and sherry character.

Michael Jackson - Whisky Magazine Issue 4 Nose
Blood oranges, apples, gentle smoke and oaky saltiness. Delicate and enormously sexy.
Palate
Melts in the mouth: sherry, sultanas, honeyed maltiness, spice.
Finish
Medium length but extremely clean, chewy and well defined.
Comment
A wonderfully elegant whisky.

Jim Murray - Whisky Magazine Issue 4
About this SPIRIT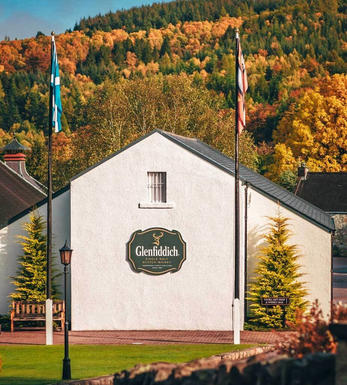 Glenfiddich Distillery, Speyside
William Grant founded Glenfiddich in 1886 from second-hand equipment bought at a bargain price from nearby distillery Cardhu. It is located near the small river whose name it bears in Dufftown in the heart of Speyside. It produced its first whisky on Christmas Day 1887. The glen of the river Fiddich gives its name to the biggest-selling single malt whisky in the world. The Glenfiddich distillery is on the small river whose name it bears, in Dufftown.

The name Fiddich indicates that the river runs in the valley of the deer and indeed a stag is the company's emblem. Although the distillery no longer produces its own malt, pagodas have been added to some of the newer buildings in a salute to tradition. One uniquely truly traditional element is the use of coal-fired stills - the stills are small, and the whisky is principally aged in plain oak, though about 10% goes into sherry casks. The distillery is unusual in that it has its own bottling line on the premises, with the only other malt distillery with bottling facilities being Springbank. William Grant brought his eight children into the business, and the company is still directed and managed by his descendants. Today it is the world's best-selling malt whisky,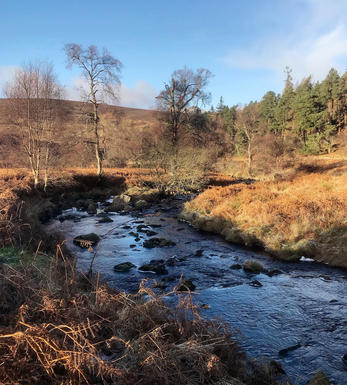 Speyside Whisky
To some Speyside represents the jewel in whisky's crown. Speyside is the home of legal whisky production and it's best known examples. Around the world Glenlivet, Macallan, Glenfiddich, Glenrothes and Glenfarclas typify all that whisky, at it's best has to offer. At it's heart running from the Monadhliath mountains north to the sea, is the River Spey. It is the fastest flowing river in Britain, and also well known for its salmon fishing.
Speyside is the principal whisky-producing region: Speyside has within it some forty-six operating distilleries - over half the total number in the entire Scotland.
Speysides are essentially sweet whiskies. They have little peaty character They are typically highly perfumed, feminine and elegant.
The classical nature of Speyside's malts means that a number of the finest malts are used almost exclusively for blending. It is the top Speysider's that give good blends their 'Top Dressing'.
Malts such as Mortlach, Glen Elgin, Strathmill and Benrinnes are rarely found as distillery bottlings, however when individual casks are tracked down by independent bottlers such as our Own Selection Single Malt Whiskies the resultant whisky can be quite wonderful.