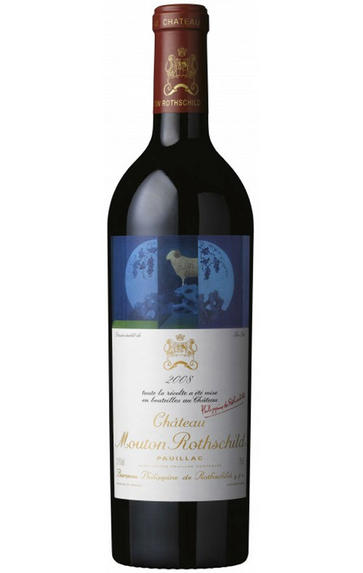 2008 Château Mouton Rothschild, Pauillac, Bordeaux
Prices start from £2,800.00 per case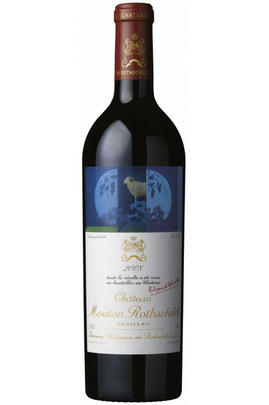 Critics reviews
Tasted at the Mouton-Rothschild vertical in London, the 2008 Mouton Rothschild has always been in the shadow of the ensuing couple of vintages, but I was not the only person at this tasting that commented upon the class in show here. It replicated previous showings: cedar and graphite present and correct, though accompanied by something a little more exotic - eucalyptus maybe? The palate is beautifully balanced, very detailed and extremely fresh. This conveys so much energy and animation before reverting towards a more classic and structured, pencil lead finish. Those in the know will stash up on the 2008 Mouton Rothschild because it is destined to turn into one of the dark horses of the decade. Tasted May 2016.
Neal Martin - 31/01/2017
Jancis Robinson MW
18.5/20
Tighter and denser than the Petit Mouton with hidden depths and less obvious seduction. Very neat and firm with some fine polishing of texture and definite minerality at its core. Dry finish. Very fresh and neat. Finer boned than many Moutons – almost playing the Lafite card. All very introvert but nothing flashy. I found myself swallowing this at 9.20am! Well done.
Jancis Robinson MW - jancisrobinson.com - Apr 09
The final blend of 83% Cabernet Sauvignon and 17% Merlot exhibits tell-tale black currant liqueur, incense, charcoal and floral-like characteristics. The oak is pushed to the background, one of the major improvements director Philippe Dalhuin has made at this estate. Full-bodied, deep and impressively endowed, it is a deep, rich, less massive effort than either the 2010 or 2009. This gorgeous Mouton will be drinkable in 4-5 years and age effortlessly for three decades.
Robert Parker- Wine Advocate- May 2011
Mouton's vineyard was harvested between October 2-15, and the wine possesses an unexpectedly high pH of 3.85 (high for this vintage, but normal for a riper year). Made from low yields of 34 hectoliters per hectare, it achieved a natural alcohol content of 13.2%, one of the highest ever for this estate. Made from 54% of the production, the 2008 Mouton Rothchild's final blend of 83% Cabernet Sauvignon and 17% Merlot has resulted in an atypically sweeter, more direct and opulent, fleshy Mouton. Keep in mind that this cuvee, because of the high Cabernet Sauvignon content as well as the terroir, is often backward, structured, and nearly foreboding in its youth. However, I do not think the 2008 will behave in that manner. There is plenty of tannin and exceptional density and ripeness, but the tannins are velvety, and I was amazed by how charmingly forward and fleshy this wine already is. A deep purple color, sweet aromas of creme de cassis, smoke, cedar, and an unmistakable floral component (another characteristic of the Cabernet Sauvignon in 2008) are found in this precocious, succulent Mouton that should firm up and put on more weight with aging. My score is somewhat conservative because it is hard to forget their prodigious 2006, but the 2008 will provide far more enjoyment and pleasure over the near-term than the 2006.
Robert Parker- Wine Advocate- April 2009
About this WINE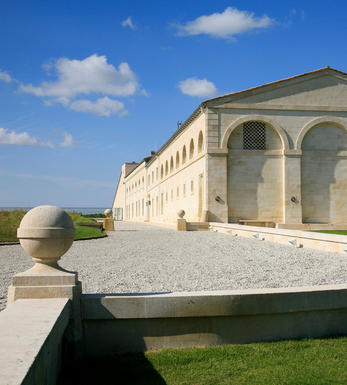 Château Mouton Rothschild
A first growth in the 1855 Classification, Château Mouton Rothschild has a long and storied history; wine has been made here since Roman times.
The estate has been in the Rothschild family since 1853, but it wasn't until the arrival of Baron Philippe de Rothschild in 1922 that its fortunes were transformed. Baron Philippe was a dynamic figure and revolutionised the estate. He was the first to introduce château-bottling, as early as 1924.
Baron Philippe also introduced the concept of commissioning an artist to design each new vintage's label. Some of the most notable contributors include Salvador Dalí, Henry Moore, Marc Chagall, Pablo Picasso, Francis Bacon, Lucian Freud and Anish Kapoor.
His daughter Baroness Philippine continued to help raise Ch. Mouton Rothschild to new heights with numerous endeavours, including the inauguration of a new vat house in 2013.
Today, her three children, Philippe and Camille Sereys de Rothschild and Julien de Beaumarchais de Rothschild, continue the efforts of their predecessors.
Following the retirement in 2020 of Philippe Dhalluin, the winemaking team is now headed up by Jean-Emmanuel Danjoy. Danjoy, who was already in place as Director at Ch. Clerc Milon, brings with him considerable experience. He had also worked alongside Dhalluin for over a decade.
The estate, which spans 83 hectares of vines, is planted with Cabernet Sauvignon (78%), Merlot (18%), Cabernet Franc (3%) and Petit Verdot (1%). The average age of the vines is around 45 years.
In style, the wines have immense appeal, with exotic, powerful aromas of cassis, minerals, tobacco leaf and graphite, backed by an opulence on the palate and impressive length on the finish. "Flamboyant" is a word sometimes used in tasting notes, and in comparative blind tastings this attribute is frequently what sets Mouton apart.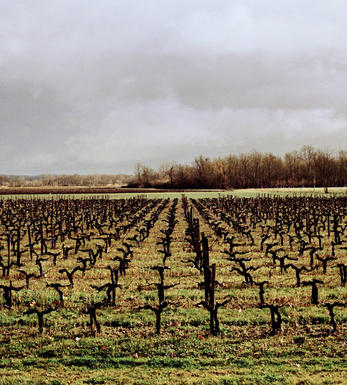 Bordeaux
Bordeaux remains the centre of the fine wine world. The maritime climate on the 45th parallel provides for temperate winters and long, warm summers, perfect conditions for growing grapes suited to the production of classically-constructed, long-lasting wines. This vast region of 120,000ha of vineyards (four times the size of Burgundy) is home to 10,000 wine producers and 57 different AOCs. Red now makes up 88 percent of Bordeaux wine, and is usually referred to as Claret. The origin of this name was to differentiate the lighter-coloured wines of the coastal region from the deeper "black" wines from up-country regions.
The Left Bank, comprising the wine regions of the Médoc, Pessac-Léognan and Graves are planted predominantly with Cabernet Sauvignon, which thrives on the gravelly soils left by the ancient course of the river. This is a thick-skinned variety which ripens late, producing powerful, tannic wines capable of long ageing. It is blended with Merlot, Cabernet Franc and sometimes Petit Verdot. The highlights of the Médoc are the four communes of St- Estèphe (blackcurrant concentration); classical, cedarwood and cigar-box Pauillac; richly-fruited St Julien; and elegant, fragrant Margaux.
On the Right Bank, most famously in St-Emilion and Pomerol, it is the fleshy Merlot grape which prevails, sometimes supported by Cabernet Franc. Here the soils are more mixed, with gravel and clay underpinning the rich, fruity wines of Pomerol. Styles vary more in St-Emilion, depending on the predominance of sand in the lower-lying slopes, or limestone on the hillsides and plateau.
By the 18th century, individual properties - known as châteaux, however humble - were becoming known for the quality of their wines and in 1855, those of the Médoc (plus Haut-Brion, a property commended by Samuel Pepys as early as 1663) were classified into five levels of classed growths. Lafite, Latour, Margaux and Haut Brion were cited as First Growths, to whose ranks Mouton Rothschild was elevated by presidential decree in 1973. Beneath the ranks of the classed growths lies a raft of fine châteaux known as Crus Bourgeois, while a host of less well-known "petits châteaux" still makes attractive, enjoyable Claret at affordable prices.
The other jewel in the Bordeaux crown is the district of Sauternes, making some of the most outstanding sweet white wines in the world (from the likes of Châteaux d'Yquem, Rieussec and Climens). The foggy autumn mornings along the banks of the Garonne River near Sauternes and neighbouring Barsac enable the noble rot, botrytis cinerea, to form on the skins of the grapes, which can still ripen in the afternoon sun as late as the end of October or early November. The Sémillon grape is the prime component, but Sauvignon Blanc and a little Muscadelle are also planted to provide insurance if the weather is less favourable to Sémillon, as well as offering a counterpoint in flavour.
There are many inexpensive dry white wines - more Sauvignon than Sémillon - from regions such as Entre-Deux-Mers and Graves, with just a handful of outstanding properties located in Pessac-Léognan. The most famous of the great dry whites hail from Châteaux Haut Brion, Laville Haut Brion and Domaine de Chevalier.
The finer wines of Bordeaux are sold en primeur in the late spring following the harvest, some two years before the wines are ready for physical delivery. The châteaux offer their wines through a system of Bordeaux négociants (brokers) who sell them on to importers round the world. Prices vary enormously from one vintage to another, dependent on perceived quality and world demand, which shows no signs of diminishing, especially for the great years.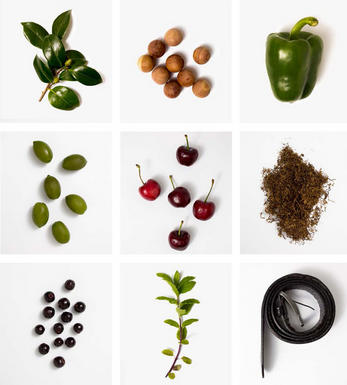 Cab.Sauvignon Blend
Cabernet Sauvignon lends itself particularly well in blends with Merlot. This is actually the archetypal Bordeaux blend, though in different proportions in the sub-regions and sometimes topped up with Cabernet Franc, Malbec, and Petit Verdot.

In the Médoc and Graves the percentage of Cabernet Sauvignon in the blend can range from 95% (Mouton-Rothschild) to as low as 40%. It is particularly suited to the dry, warm, free- draining, gravel-rich soils and is responsible for the redolent cassis characteristics as well as the depth of colour, tannic structure and pronounced acidity of Médoc wines. However 100% Cabernet Sauvignon wines can be slightly hollow-tasting in the middle palate and Merlot with its generous, fleshy fruit flavours acts as a perfect foil by filling in this cavity.

In St-Emilion and Pomerol, the blends are Merlot dominated as Cabernet Sauvignon can struggle to ripen there - when it is included, it adds structure and body to the wine. Sassicaia is the most famous Bordeaux blend in Italy and has spawned many imitations, whereby the blend is now firmly established in the New World and particularly in California and Australia.