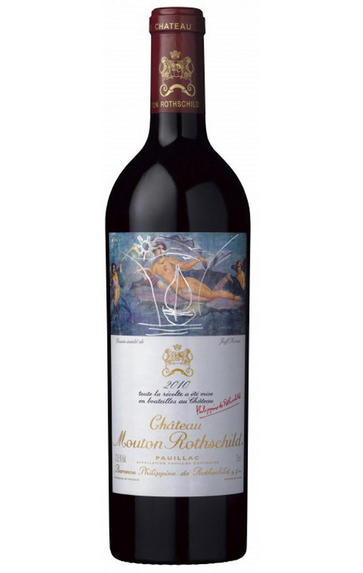 2010 Château Mouton-Rothschild, Pauillac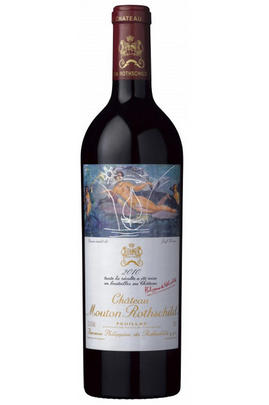 About this WINE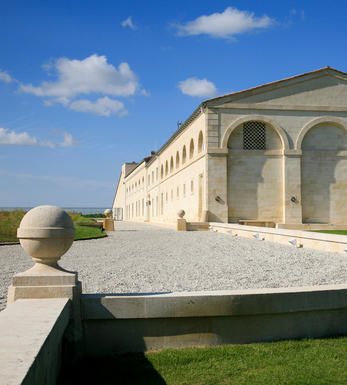 Chateau Mouton Rothschild
Vines first appeared on what is now known as the Mouton-Rothschild estate in the early 18th century. Throughout the 18th century and first half of the 19th the quality of the wines increased steadily, often equalling those of the other top wines of Bordeaux, save for a short period of decline in the 1840s. This temporary fall from grace was to cost Mouton its likely status as a First Growth wine when the 1855 Classification was published, since the rankings were decided upon by the prices the wines had been fetching in the market place.

The Rothschild family had bought the property in 1853, and its reputation was rapidly restored. The driving force, however, proved to be a later arrival, Baron Philippe de Rothschild, who assumed control in 1922. He was a dynamic figure who revolutionised much of the running of the estate. He was the first to introduce château-bottling, as early as 1924, and instigated the practice, after the Second World War, of employing a different artist each year to design the label. His greatest achievement was to have Mouton upgraded to 1st Growth Status in 1973, the only change ever to be made to the 1855 Classification. For decades the price of Mouton had matched, and frequently surpassed, that of the other First Growths, so the logic for the promotion was undeniable. Picasso was engaged to design that vintage's label. Philippe died in 1988 and the estate passed into the hands of his daughter, Philippine.

The vineyard, comprising 75 hectares of mainly gravel-based soils, is planted to 80% Cabernet Sauvignon, 10% Cabernet Franc, 8% Merlot and 2% Petit Verdot. Grapes are hand-picked, and the juice is fermented in barrel, not in vat. After fermentation the wine is aged in new oak for 22 months before bottling. Total production is 25-30,000 cases, split between Mouton itself and the second wine, Le Petit Mouton, established in 1993.

Critics who found the wines of the 1990s to be less than profound point to too high a percentage of the crop being used in the Grand Vin, compared to the other First Growths. However, in recent years, the Estate Director, Hervé Berland, has presided over a gradual tightening up of all the viticultural and wine-making practices, with the result that Mouton is once again restored to a position alongside the very best wines of Bordeaux.

In style the wines have immense appeal, with exotic, powerful aromas of cassis, minerals, tobacco leaf and graphite, backed by an opulence on the palate and impressive length on the finish. "Flamboyant" is a word sometimes used in tasting notes, and in comparative blind tastings this attribute is frequently what sets Mouton apart. What is sure is that Mouton has often produced the "wine of the vintage", and under Hervé Berlaud's direction the property looks sure to consolidate its status as one of the world's greatest.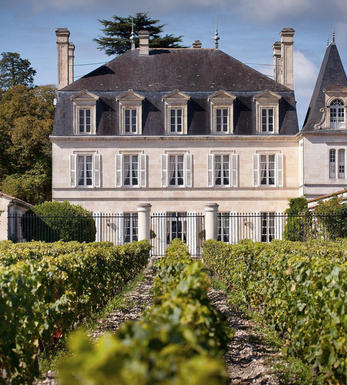 Pauillac
Pauillac is the aristocrat of the Médoc boasting boasting 75 percent of the region's First Growths and with Grand Cru Classés representing 84 percent of Pauillac's production.

For a small town, surrounded by so many familiar and regal names, Pauillac imparts a slightly seedy impression. There are no grand hotels or restaurants – with the honourable exception of the establishments owned by Jean-Michel Cazes – rather a small port and yacht harbour, and a dominant petrochemical plant.
Yet outside the town, , there is arguably the greatest concentration of fabulous vineyards throughout all Bordeaux, including three of the five First Growths. Bordering St Estèphe to the north and St Julien to the south, Pauillac has fine, deep gravel soils with important iron and marl deposits, and a subtle, softly-rolling landscape, cut by a series of small streams running into the Gironde. The vineyards are located on two gravel-rich plateaux, one to the northwest of the town of Pauillac and the other to the south, with the vines reaching a greater depth than anywhere else in the Médoc.

Pauillac's first growths each have their own unique characteristics; Lafite Rothschild, tucked in the northern part of Pauillac on the St Estèphe border, produces Pauillac's most aromatically complex and subtly-flavoured wine. Mouton Rothschild's vineyards lie on a well-drained gravel ridge and - with its high percentage of Cabernet Sauvignon - can produce (in its best years) Pauillac's most decadently rich, fleshy and exotic wine.
Latour, arguably Bordeaux's most consistent First Growth, is located in southern Pauillac next to St Julien. Its soil is gravel-rich with superb drainage, and Latour's vines penetrate as far as five metres into the soil. It produces perhaps the most long-lived wines of the Médoc.
Recommended Châteaux
Ch. Lafite-Rothschild, Ch. Latour, Ch. Mouton-Rothschild, Ch. Pichon-Longueville Baron, Ch. Pichon Longueville Comtesse de Lalande, Ch. Lynch-Bages, Ch. Grand-Puy-Lacoste, Ch, Pontet-Canet, Les Forts de Latour, Ch. Haut-Batailley, Ch. Batailley, Ch. Haut-Bages Libéral.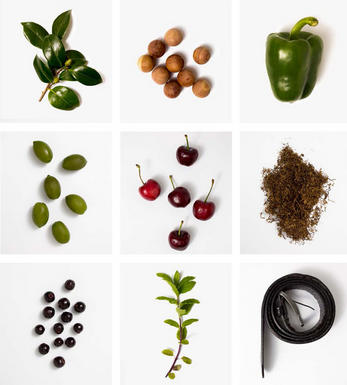 Cab.Sauvignon Blend
Cabernet Sauvignon lends itself particularly well in blends with Merlot. This is actually the archetypal Bordeaux blend, though in different proportions in the sub-regions and sometimes topped up with Cabernet Franc, Malbec, and Petit Verdot.

In the Médoc and Graves the percentage of Cabernet Sauvignon in the blend can range from 95% (Mouton-Rothschild) to as low as 40%. It is particularly suited to the dry, warm, free- draining, gravel-rich soils and is responsible for the redolent cassis characteristics as well as the depth of colour, tannic structure and pronounced acidity of Médoc wines. However 100% Cabernet Sauvignon wines can be slightly hollow-tasting in the middle palate and Merlot with its generous, fleshy fruit flavours acts as a perfect foil by filling in this cavity.

In St-Emilion and Pomerol, the blends are Merlot dominated as Cabernet Sauvignon can struggle to ripen there - when it is included, it adds structure and body to the wine. Sassicaia is the most famous Bordeaux blend in Italy and has spawned many imitations, whereby the blend is now firmly established in the New World and particularly in California and Australia.
Reviews
Customer reviews
jancisrobinson.com
18.5/20
Critic reviews
Tasted at the Mouton-Rothschild vertical in London, the 2010 Mouton-Rothschild is a modern-day benchmark for the First Growth and here, side-by-side with the 2009, it certainly has its nose in front. It is in possession of quite breathtaking delineation and precision, a crystalline bouquet with black fruit laced with minerals, potent pencil shaving notes, a touch of cold slate. It is totally entrancing. The palate has beguiling symmetry, but for me what really distinguishes this Mouton is its effortlessness. Like watching Usain Bolt in his prime sprinting to another world record, this wine is almost self-effacing in terms of its brilliance. Will Philippe Dhalluin ever better this Mouton-Rothschild? Keep it in the cellar for 15 years, if you know what's good for you. Tasted May 2016.
Neal Martin - 31/01/2017
Another battleship in the making, with a massive core of red currant, plum and blackberry fruit laced with iron and roasted apple wood and backed by massive grip. Despite the heft, this is sleek and long, with terrific poise.
James Molesworth – The Wine Spectator –  Mar 2011
jancisrobinson.com
18.5/20
Tasted 17 Feb: Very youthful and very Cabernet and pretty spicy. Very correct and with an attractive dryness on the finish. Very snazzy.

Tasted 8 Apr: 94% Cabernet Sauvignon, 6% Merlot. Burnished dark pruney crimson. Very opulent and heady on the nose. Lovely perfume. Lots of fully ripe black fruits. Amazingly polished – so much so that you are almost distracted from the huge tannic charge. Not quite as dense as some of the greatest 2010s but very well balanced. Hugely Cabernet. As in 2009, great care has been taken not to produce too heavy a wine. There is almost Lafite-like structure here. Very, very polished middle palate. Bone dry, pretty tannic finish.
Jancis Robinson MW- jancis robinson.com, Apr 2011


Only 49% of the production made it into the 2010 Mouton Rothschild, which has a strikingly beautiful label by Jeffrey Koons. This is a truly great wine, with a very high percentage of Cabernet Sauvignon (94%) and the other 6% Merlot. At 13.9% natural alcohol, Mouton's director, Philippe Dhalluin, has clearly produced another 50- to 60-year wine that has a chance at perfection in about 15 years time, when I suspect this wine will be rounding into drinking condition. It is dense, rich and full-bodied, with the classic Mouton creme de cassis, forest floor, licorice and floral notes, but also some blueberry and hints of subtle espresso and mulberry. The wine has more minerality and precision than the rich, extravagantly opulent 2009, and while that may please some, others will have their patience tested as they wait and wait for this compelling Mouton Rothschild to hit full maturity.
Robert Parker- Wine Advocate- Feb 2013

The 2010 Mouton possesses the highest level of Cabernet Sauvignon (94%) of any wine this estate has produced. Combined with 6% Merlot, the wine achieved 13.9% natural alcohol. Under director Philippe Dalhuin, the harvest was accomplished between September 28 and October 13, and only 49% of the crop made it into this powerful effort. Reminiscent of the 1986, it is a 50-60 year wine that is not meant for consumers looking for near-term gratification. This backward, tannic, full-bodied, exceptionally promising 2010 reveals enormous weight along with extravagant levels of precise, fresh boysenberry and creme de cassis fruit. The abundant minerality is due no doubt to the fresh acidity. In need of at least 15 years of cellaring, it will undoubtedly remain an infant at age 25 (as does the 1986).
Robert Parker- Wine Advocate- May 2011

Chateau Mouton Rothschild offers a huge, exotic multi-fruit nose, layers and layers of flavour, the richness lifted by ingrained acidity. Perfect balance for such a richly textured wine, the best Mouton for years.
Steven Spurrier – Decanter – Apr 2011

After the disappointment – to me at least – of 2009, this is an impressive return to form for Mouton, showing less charry oak and much more finesse and freshness, despite the higher alcohol. It's a more classic Pauillac, with notes of graphite and cassis, lots of Cabernet structure, tangy acidity, subtle vanilla oak, a touch of herbal
spice and the structure to age.