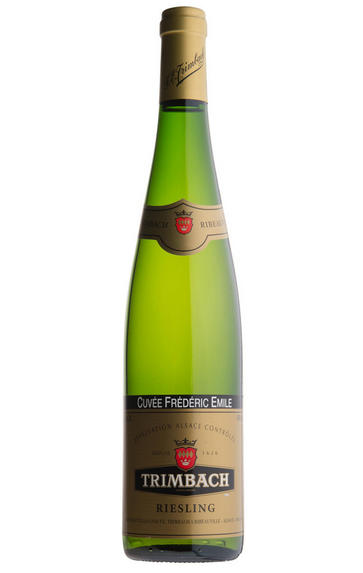 2014 Riesling, Cuvée Frédéric Emile, Trimbach, Alsace
Prices start from £105.00 per magnum (150cl).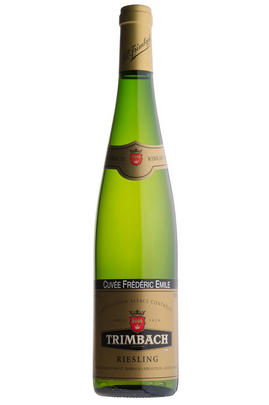 Critics reviews
Ian D'Agata, Vinous
94+/100
Vivid straw-green. Delicate nuances of jasmine and lemon verbena complicate aromas of green apple, lime and minerals. Pure and penetrating on the palate, boasting superb definition to the flavors of gin, mint, minerals, violet and lemon zest. The finish is remarkably crystalline and long. This Frédéric Emile is currently dominated by its Osterberg component (the cuvée is a blend of Osterberg and Geisberg grand cru grapes), which brings chiseled acidity, as opposed to the Geisberg's ripe fruit personality and licorice quality. Despite the difficult year, this is likely to become a memorable Frédéric Emile. So much so, in fact, that it's currently impossible to choose between it and the more famous Clos Sainte Hune.
Ian D'Agata, vinous.com (December 2015)
The 2014 Riesling Cuvée Frédéric Emile is highly complex on the clear, intense and smoky, lemony nose. Clear, fresh, straight and very mineral on the nose, this is a pure but complex, intense, stony Riesling that is pretty austere at the moment. Provided with racy acidity, but concentrated and mineral on the palate, this is exceptional dry Riesling with great tension. To be served in 10, 20 and even in 30 years.
Stephan Reinhardt, The Wine Advocate (June 2017)
Jancis Robinson MW
17.5+/20
To be released around 2022 or 2023. Razor-sharp nose and very tight. Lots to chew on. They could release this and no one would object but I can see why they want it to unfurl a bit.
Jancis Robinson MW, jancisrobinson.com (March 2018) 
About this WINE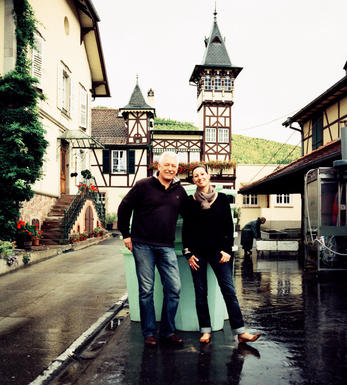 Trimbach
The House of Trimbach was established in 1626 and is now being run by the 12th generation of the family, Pierre and Jean. The family supervises all operations from planting and vinification to selection and bottling, giving them 100% control over production.

If Zind Humbrecht produces wines of extravagant power at one end of the spectrum of excellence within Alsace wine making, then Trimbach definitely stands at the other extreme – "Restraint" is the watchword. The Trimbach style is paraphrased perfectly by Hubert Trimbach and the family itself – "Concentrated not heavy; fruity, not sweet; bracing rather than fat; polite rather than voluptuous".

Trimbach wines are reserved, steely, elegant, even aristocratic; never obvious or flashy. "We are Protestants. Our wines have the Protestant style – vigour, firmness, a beautiful acidity, lovely freshness. Purity and cleanness, that's Trimbach." For those weary of the copious residual sugar found in so many of the contemporary Alsace wines, Trimbach's are a refuge.
The jewel in the crown is the family's Clos Ste-Hune vineyard, a small vineyard just outside Hunawihr. Family-owned for over 200 years, it is widely regarded as one of the best expressions of Alsace Riesling.Trimbach has launched their first-ever terroir named wine with the 2009 Riesling Grand Cru Geisberg, 2.6 ha plot on the Geisberg have always been part of the famous Cuvée Frédéric Emile. A second Grand Cru may be in the pipeline as, in 2012 the Trimbach family purchased a plot in the Kientzheim Grand Cru Schlossberg.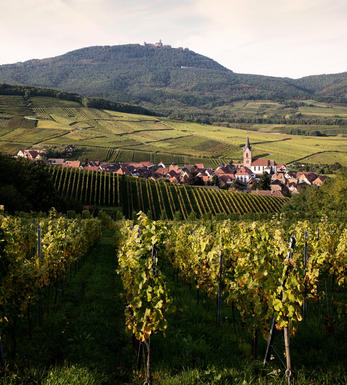 Riesling AOC Alsace
Riesling is the undisputed king of Alsace grapes, covering 22.5 percent of the vineyard area and producing some of the noblest and most age-worthy wines in the region, including Vendange Tardive, Sélection de Grains Nobles, and Grands Crus.

Dry, refined, and delicately fruity, it has an elegant bouquet of citrus fruit with mineral or floral notes. A typical mature Alsace Riesling is bone dry, with steely acidity and complex mineral and flint aromas. Like its German counterpart, it displays a superb definition of flavours, but with more concentration and alcohol.

It thrives on schist, shale and slate soils that convey oily, petrolly, mineral aromas to the wine.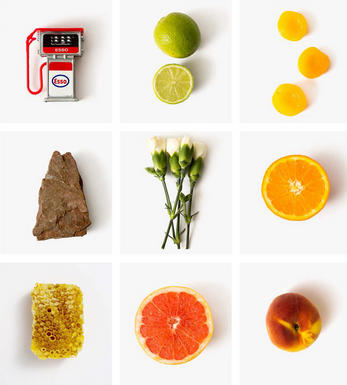 Riesling
Riesling's twin peaks are its intense perfume and its piercing crisp acidity which it manages to retain even at high ripeness levels.
In Germany, Riesling constitutes around 20% of total plantings, yet it is responsible for all its greatest wines. It is planted widely on well-drained, south-facing slate-rich slopes, with the greatest wines coming from the best slopes in the best villages. It produces delicate, racy, nervy and stylish wines that cover a wide spectrum of flavours from steely and bone dry with beautifully scented fruits of apples,apricots, and sometimes peaches, through to the exotically sweet flavours of the great sweet wines.
It is also an important variety in Alsace where it produces slightly earthier, weightier and fuller wines than in Germany. The dry Rieslings can be austere and steely with hints of honey while the Vendages Tardives and Sélection de Grains Nobles are some of the greatest sweet wines in the world.
It is thanks to the New World that Riesling is enjoying a marked renaissance. In Australia the grape has developed a formidable reputation, delivering lime-sherbet fireworks amid the continental climate of Clare Valley an hour's drive north of Adelaide, while Barossa's Eden Valley is cooler still, producing restrained stony lime examples from the elevated granitic landscape; Tasmania is fast becoming their third Riesling mine, combining cool temperatures with high UV levels to deliver stunning prototypes.
New Zealand shares a similar climate, with Riesling and Pinot Gris neck to neck in their bid to be the next big thing after Sauvignon Blanc; perfectly suited is the South Island's Central Otago, with its granitic soils and continental climate, and the pebbly Brightwater area near Nelson. While Australia's Rieslings tend to be full-bodied & dry, the Kiwis are more inclined to be lighter bodied, more ethereal and sometimes off-dry; Alsace plays Mosel if you like.