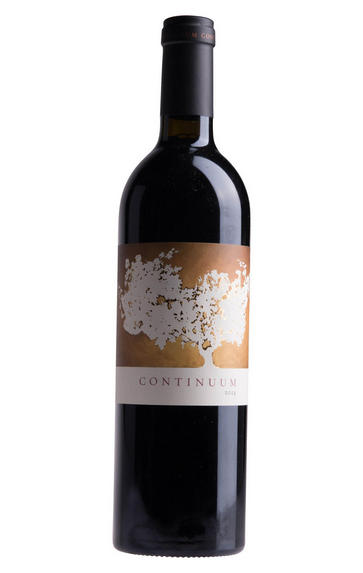 2014 Continuum, Proprietary Red, Napa Valley, California, USA
Prices start from £1,500.00 per case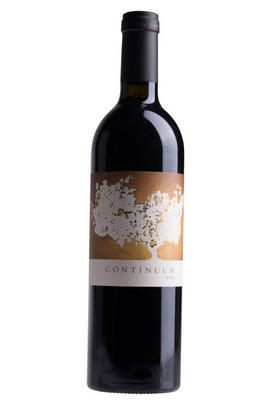 Critics reviews
Antonio Galloni, Vinous
97/100
A stunning wine, the 2014 Continuum exudes balance and class. Super-ripe red cherry, kirsch, mocha, menthol and rose petal infuse this beautifully layered, fragrant wine. The 2014 is layered and nuanced to the core, all while maintaining sublime finesse. At the outset, the 2014 is gracious and light on it its feet, but time and air bring out the wine's fruit density. Healthy dollops of Cabernet Franc and Petit Verdot complement the Cabernet Sauvignon nicely. Two thousand-fourteen is also the first vintage that incorporates co-fermented lots.

Drink 2022 - 2039

Antonio Galloni, vinous.com (Mar 2018)
The 2014 Proprietary Red is comprised of 65% Cabernet Sauvignon, 15% Cabernet Franc, 15% Petit Verdot and 5% Merlot. Deep garnet-purple colored, it is still very primary and comes bounding out of the glass with exuberant crushed blueberries, black cherries, blackcurrants and violets notes with suggestions of dark chocolate, cast iron pan, lavender and underbrush. Medium to full-bodied, firm, very finely crafted and possessing great finesse, it finishes long and layered.
Drink 2020 - 2038
Lisa Perrotti-Brown, Wine Advocate (Feb 2019)
About this WINE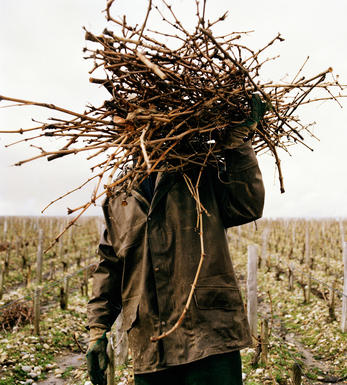 Continuum Estate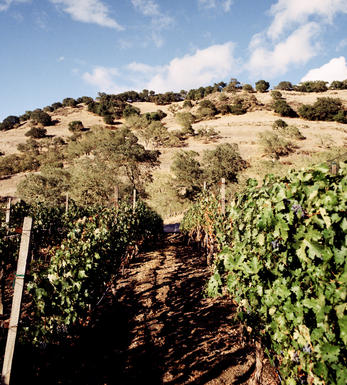 California
While many North American states make wine, it's California (along with Washington State and Oregon) that drives the fine wine (vitis vinifera) industry.
In 2005 California alone accounted for 200,000 hectares of vinous vines (as opposed to those grown for jelly or raisins), well in excess of Washington's 12,150 hectares and Oregon's 5,500 hectares. California's Napa Valley is acknowledged to be the world's second-best source of Cabernet Sauvignon/Bordeaux blends and Chardonnays (in Carneros), while its Santa Barbara and Sonoma Counties are home to world-class Pinot Noir and Chardonnay. Top-notch Zinfandel is also grown in Sonoma County.
The Californian wine industry was born in the south on the back of 18th century Spanish missionaries, and it consolidated in the north following the 1849 Gold Rush. Soon after, vitis vinifera varieties including Zinfandel made their appearance, edging out the inferior Mission grape. French and German immigrants (Krug, Schram, Beringer) helped develop the industry initially in Sonoma and then Napa, before fanning out to the Santa Cruz Mountains, south of the Bay area.
Cabernet Sauvignon was first produced as a wine in Sonoma in the late 19th century, at a time when many of Napa's reds were made from Rhône varieties and Zinfandel. The viticultural boom was accelerated by the transnational railway but was then literally stopped in its tracks by Phylloxera during the 1890s. However, as with Europe, a negative was turned into a positive as the disease allowed the industry to effect many viticultural improvements (varieties, vine densities, trellising). Prohibition threatened to further derail the industry further, were it not for an unprecedented demand for grapes for home winemaking, as well as for sacramental wine.

Despite the Repeal in 1933, the Fine Wine (ie Napa) industry didn't recover until the 1960s, when the likes of Chateau Montelena, Heitz, Robert Mondavi and Paul Draper made their move. In 1976, several of Napa's wines outshone their French counterparts in a blind tasting known as 'The Judgement of Paris'. Such success was short-lived however, as the industry was hit first by the oil crisis, then by the re-emergence of Phylloxera during the late 1980s; the fad for White Zinfandel was an additional setback.

The modern era continues to see an insatiable appetite for Napa wineries, pushing the price of land beyond even the reach of the Silicon Valley techies, piling even more pressure on winemakers to hit 100 points and so justify their fee and the $150-per-bottle price tags.

Californian viticulture is made possible thanks to the presence of the Pacific Ocean, its cool Humboldt Current tempering the summer heat through cyclical onshore breezes and rolling fog, so extending the ripening time of the grapes.

Additionally, to the east of San Francisco the 5,000-metre-tall Sierra Nevada mountain range triggers precipitation, which in turn feeds Central Coast irrigation channels. While the Winkler scale of heat summation points to regional differences, it appears to ignore the subtleties of terroir.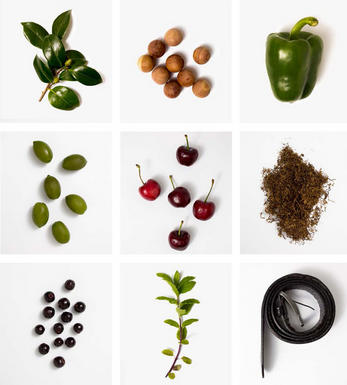 Cabernet Sauvignon Blend
Cabernet Sauvignon lends itself particularly well in blends with Merlot. This is actually the archetypal Bordeaux blend, though in different proportions in the sub-regions and sometimes topped up with Cabernet Franc, Malbec, and Petit Verdot.

In the Médoc and Graves the percentage of Cabernet Sauvignon in the blend can range from 95% (Mouton-Rothschild) to as low as 40%. It is particularly suited to the dry, warm, free- draining, gravel-rich soils and is responsible for the redolent cassis characteristics as well as the depth of colour, tannic structure and pronounced acidity of Médoc wines. However 100% Cabernet Sauvignon wines can be slightly hollow-tasting in the middle palate and Merlot with its generous, fleshy fruit flavours acts as a perfect foil by filling in this cavity.

In St-Emilion and Pomerol, the blends are Merlot dominated as Cabernet Sauvignon can struggle to ripen there - when it is included, it adds structure and body to the wine. Sassicaia is the most famous Bordeaux blend in Italy and has spawned many imitations, whereby the blend is now firmly established in the New World and particularly in California and Australia.