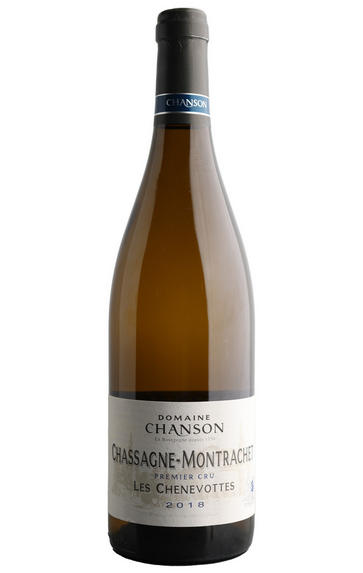 2018 Chassagne-Montrachet, Les Chenevottes, 1er Cru, Domaine Chanson, Burgundy
Prices start from £61.00 per bottle (75cl).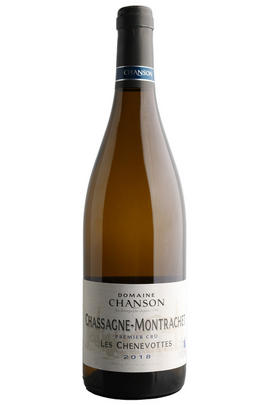 Critics reviews
A more complex nose is composed by notes of petrol, resin, apple, citrus and a subtle hint of wood. The sleek but solidly concentrated middle weight plus flavors brim with sappy dry extract that coats the palate on the energetic, persistent and dry finish that displays fine depth. This very dry yet seductive effort isn't particularly refined but it's certainly impressive plus it's sufficiently tightly wound that it should reward up to a decade of cellaring.
Drink 2026+
Alan Meadows, Burghound.com (Jun 2020) Read more
About this WINE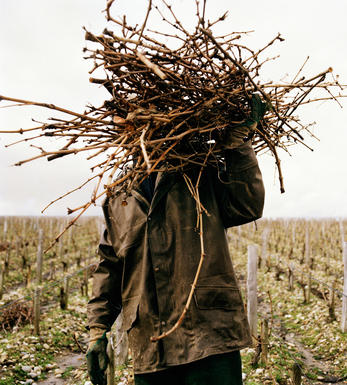 Domaine Chanson
Though modest in size, Chanson Père & Fils is one of the oldest of Beaune's great négociant houses, having been founded in 1750 by Simon Verry. The Chanson family, already vineyard owners in Beaune, Savigny and Pernand, took control during the 19th century. In 1999 the company was sold to Bollinger, who appointed Gilles de Courcel to run the business in 2002. The company has kept its old headquarters and maturation cellars in the 'bastion', a late medieval stone tower which was one of Beaune's principal fortifications, with a more modern vinification facility on the edge of town towards Savigny, built in 1974 and undergoing modernisation and extension between 2008 and 2010.

The wines are made by Jean-Pierre Confuron, of Domaine Confuron-Cotetidot in Vosne-Romanée, whose brother Yves supervises Gilles de Courcel's family domaine in Pommard. The new team has made considerable improvements, beginning in the vineyards which are now ploughed and no longer fertilised. From 2009 the domaine vineyards will be organic. Unusually amongst the major négociants, Chanson reds are made with a good proportion of the stems included. The majority of the wines see about 30 per cent new oak during maturation, with François Frères favoured for red-wine barrels and Damy for white.

The Chanson domaine, increased to 45 hectares by some shrewd purchases in 2006, provides about a quarter of the company's production which extends to Chablis, the Mâconnais and the Beaujolais. Its own vineyards are entirely in the Côte de Beaune.

Jasper Morris MW, Burgundy Wine Director and author of the award-winning Inside Burgundy comprehensive handbook.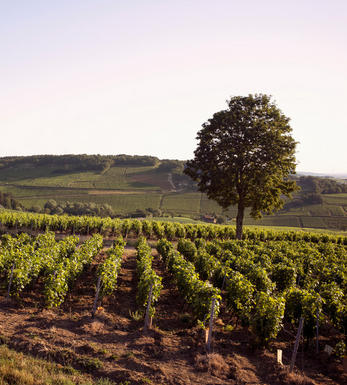 Chassagne Montrachet
When it comes to the world's greatest white wines, the border between Chassagne and Puligny is the 'X' that marks the spot, the treasure at the end of the rainbow. Within a few hundred metres lie five wonderful Grands Crus, three of which are in Chassagne. They are led by the luscious, perfumed but variable Le Montrachet, to which Chassagne gained permission in 1879, along with Puligny, to hyphenate its name.

Both Montrachet and the rich, nutty, honeyed Bâtard-Montrachet are shared between Chassagne and Puligny. The fragrant, very fine and rare Criots-Bâtard-Montrachet however, lies entirely within Chassagne's borders. The Grands Crus have their own appellations, which is why Chassagne (or Puligny) does not appear on the label.

Although the most southerly of the three great names of the Côte de Beaune, Chassagne's style is often described as lying between that of Puligny-Montrachet and Meursault: less fine than Puligny, less rich than Meursault but containing elements of both. Chassagne is minerally yet succulent, and often floral with hints of hazelnuts. Despite a bevy of very good Premiers Crus, it is not as good or famous, overall, as Meursault and Puligny, but it is usually extremely good value. Grands Crus should not be opened before eight years of age, and can last for 20 or more. Premiers Crus are at their best from five to 15 years of age; village wines from three to eight.

Perhaps surprisingly, given that the name 'Montrachet' is so synonymous with white wine, much of the soil in Chassagne is more suited to Pinot Noir than Chardonnay. Indeed it was only really in the second half of the 20th century that white wines began to dominate here. The reds have a firm tannic style that needs time to soften, with the best examples coming from the Premiers Crus Morgeot, Boudriotte and Clos-St Jean. At their best they combine the weight of the Côte de Nuits with the suppleness of the Côte de Beaune.

180 hectares of village Chassagne-Montrachet
159 hectares of Premier Cru vineyards. Several of the larger ones are subdivided and may be cited under various different names. The best include Caillerets, Ruchottes, Chaumées, La Boudriotte
11 hectares of Grand Cru vineyards: Le Montrachet (part), Bâtard-Montrachet (part) and Criots-Bâtard-Montrachet
Recommended restaurant: Le Chassagne (good cuisine and wine list)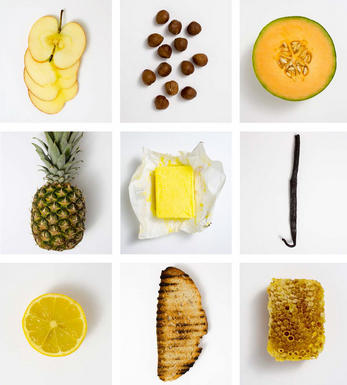 Chardonnay
Chardonnay is often seen as the king of white wine grapes and one of the most widely planted in the world It is suited to a wide variety of soils, though it excels in soils with a high limestone content as found in Champagne, Chablis, and the Côte D`Or.

Burgundy is Chardonnay's spiritual home and the best White Burgundies are dry, rich, honeyed wines with marvellous poise, elegance and balance. They are unquestionably the finest dry white wines in the world. Chardonnay plays a crucial role in the Champagne blend, providing structure and finesse, and is the sole grape in Blanc de Blancs.
It is quantitatively important in California and Australia, is widely planted in Chile and South Africa, and is the second most widely planted grape in New Zealand. In warm climates Chardonnay has a tendency to develop very high sugar levels during the final stages of ripening and this can occur at the expense of acidity. Late picking is a common problem and can result in blowsy and flabby wines that lack structure and definition.

Recently in the New World, we have seen a move towards more elegant, better- balanced and less oak-driven Chardonnays, and this is to be welcomed.