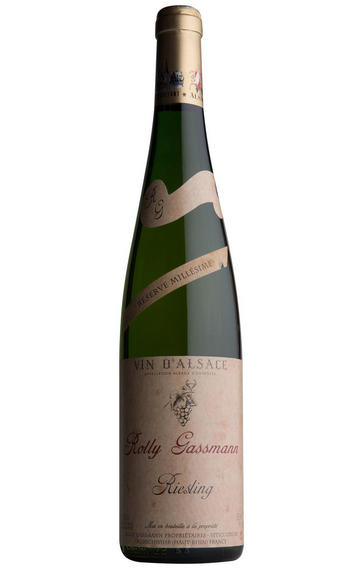 2019 Riesling, Domaine Rolly-Gassmann, Alsace
Prices start from £23.50 per bottle (75cl).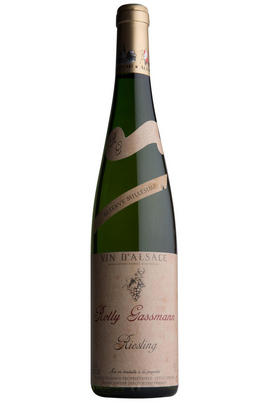 About this WINE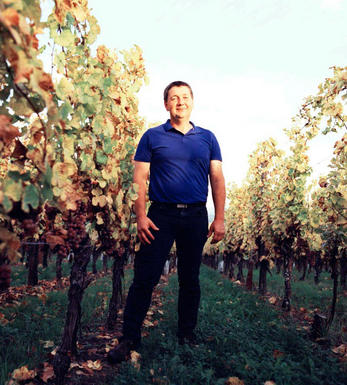 Rolly Gassmann
Located in Alsace's Haut-Rhin village of Rorschwihr, near Ribeauvillé, lies the family domaine of Rolly-Gassmann, whose roots date back to 1661. The 51 hectare estate (40ha in Rorschwihr, 10ha in Bergheim) is owned and run by Marie-Therese, Louis & their son Pierre Gassmann, along with a team of 17 workers.

They work to the principles of biodynamic viticulture yet curiously also apply weed killers. They produce on average 300,000 bottles per annum and they are notable for having more than four years' stock (1 million bottles) in stock at any one time, which would account for the regular visits by French customers; they only export 20% of their annual production.

The 250ha commune of Rorschwihr, first noted for its wine in 742AD, lies on one of Alsace's many faultlines (ala Burgundy), giving rise to a complex tapestry of 21 different soil types, particularly limestone, sandstone, granite and silt. So complex in fact that when the authorities sought to lump together vineyards to form large plots as part of the new Grand Cru system (1970s/80s), the villagers rose up and declared that either there would be 12 Rorschwihr Grand Crus or none at all. Hence today there are no Grand Crus in Rorschwihr.

That said there are some standout Crus/lieux-dits that would surely qualify as Premier Cru sites if ever this classification was tabled. Limestone rich vineyards Silberberg, Kappelweg & Pflaenzerreben are rated for their Rieslings , Rotleibel's darker brown clay and silt soils are meant for Pinot Gris, while the oolithic white lime stone of Oberer Weingarten & Stegreben are perfect for the Gassmann's Gewurztraminer.

Vinification takes place in large oak barrels and stainless-steel, giving wines of great elegance, gentleness and drinkability.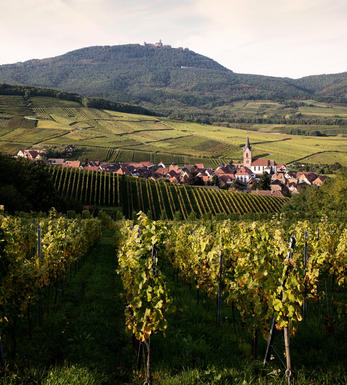 Riesling AOC Alsace
Riesling is the undisputed king of Alsace grapes, covering 22.5 percent of the vineyard area and producing some of the noblest and most age-worthy wines in the region, including Vendange Tardive, Sélection de Grains Nobles, and Grands Crus.

Dry, refined, and delicately fruity, it has an elegant bouquet of citrus fruit with mineral or floral notes. A typical mature Alsace Riesling is bone dry, with steely acidity and complex mineral and flint aromas. Like its German counterpart, it displays a superb definition of flavours, but with more concentration and alcohol.

It thrives on schist, shale and slate soils that convey oily, petrolly, mineral aromas to the wine.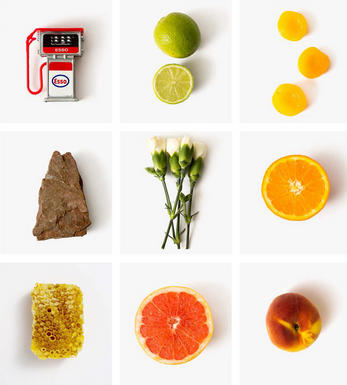 Riesling
Riesling's twin peaks are its intense perfume and its piercing crisp acidity which it manages to retain even at high ripeness levels.
In Germany, Riesling constitutes around 20% of total plantings, yet it is responsible for all its greatest wines. It is planted widely on well-drained, south-facing slate-rich slopes, with the greatest wines coming from the best slopes in the best villages. It produces delicate, racy, nervy and stylish wines that cover a wide spectrum of flavours from steely and bone dry with beautifully scented fruits of apples,apricots, and sometimes peaches, through to the exotically sweet flavours of the great sweet wines.
It is also an important variety in Alsace where it produces slightly earthier, weightier and fuller wines than in Germany. The dry Rieslings can be austere and steely with hints of honey while the Vendages Tardives and Sélection de Grains Nobles are some of the greatest sweet wines in the world.
It is thanks to the New World that Riesling is enjoying a marked renaissance. In Australia the grape has developed a formidable reputation, delivering lime-sherbet fireworks amid the continental climate of Clare Valley an hour's drive north of Adelaide, while Barossa's Eden Valley is cooler still, producing restrained stony lime examples from the elevated granitic landscape; Tasmania is fast becoming their third Riesling mine, combining cool temperatures with high UV levels to deliver stunning prototypes.
New Zealand shares a similar climate, with Riesling and Pinot Gris neck to neck in their bid to be the next big thing after Sauvignon Blanc; perfectly suited is the South Island's Central Otago, with its granitic soils and continental climate, and the pebbly Brightwater area near Nelson. While Australia's Rieslings tend to be full-bodied & dry, the Kiwis are more inclined to be lighter bodied, more ethereal and sometimes off-dry; Alsace plays Mosel if you like.