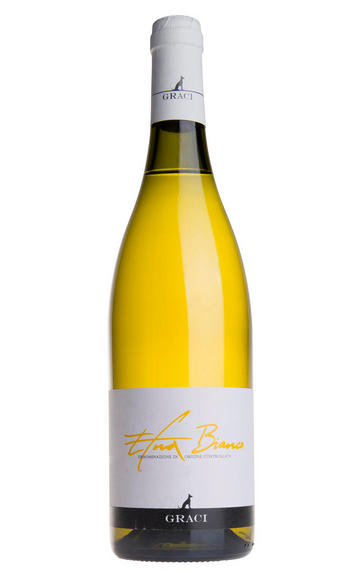 2020 Etna Bianco, Graci, Passopisciaro, Sicily, Italy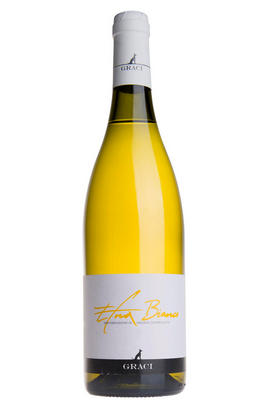 Critics reviews
The 2020 Etna Bianco is so pretty and floral, as sweet white flowers and raw honey give way to stone dust and hints of cardamom. This soothes with a cooling wave of orchard fruits and minerals, propelled by bright acidity. It's a bit short through the finish, yet it's squeaky clean and almost salty, leaving the palate aching for another sip. The Graci Etna Bianco is a blend of 70% Carricante and 30% Catarratto.
Drink 2021 - 2024
Eric Guido, vinous.com (Jun 2021)
About this WINE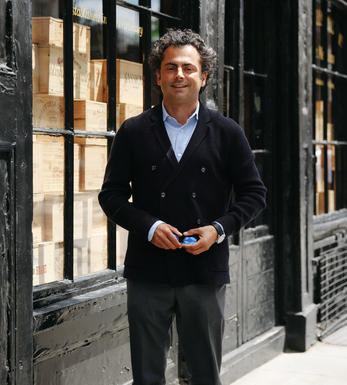 Graci, Sicily
Alberto Aiello Graci has been making wine on Sicily's Mount Etna since 2004, the year he returned from his apprenticeship as a Milan banker, picking up the baton with 5 hectares of family land, 2 hectares of which is vineyards (the rest polycultural activities).

The region of Etna Rosso, famous for its black lava soils and elegant red wines made from the Nerello Mascalese and Cappuccio grapes, has been undergoing a revival since 2000, lured by juicy EU grants and spectacular scenery. Once carpeted with vines - the fruit of which was allegedly used to in bulk to prop up the wines of the Langhe and of Burgundy - it has now become an artisan's playground, a mix of hobbyist and commercial winegrowers.

Alberto Graci is definitely in the latter category; his feet firmly on the ground. As the Vice President of the Consorzio, that covers 300 hectares of Etna DOC, he's forever preoccupied with the quality of the wines now being produced (at yields still as high as 65hl/ha).

His patch of heaven is part 50 year old, 8500 high density, free-standing 'alberello' vines at 1000 metres above sea level that produce naturally low yields amid the black grainy soils, part younger trained vines on flatter, lower sandier terra. He prefers to tend his vines as naturally as possible.

Fermentation takes place in a combination of large cement and Au strian Stockhinger oak of 42hl, at ambient (30-35 celsius) temperatures, using wild yeast, before moving the wine into slightly smaller Gamba barrels. He seeks the reductive quality of large oak, that captures the character of the soil and fruit, rather than the stylistic effects of micro-oxygenation brought by French barriques.

Alberto debuted his Etna Rosato (100% Nerello Mascalese) with the 2013 vintage, partnering the earlier drinking smoky red Etna Rosso, the more structured, wilder berried Quota 600 (from vines 600 metres up - a 500 case production of only Nerello Mascalese and Cappuccio, lush and lithe), the high thrills of his Quota 1000 and the minerally citrus Etna Bianco Contrada Arcuria (made from 100% Carricante).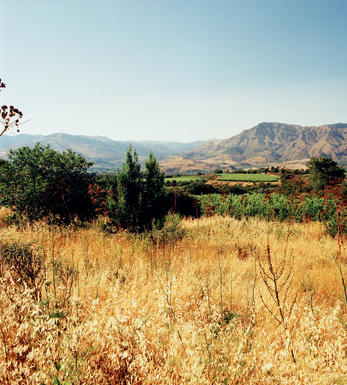 Sicily
Sicily's total vineyard area has actually shrunk from 322,000 hectares in 1880 to 113,000ha today (2014). 85% is planted with indigenous grapes (a growing trend), of which 70% is white grapes. Up until the 1990s much of the white wine production was mainly Trebbiano for distillation; then the switch was made to international/French varieties to be used as blending material in Northern Europe. Now the authorities are beginning to study indigenous grapes more seriously, of which 15 have been identified, along with a further 50 ancient varietals. 80% of the vines are located in the western Val di Mazara part of the island, on the wide open plains. Yet 65% of the island is hilly, especially the mountainous northern and north-eastern Val di Demonte.

The island is responsible for circa 12.5% (2012 harvest) of Italy's wine output, being the fourth most productive region (after Veneto, Emilia Romagna and Puglia). The percentage of DOC/DOCG wines here remains in the minority, with Cerasuolo di Vittoria being the only DOCG. There are 22 DOCs, notably those of: Marsala, Moscato di Pantelleria, Faro, Etna and Eloro. In 2012, the authorities introduced an all-embracing DOC Sicilia, but one that continued to allow international grapes to be included in historic DOCs, such as Etna.

The terroir is much more diverse than expected. Topgraphically, the western end of the island is essentially flat with sedimentary, calcareous clay. The centre northern eastern areas are essentially mountainous with peaks at 2000 msl., made up of ignaceous rocks with sedimentary coastal strips. The east around Catania lies on the lava flows from Monte Etna, while the high Hyblaean plateau that dominates the south-east is underpinned by limestone bedrock, over which lies a tilth of volcanic dust. The area around Vittoria is more red loam over limestone.

The climate is essentially Mediterranean. That said, the south, south west is influenced by north African warm humid scirocco winds; the north battered by northern winds spinning off the Tyrrhenian sea, making the centre almost continental; the east and south east fanned gently by Mediterranean air currents off the Ionian sea; offset by high altitudes.

The key autochthonous grapes, their zones and producers that are leading the (re) emergence of Sicilian fine wine are: white Grillo and Zibibbo around Marsala (producer Marco de Bartoli); white Catarratto and red Perricone in the centre/north (Valdibella and Porta del Vento); red Nerello Mascalese and Cappuccio, and Nocera grapes of Faro (Bonavita); Nerello Mascalese and white Carricante of Etna (Graci); red Nero d'Avola of Noto (Rigoria); and the red Frappato of Cerasuolo di Vittoria fame (Arianna Occhipinti and COS)

The good name of Marsala was created by the British during the18th century, but ruined by the Italians when they took over the industry in the late 19th century, turning it into merely a cooking ingredient. Now the likes of Marco De Bartoli are reviving the quality and reputation; turning the clocks back.
Recommended producers: Alberto Aiello Graci, Marco de Bartoli, Porta del Vento, Valdibella, Bonavita, Rigoria, Arianna Occhipinti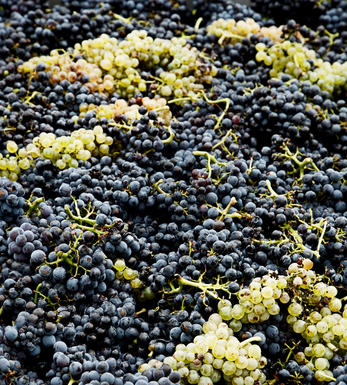 Other Varieties
There are over 200 different grape varieties used in modern wine making (from a total of over 1000). Most lesser known blends and varieties are traditional to specific parts of the world.