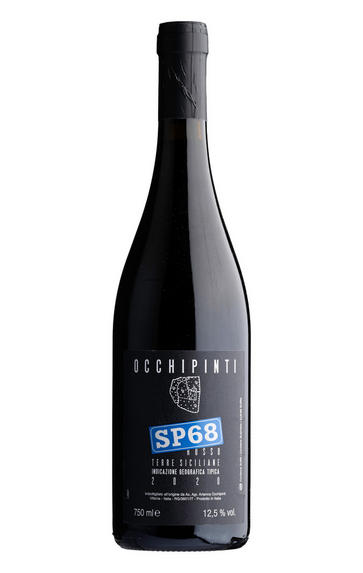 2022 SP68 Rosso, Arianna Occhipinti, Sicily, Italy
Prices start from £25.50 per bottle (75cl).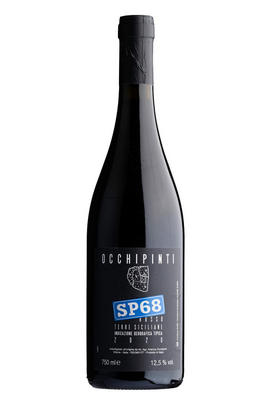 Critics reviews
The remarkably pretty 2022 Rosso SP68 is perfumed with a blend of violets, roses, white pepper and dried strawberries. This is built on purity, with sweet herbal tones accentuating citrus-tinged wild berry fruits, all energized by brisk acidity. The SP68 finishes with a gentle, cheek-puckering tension, leaving a lovely lavender hint to fade slowly.
From top to bottom, these new releases from Arianna Occhipinti are fantastic. It's great to see that even as her popularity and fan base have grown over the last 20 years, Occhipinti has stuck to her roots, creating an exciting portfolio of both vintage and terroir-driven wines made through all-natural and organic means. 
The niece of Giusto Occhipinti of COS, she started her own project at the age of twenty-two with just one hectare of abandoned vines in the commune of Vittoria. The portfolio has grown today, but Occhipinti's artisanal touch in these wines is still apparent. Nearly all are wonderful upon release yet also balanced for the cellar.
Drink 2023 - 2026
Eric Guido, Vinous.com (September 2023)
About this WINE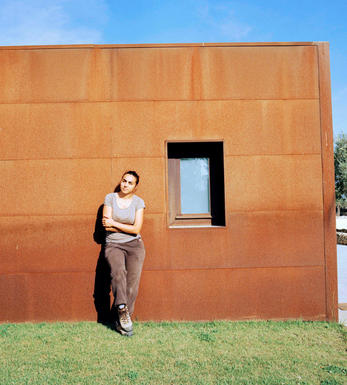 Arianna Occhipinti, Sicily
Located in Sicily 's south-eastern Val di Noto province, the landscape of which is dominated by the red loam-over-white limestone soils and dry stone walls of the Iblei Mountain plateau, and by such beautiful towns such as Siracusa, Vittoria and Modica – this is a world away from Etna, which looms on the horizon.

The Occhipinti family is synonymous with the Frappato grape that underpins Siciliy's only DOCG: Cerasuolo di Vittoria. Arianna kicked off in 2004, making wines in a family farmhouse, before transferring, in 2013, to a purpose-built winery, where her 22 hectares of Frappato and Nero d'Avola, along with one-and-a-half hectares of intense Albanello and Zibibbo white grapes, are vinified using cement and Stockinger barrels (Slavonian, German, Austrian oak).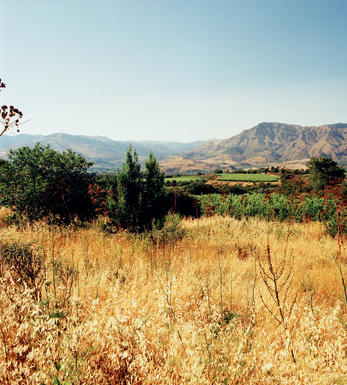 Sicily
Sicily's total vineyard area has actually shrunk from 322,000 hectares in 1880 to 113,000ha today (2014). 85% is planted with indigenous grapes (a growing trend), of which 70% is white grapes. Up until the 1990s much of the white wine production was mainly Trebbiano for distillation; then the switch was made to international/French varieties to be used as blending material in Northern Europe. Now the authorities are beginning to study indigenous grapes more seriously, of which 15 have been identified, along with a further 50 ancient varietals. 80% of the vines are located in the western Val di Mazara part of the island, on the wide open plains. Yet 65% of the island is hilly, especially the mountainous northern and north-eastern Val di Demonte.

The island is responsible for circa 12.5% (2012 harvest) of Italy's wine output, being the fourth most productive region (after Veneto, Emilia Romagna and Puglia). The percentage of DOC/DOCG wines here remains in the minority, with Cerasuolo di Vittoria being the only DOCG. There are 22 DOCs, notably those of: Marsala, Moscato di Pantelleria, Faro, Etna and Eloro. In 2012, the authorities introduced an all-embracing DOC Sicilia, but one that continued to allow international grapes to be included in historic DOCs, such as Etna.

The terroir is much more diverse than expected. Topgraphically, the western end of the island is essentially flat with sedimentary, calcareous clay. The centre northern eastern areas are essentially mountainous with peaks at 2000 msl., made up of ignaceous rocks with sedimentary coastal strips. The east around Catania lies on the lava flows from Monte Etna, while the high Hyblaean plateau that dominates the south-east is underpinned by limestone bedrock, over which lies a tilth of volcanic dust. The area around Vittoria is more red loam over limestone.

The climate is essentially Mediterranean. That said, the south, south west is influenced by north African warm humid scirocco winds; the north battered by northern winds spinning off the Tyrrhenian sea, making the centre almost continental; the east and south east fanned gently by Mediterranean air currents off the Ionian sea; offset by high altitudes.

The key autochthonous grapes, their zones and producers that are leading the (re) emergence of Sicilian fine wine are: white Grillo and Zibibbo around Marsala (producer Marco de Bartoli); white Catarratto and red Perricone in the centre/north (Valdibella and Porta del Vento); red Nerello Mascalese and Cappuccio, and Nocera grapes of Faro (Bonavita); Nerello Mascalese and white Carricante of Etna (Graci); red Nero d'Avola of Noto (Rigoria); and the red Frappato of Cerasuolo di Vittoria fame (Arianna Occhipinti and COS)

The good name of Marsala was created by the British during the18th century, but ruined by the Italians when they took over the industry in the late 19th century, turning it into merely a cooking ingredient. Now the likes of Marco De Bartoli are reviving the quality and reputation; turning the clocks back.
Recommended producers: Alberto Aiello Graci, Marco de Bartoli, Porta del Vento, Valdibella, Bonavita, Rigoria, Arianna Occhipinti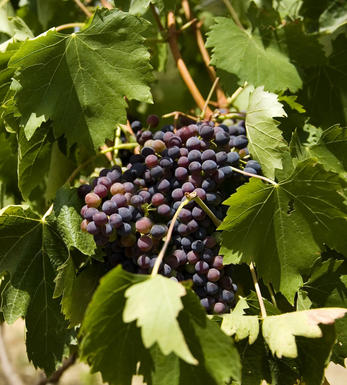 Frappato
Frappato is a red grape variety primarily grown in Sicily, Italy. It is one of the key components in the production of Cerasuolo di Vittoria, the only Sicilian wine that has obtained the prestigious DOCG (Denominazione di Origine Controllata e Garantita) status.
The grapes typically produce wines with a light to medium body, high acidity, and low tannins known for their fresh and fruity character, often exhibiting notes of red berries, strawberries, raspberries, and sometimes floral undertones.
Frappato is often blended with other grape varieties in winemaking. In Cerasuolo di Vittoria, it is traditionally blended with the Nero d'Avola grape, which adds structure, body, and complexity to the wine.
The variety thrives in the warm Mediterranean climate of Sicily, where it enjoys plenty of sunlight and warm temperatures. The vineyards are often located on hillsides and benefit from the cooling sea breezes, which help maintain the grape's acidity and enhance its aromatic profile. The volcanic soils in some parts of Sicily also contribute to the wine's unique character.
The wines are typically made using stainless steel or cement tanks to preserve their delicate fruit flavours and bright acidity. Some winemakers also use carbonic maceration, a winemaking technique that enhances the fruitiness and aromatics of the wine.
Due to its light and refreshing nature, Frappato wines are versatile and pair well with various dishes. They are especially delightful with Mediterranean cuisine, grilled vegetables, pasta dishes with tomato-based sauces, seafood, and light poultry dishes.