2007 Grüner Veltliner Honivogl, Smaragd, Hirtzberger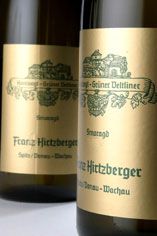 The Producer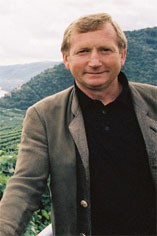 Weingut Franz Hirtzberger
Weingut Hirtzberger is owned and managed by one of the best and most well-known producers in the Wachau valley, Franz Hirtzberger. Franz and his family took control of this estate, which is one of the oldest in the region and is situated in Spitz, from his father in 1983. He has always been a perfectionist, a fact which is reflected in his top-quality wines that have been awarded numerous awards.
The vineyards at Weingut Hirtzberger are planted with 45% Grüner Veltliner, 40% Riesling and small quantities of Pinot Gris, Pinot Blanc and Chardonnay account for the balance. All the wines are fermented in stainless steel and aged in classic 30-50 hectolitre wooden barrels. Just behind the 13th century house is the `Singerriedel' vineyard site, located on steep slopes facing south-southeast, which produces one of Austria's most celebrated Rieslings. `Honivogl' is Hirtzberger's most important Grüner Veltliner vineyard and is grown on primary rock at the foot of `Singerriedel'.
View Producer
The Grape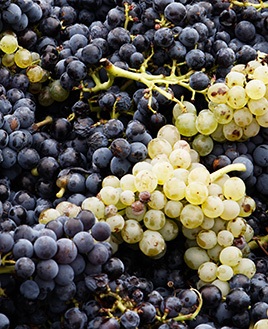 Grüner Veltliner
Grüner Veltliner is Austria's most famous grape variety. It is indigenous to Austria and is grown extensively in every Austrian wine region with the exception of Steiermark. It constitutes 36% of all vineyard plantings with the best wines coming from the north-east of the country, particularly regions such as the Wachau, Kamptal and Kremstal which border the Danube river.
Grüner Veltliner is a late ripening variety that typically produces wines that are pale green in colour and display fruit notes of grapefruits, limes, pears, and sometimes hints of white pepper. They normally possess a steely backbone of acidity which enables the best bottles to age gracefully. The grape's natural acidity accompanied by its restrained and understated fruit characters makes its wines ideal partners for food. A marvellous alternative to the more mainstream white grape varieties.
View Grape
The Region
The sweeping, steep terraces of the Wachau, in Lower Austria, on the northern banks of the Danube, an hour's drive west from Vienna, are home to Austria's greatest dry white wines.  
Here Riesling and Grüner Veltliner excel in producing wines of startling purity and pristine intensity.  The climate changes slightly to produce the warmer, richer wines around Dürnstein and Loiben, to steely yet opulent wines around Spitz.  
Recommended Producers
Toni Bodenstein of Weingut Prager epitomises the former, whilst Franz and Irmgard Hirtzberger's vineyards are the ultimate expression of the latter.  The region uses a unique system of classification to indicate the level of ripeness at harvest.  Steinfeder is the lightest, with an alcohol of around 10%, then Federspiel, which must not exceed 12% and finally Smaragd, named after an emerald green lizard found in the vineyards, which are assertive, late-harvested wines, but fermented to dryness.
View Region
Customer Reviews
Questions And Answers