Nestled in the south-west corner of Galicia on the Atlantic coast bordering Portugal's Vinho Verde region, Rias Baixas has firmly established itself as the star region of modern Spanish white wines. Production is mostly small scale, labour-intensive and dominated by family-run bodegas, all of which contributes to the high-quality, idiosyncratic character of the wines.
Albariño (aka Alvarinho in Vinho Verde) is the dominant grape in the region, robust and thick-skinned enough to withstand the local cool, humid, maritime conditions. It yields intensely aromatic wines evocative of almonds, peaches and citrus-peel scents with elegant, grassy overtones. Albariño is ideally enjoyed in its youth and is particularly suited to seafood due to its crisp acidity and clean, pure fruit.
It is sometimes also blended with other Galician grapes - the perfumed Treixadura or the herbal-scented Loureira, for example - but it is as a single varietal wine that it really shines, unoaked and fermented in steel tanks to retain its streak of youthful fruit and vitality.
Showing 1-1 out of 1 items
Hide All Details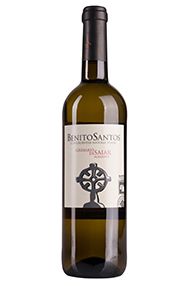 Showing 1-1 out of 1 items