2010 Côte-Rôtie, Barbarine, Domaine Yves Gangloff
The Producer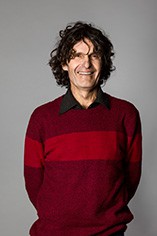 Domaine Yves Gangloff
Yves Gangloff is an unlikely winemaker who settled in the Rhône region only because he fell in love with Mathilde, a local woman who's now his wife. The couple sold their grapes to E. Guigal before establishing their own vineyard in 1987. Yves Gangloff draws his wine-making experience from the time he spent at the Rhône Domaine Delas.

Gangloff was fortunate to acquire a few precious hectares of Condrieu and Côte Rôtie vines in the late 1990s.
The Barbarine cuvée comes from younger vines on granite-based soils in the Côte Blonde. The Sereine Noire cuvée (which uniquely includes the local Syrah clone, Serine) is darker and more robust; it is sourced from the Le Mollard (Côte Blonde region) and Côte-Rozier (Côte Brune region) parcels.

Visitors to the annual Ampuis Wine Fair are best advised to make a bee-line for the Gangloff stand as early as possible because thereafter it is virtually impossible to gain access to the great man, such is his popularity. A mercurial and somewhat chaotic genius, Gangloff makes uniformly outstanding wines.

The intensely fruity Côte-Rôties of Gangloff has won numerous fans, among those many sommeliers, who enjoy matching them with local black truffle dishes. Gangloff labels -usually voluptuous nudes, are painted by Yves' brother.
View Producer
The Grape
Northern Rhône blend
View Grape
The Region
Côte-Rôtie is one of the most famous of the northern Rhône appellations, with some single vineyard cuvées now selling for the same prices as First Growth Bordeaux. It is the northernmost outpost of the Syrah grape.
Côte-Rôtie translates as 'roasted hillside', as the south-facing slopes are exposed to the maximum-possible sunlight. Vines have been planted here since Roman times, although the appellation was only created in 1940. Today it covers 500 hectares, with 276 hectares of vineyards stretched across eight kilometres.
Phylloxera devastated vineyards in the late 1800s and Côte-Rôtie's fortunes remained in the doldrums for another century. After the War, a farmer would receive double the price for a kilo of apricots as for a kilo of grapes, hence vineyards were grubbed up and wine production became increasingly smaller.
It has only really been recognised as a top-quality wine-producing area since the 1970s, with
Guigal
being the main impetus behind its revival. The two best slopes, Côte Brune and Côte Blonde, rise steeply behind Ampuis and overlook the river. The Côte Brune wines are much firmer and more masculine (the soils are clay and ironstone), whereas the Côte Blonde makes wines with more finesse and elegance due to its light, sandy-limestone soil. Both the Côte Brune and Côte Blonde vineyards rise to 1,000 feet, with a gradient of 30 to 50 degrees.
The wines are made from the Syrah grape, however up to 20 percent of
Viogner
can be used in the blend, adding finesse, elegance and floral characteristics to the wine. Viognier ripens more quickly than Syrah and the appellation rules stipulate that the grapes must be added to the fermentation – rather than blended later. The best Côte-Rôtie are very deep in colour, tannic and spicy, and need 10 years to evolve and develop.
There are nearly 60 official vineyards (lieux-dits); the best-known are: La Mouline, La Chatillonne (Vidal-Fleury, owned by Guigal) and La Garde (Rostaing) in Côte Blonde; La Viallière, (Rostaing), La Landonne (Guigal, Rostaing) and La Turque (Guigal) in Côte Brune.
Styles vary from heavily-extracted tannic wines which need many years to soften through to lighter, supple and less-structured wines which do not require extended bottle ageing. The most famous wines of Côte-Rôtie are Guigal's three single-vineyard cuvées: La Mouline, La Turque and La Landonne. These are aged in new wood for 48 months, and demand for them amongst connoisseurs and collectors is significant, leading to prices sometimes comparable to Bordeaux First Growths.
Recommended producers:
Guigal
,
Gerrin
,
Rostaing
,
Ogier
,
Burgaud
Best vintages: 2006, 2005, 2004, 2001, 1999, 1991, 1990, 1985
View Region
Customer Reviews
Questions And Answers