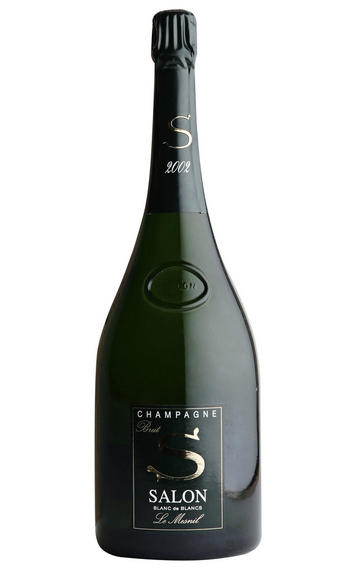 2002 Champagne Salon, Le Mesnil, Blanc de Blancs, Brut
Prices start from £3,000.00 per case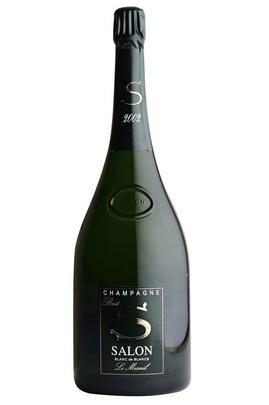 Critics reviews
I sacrificed a bottle of the 2002 Brut Blanc de Blancs Le Mesnil from my own cellar to fill this gap in The Wine Advocate database and was interested to see that the wine has evolved a little since I last encountered it a couple of years ago. Subtle aromas of brioche, iodine and walnuts now inflect its bouquet of ripe lemon, green apple and crushed chalk, and on the palate, the wine is full-bodied, broad and powerful, with a fine mousse and considerable depth and dimension, concluding with a delicately chalky finish. This is an unusually ripe, muscular vintage of Salon, and my own palate tends to favor the brighter, more incisive vintages such as the 2007 or the 1996 at its best, but this is nonetheless a superb blanc de blancs that's maturing a touch faster than I expected.
Drink 2018 - 2035
William Kelley, Wine Advocate (Apr 2019)
A subtle, intense champagne that shows complex character of lilac, mineral, sliced lemon, apple and white pepper. It is full-bodied and dense but racy and agile with a lightness and freshness. It has a gloriously long finish. It changes every moment in the glass. It has such clarity. It's magnificent to drink now, but shows great texture and structure for aging. Best since 1982.
James Suckling, jamessuckling.com (Mar 2015) Read more
An almost ideal growing season with no periods of extreme weather, ending with a cool but sunny September. Harvest began on 16 September. The very classy nose has a mineral-infused character underlying its spicy, floral scents. This Salon has the power to be long-lived and the freshness and vivacity to be already enjoyable, but also to be an ideal companion for a gastronomic meal. Perfection.
Drink 2020 - 2040
Yohan Castaing, Decanter.com (Jan 2020) Read more
About this WINE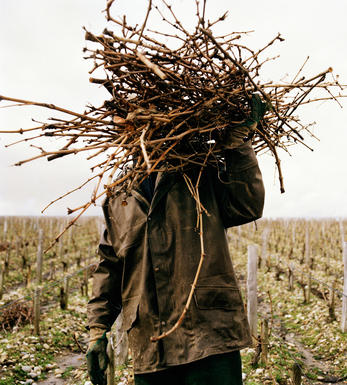 Salon
Salon, a tiny house on the Côte de Blancs, produces what connoisseurs consider to be the quintessential Blanc de Blancs. Salon produces Champagnes in minuscule amounts (50,000 bottles a year, if at all) from over 40-year-old vines in Le Mesnil-sur-Oger (one of the greatest crus of the Côte de Blancs).
Salon produces the only wine in the world not to be made every year and is on average only declared about 3 times a decade. Salon is extremely delicate, subtly rich and with age (20-30 years or more) develops notable aromas and flavours of coconut, walnut, coffee and vanilla. All champagne lovers should experience Salon at some stage. Exquisite.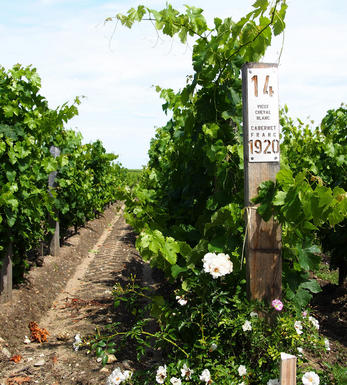 Blanc de Blancs
In Champagne, the term Blanc de Blancs designates Champagnes made only from Chardonnay grapes. The vineyards located between Cramant and Mesnil-sur-Oger in Cote de Blancs yield the best examples of the style.

A classic Blanc de Blancs is restrained and elegant when young, yet with ageing it develops a mouth-coating brioche richness that overlays an intense expression of fruitiness. Blanc de Blancs are endowed with longer ageing potential than a typical Blanc de Noirs.
Recommended Producers: Salon, Billecart Salmon, Jacques Selosse, Dom Ruinart, Krug, Le Mesnil Grand Cru, Guy Larmandier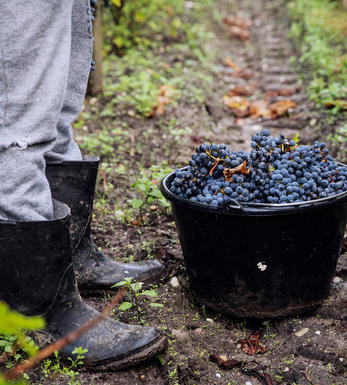 Champagne Blend
Which grapes are included in the blend, and their proportion, is one of the key factors determining the style of most Champagnes. Three grapes are used - Pinot Noir, Chardonnay and Pinot Meunier.

26% of vineyards in Champagne are planted with Chardonnay and it performs best on the Côtes des Blancs and on the chalk slopes south of Epernay. It is relatively simple to grow, although it buds early and thus is susceptible to spring frosts. It produces lighter, fresher wines than those from Burgundy and gives finesse, fruit and elegance to the final blend. It is the sole grape in Blancs de Blancs, which are some of the richest long-lived Champagnes produced.
Pinot Noir accounts for nearly 40% of the plantings in Champagne and lies at the heart of most blends - it gives Champagne its body, structure, strength and grip. It is planted across Champagne and particularly so in the southern Aube district.
The final component is Pinot Meunier and this constitutes nearly 35% of the plantings. Its durability and resistance to spring frosts make the Marne Valley, a notorious frost pocket, its natural home. It ripens well in poor years and produces a soft, fruity style of wine that is ideal for blending with the more assertive flavours of Pinot Noir. Producers allege that Pinot Meunier lacks ageing potential, but this does not deter Krug from including around 15% of it in their final blends.