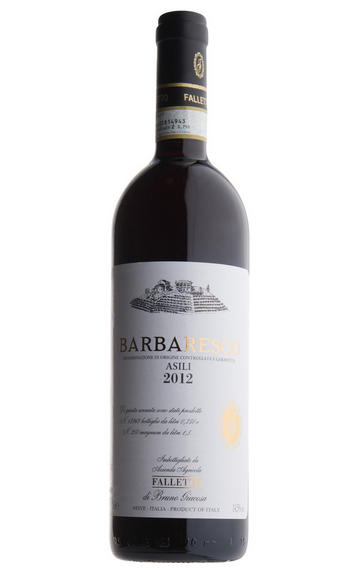 2012 Barbaresco, Asili, Falletto, Bruno Giacosa, Piedmont, Italy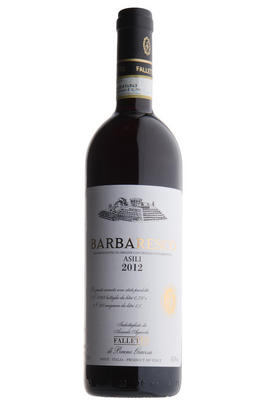 Critics reviews
The Asili vineyard, close to the village of Barbaresco itself, is rightly regarded as one of the 'Grand Cru' sites of Barbaresco, thanks to its high elevation, steep slope, and mix of stony limestone and sand. In the right hands, as here, it gives wines of great perfume, detail and immaculate balance. 2012 was both a cool and damp and then an ultimately hot year, giving wines that are darker and crunchier, yet also and approachable even when young. Bottled in August 2014, Bruno Giacosa's version displays an intense perfume of kirsch, super strawberry compote fruit. The palate's refined and fresh, with plenty of energy; the tannins are talc-like. Even the red fruit has a stony minerality quality to it. This is the white Label (i.e. non Riserva).
David Berry Green

Made famous, justly so, by the skill of Bruno Giacosa during the 1970s and 1980s, now new techniques in the vineyards have ensured that the Nebbiolo grapes are picked slightly earlier than previously and at optimum ripeness. Maceration times have been reduced from around 50 days to nearer 30, as a consequence of having physiologically ripe fruit from the vineyards. The fashionable, new, French 225-litre barriques are not for Giacosa: all his wine is aged in large 5,000-litre botti, though these are now French rather than Slavonian. Bruno's wines are marvellously perfumed on the nose, and meaty and full-bodied on the palate.

About this WINE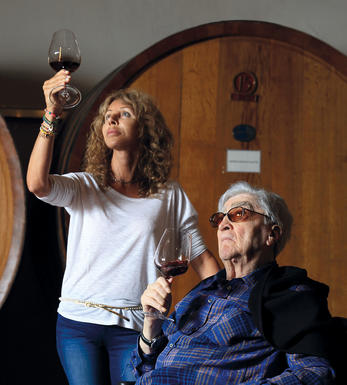 Bruno Giacosa
This is undoubtedly one of the great estates, not just of Piedmont, but in all of Italy. Giacosa are revered globally, with a reputation built on the elegance, purity and complexity of wines produced over the lifetime of Bruno Giacosa. Over the course of 60 years at the winery, Bruno came to be recognised as one of the greatest winemakers in Piedmont.

Bruno was born into wine. In 1945, at the age of 16, he began working full-time in the family cellar with his father Mario. Rather than studying oenology, he instead absorbed the traditional knowledge and techniques passed down through his family. His approach was deeply considered, single-minded and perfectionist. Famously exacting and modest, a man more at home in the cellar than in the public eye, he preferred to let his wines speak for themselves. When prompted, he once stated: "Winemaking involves a great many small decisions, each affecting the next. One can only hope to get them right, to capture what there was in the grapes to begin with."

Bruno became known for extraordinary wines from both Barolo and Barbaresco, made from fruit sourced from the finest crus. These include the iconic "red label" Riservas, made in only the very finest vintages. It was not until 1982 that he started to buy his own vineyards. Today, the estate comprises 20 hectares of vines, including 13 hectares of Barolo Falletto and Falletto Vigna Le Rocche, and just over three hectares combined of Barbaresco Asili and Rabajà.

Since 2006, with Bruno's illness and subsequent passing in 2008, the estate has been ably run by Bruno's daughter, Bruna, with winemaking lineage assured by the presence of Bruno's long-time oenologist, Dante Scaglione, through Francesco Versio and now Giuseppe Tartaglino. Bruno's standards have unquestionably been upheld, with an immaculate and suitably understated renovation of the winery, and continued, unwavering commitment to producing wines of both the highest quality and of true vineyard expression. Since the 2012 vintage, all of their Barbaresco and Barolo have been made exclusively from estate-grown fruit.

Made in a traditional style, with alcoholic fermentation in stainless steel tanks for 21 days, the wines are subsequently aged for 20 months in large barrels, with no oak toast. Unusually, each wine is aged in the same single barrel until it is ready to be bottled – in their view, to minimise the influence of oak and bring to the fore the individual character of each vineyard.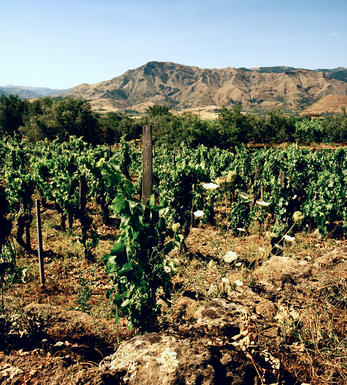 Barbaresco
The Piedmontese DOCG zone of Barbaresco is responsible for producing some of Italy's finest wines. It occupies the same region and uses the same grape (Nebbiolo) as its bigger brother Barolo, but is a third of the size (only 640 hectares versus Barolo's 1,700 hectares). It is also 50 years younger than Barolo, having produced wine labelled Barbaresco since 1890.

Barbaresco earned its DOCG after Barolo in 1980, largely thanks to the efforts of Angelo Gaja. The soils are lighter here than in Barolo – both in colour and weight – and more calcareous. The slopes are also less favourably situated and (relatively speaking) yield earlier-maturing yet extremely elegant wines that require less oak ageing (normally one year in oak plus six months in bottle). The appellation's key districts are Barbaresco, Treiso, Neive and Alba.

Recommended producers: Cigliuti, Gaja, Marchesi di Gresy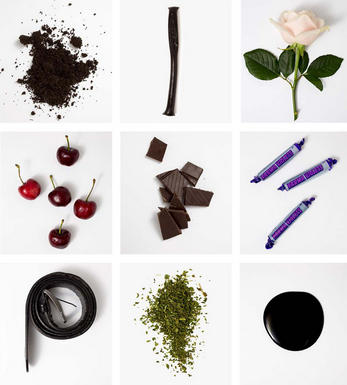 Nebbiolo
Nebbiolo is the grape behind the Barolo and Barbaresco wines and is hardly ever seen outside the confines of Piedmont. It takes its name from "nebbia" which is Italian for fog, a frequent phenomenon in the region.
A notoriously pernickety grape, it requires sheltered south-facing sites and performs best on the well-drained calcareous marls to the north and south of Alba in the DOCG zones of Barbaresco and Barolo.

Langhe Nebbiolo is effectively the 'second wine' of Piedmont's great Barolo & Barbarescos. This DOC is the only way Langhe producers can declassify their Barolo or Barbaresco fruit or wines to make an early-drinking style. Unlike Nebbiolo d'Alba, Langhe Nebbiolo can be cut with 15% other red indigenous varieties, such as Barbera or Dolcetto.

Nebbiolo flowers early and ripens late, so a long hang time, producing high levels of sugar, acidity and tannins; the challenge being to harvest the fruit with these three elements ripe and in balance. The best Barolos and Barbarescos are perfumed with aromas of tar, rose, mint, chocolate, liquorice and truffles. They age brilliantly and the very best need ten years to show at their best.